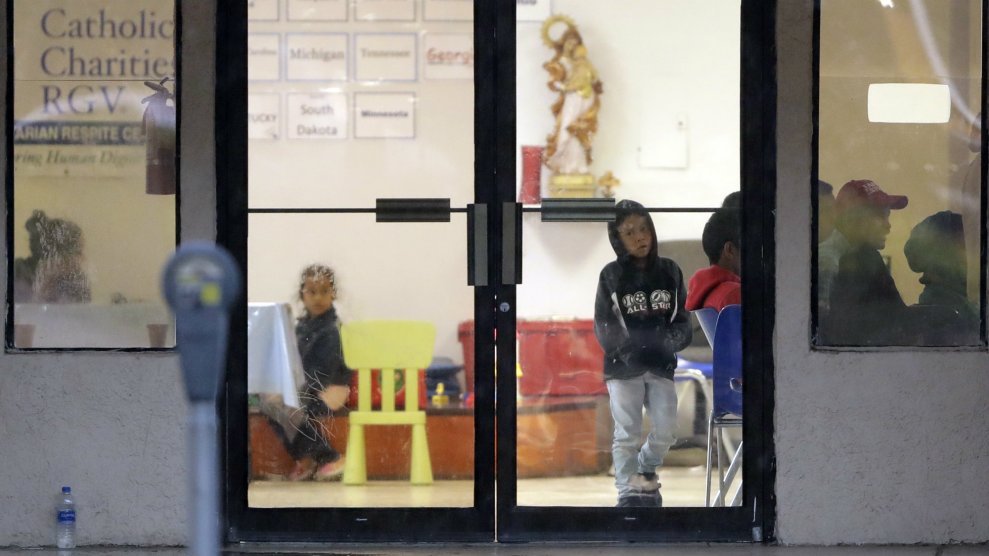 Fight disinformation:
Sign up
for the free
Mother Jones Daily
newsletter and follow the news that matters.
At least 2,342 child migrants have been separated from their parents at the U.S. border in one month, a shocking statistic that has generated nearly nonstop media coverage in recent days.
Since announcing a "zero tolerance" policy for illegal immigration in May, the Trump administration has alternated between a series of contradictory explanations for its family separation policy, which culminated in a raucous White House briefing Monday where Department of Homeland Security Secretary Kirstjen Nielsen denied that children were being treated "inhumanely," despite widespread reports of detainees being left in metal cages at Border Patrol facilities in Texas.
One person who has had direct experience with the challenges of border security is Eskinder Negash, who led the Office of Refugee Resettlement from 2009 to 2015 and is now the CEO of the US Committee for Refugees and Immigrants. By the end of his term in office, officials were projecting that more than 60,000 unaccompanied minors would be referred to ORR annually. He described the extent of coordination among various government agencies—the Department of Homeland Security and Health and Human Services, the Pentagon, and FEMA—that were required "to make sure that the kids are getting proper care," while still complying with every possible "child welfare rule."
Separating families at the border is not a policy unique to the Trump administration. The Obama administration, especially after a sharp increase in 2014 of the amount of immigrants attempting to cross the border, detained adults and children separately. We asked Negash to put the current treatment of child migrants in context with the actions of former administrations, including the one in which he served.
Mother Jones: In May, Attorney General Jeff Sessions announced a "zero-tolerance" policy for immigrants crossing the U.S. border illegally. When you first heard this, what was your reaction?
Eskinder Negash: I don't think any administration has any tolerance for people coming in. That's why we have a system when someone is coming to the US. We give them due process and people apply for that due process. I'm not exactly sure he meant there is going to be "zero tolerance," unless you prevent people from entering the country. Once you're in US custody, we have a legal means of processing them. When I heard that, I [wasn't] exactly sure what would be different.
MJ: As a result of this zero-tolerance policy, we have seen many reports of at least 2,000 children being separated from their families at the border. From a policy perspective, is this preventable?
EN: This is a policy change. They are making a choice. Every child coming in unaccompanied goes through a process. If they're coming with their parent, there's a process. Both the parents and the child will be going through an immigration system and the court will decide whether they have a case to grant them asylum or to deny them.
MJ: The Obama administration dealt with its own rising number of Central American migrants attempting to enter the US. In 2014, specifically, this number shot up to a total of 60,000 unaccompanied minors. How did you and your colleagues in the administration address that problem? And in what ways was that approach different from what the Trump administration has done?
EN: The number-one issue for the administration at that time, and for myself, [was] we have to make a decision based on what we thought was the best interest of the child. Based on that, we felt that keeping the children at detention centers for a long period of time is not a good idea. Therefore, once we found their parents or a legal guardian or a sponsor, we actually ended up releasing them.
MJ: Do you think the Trump administration is doing everything it possibly can to find guardians for the children?
EN: I'm not sure. I can't really speak about that, but I can tell you that from what we see now, a lot of the sponsors are quite hesitant to come forward and claim a child—or are willing to sponsor [at all]—because they're worried. Maybe they entered the country illegally, therefore ICE will probably detain them. That's part of the challenge: people are not coming forward because they are afraid. They're scared.
MJ: What would you say are other issues that impact this environment that are not being reported, that make it difficult either to find guardians for these children, or to deal with the influx of child migrants?
EN: One thing that the media is not really focusing [on] is that the journey to come to the US from Central America, from El Salvador, from Honduras, from Guatemala, is very, very dangerous. Some of these children already have been abused, forced to do a number of things. Some of them are victims of human trafficking, sex trafficking. We have not really focused on the agony, the most difficult things that these children have survived. They are not coming with a cruise line. They're taking the most dangerous and difficult journey to do this. And I think we're missing that.
MJ: We have seen the places where child migrants are detained described as anything from a "summer camp," according to Fox News host Laura Ingraham, to "cages" in other media reports. How would you describe them? How long have they been used?
EN: These are state-approved facilities. The detention centers, what we call shelters, have to go through a very meticulous process of getting approval, for the state to make sure they meet child welfare requirements. Without that, you can't open. What we see now is that if the kids are in DHS custody longer than 72 hours, the state doesn't have any legal authority to question how they are being treated.
Once the kids are transferred to HHS, they are actually transferred to a shelter. There is education. There is health care. There is food. There is clothing. There is [a] shower. There are outside activities. Summer camp is a good way to compare it. And there are federal staff that monitor all the time to make sure they're complying with federal regulations.
I went around to almost 80% of the shelters from California all the way to Arizona and other places. Social workers are all over the place. The system works well. When the system is not prepared to accept a lot of people, you run out of space. When you run out of space, you are in search of federal property like a military base because a military base doesn't require you to have a state licensing requirement.
MJ: Has the condition of these shelters changed at all?
EN: I don't believe so. These are people very, very well-trained who have been around and provided this service. Some of them have even provided this service before HHS got involved. They have a lot of experience and most of them have child welfare expertise.
MJ: If you could say anything to the officials, either in the Department of Homeland Security or the Department of Justice who are overseeing this process now, what advice would you give them?
EN: Referring people asking for political asylum to criminal prosecution is where the problem is, in my view. It's not a crime to ask for asylum. Whether you are flying from Paris and landing at LAX asking for asylum, or you are coming from Mexico or other places, you are not a criminal. My advice would be to say they shouldn't really criminalize their request. They have cases—some of them are victims of gangs and human traffickers. To some extent, these children are victims, and therefore, due process is the least we can do as a country.