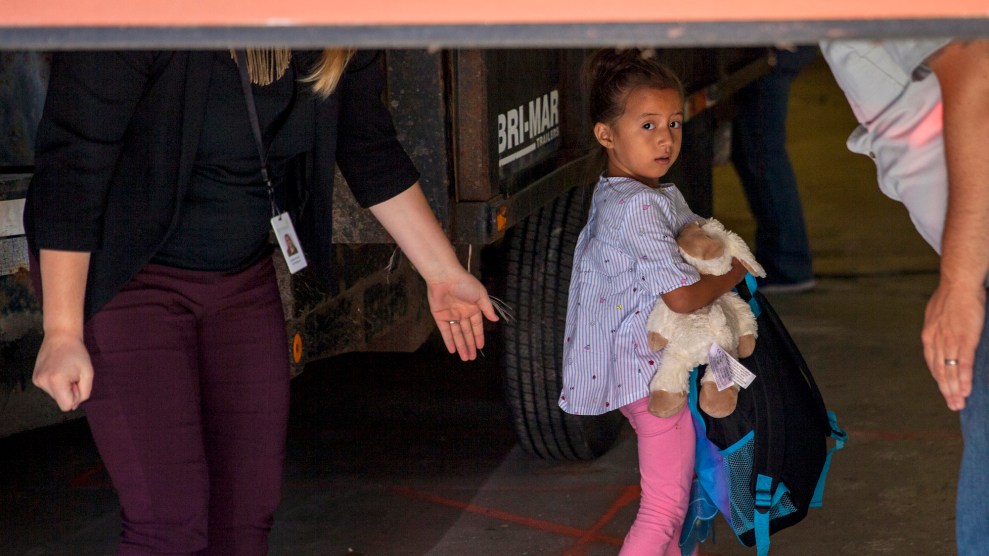 Fight disinformation:
Sign up
for the free
Mother Jones Daily
newsletter and follow the news that matters.
Federal authorities believe that 463 parents separated from children over the age of 5 at the southern border were "not in [the] U.S." as of Monday, July 23—potentially indicating that hundreds of parents have been deported despite a federal order to reunify families last month.
Government lawyers said in a legal filing on Monday that "case notes indicate" that these parents were no longer in the United States, and may not be eligible for reunification with their children. But the filing is vague, and it's unclear if the parents were deported or took a voluntary departure, and whether they were removed with or without their children, according to American Civil Liberties Union lawyer Stephen Kang, a member of the legal team representing immigrant parents whose class-action lawsuit halted the Trump administration's family separation policy last month.
Adding to the confusion, the 463 cases were still "under review"—meaning the government may not actually be certain that these parents are no longer in the country. Immigration and Customs Enforcement (ICE) has so far failed to produce a list of names of deported parents. "It's been very hard to get information," Kang says.
Of the 2,551 children between the ages of 5 and 17 who were separated from their parents—either due to the Trump administration's zero-tolerance policy or because federal authorities separated them for other reasons—879 so far have been reunited with their parents in ICE custody, according to the filing. An additional 538 parents have been cleared for reunification but are still waiting. Meanwhile, government lawyers maintain that 917 are potentially ineligible for reunification—some because the parent waived their right to reunification during an interview with federal authorities, while in other cases, the parent has a "prohibitive criminal record."
The latest numbers were released as part of a class-action lawsuit overseen by federal Judge Dana Sabraw in San Diego, who last month declared that the separation policy likely violated parents' constitutional rights and ordered the government to reunite separated children with their parents by July 26. It remains unclear whether the federal government will meet the Thursday deadline.
ACLU lawyers are hoping for more clarity after a status call on Tuesday afternoon.
Read the filing here: