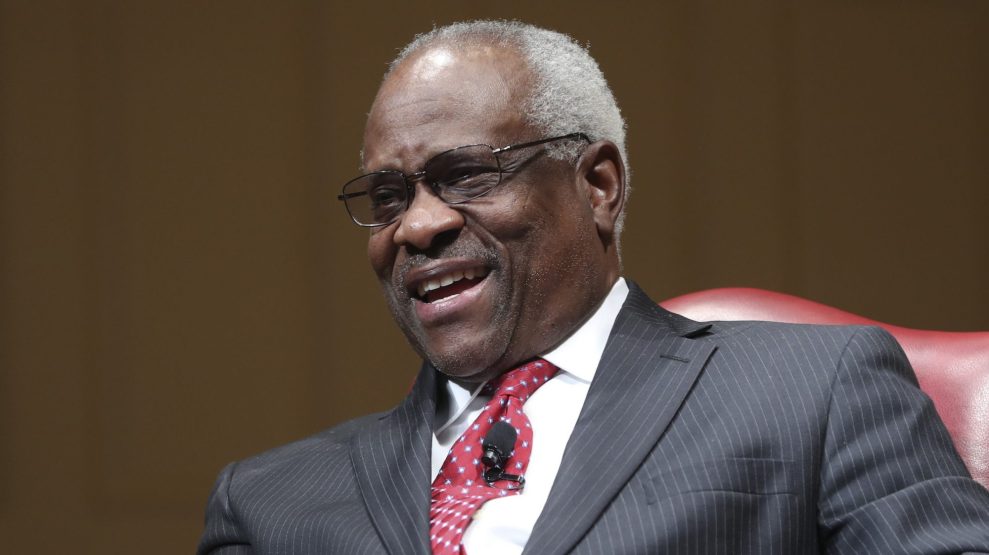 Fight disinformation:
Sign up
for the free
Mother Jones Daily
newsletter and follow the news that matters.
Supreme Court Justice Clarence Thomas is by far the court's quietest and most conservative justice. He went 10 years without asking a single question from the bench, a streak broken in 2016, not long after the death of his friend Justice Antonin Scalia. Since then, Thomas hasn't uttered a word in court. His opinions are so quirky and radically conservative that his colleagues on the bench often seem reluctant to sign on to them, making him perhaps one of the least influential justices in the court's history.
But the court's only African-American justice is having an outsize influence in one important sphere: the Trump administration. A new report by the AP's Mark Sherman indicates that roughly 20 percent of the clerks—a total of 22—Thomas has hired since his confirmation in 1991 are either now working as political appointees in the administration or have been appointed by Trump to federal judgeships.
The AP found that the number of former Thomas clerks who have been named to political posts or judicial seats far exceeds even those of his conservative colleagues. Former clerks for the late Justice Antonin Scalia and Justice Samuel Alito, also staunch conservatives, have also joined the administration or have been appointed to the federal bench, but only about a dozen for each justice.
Thomas' anti-abortion, pro-gun legal views tend to align remarkably closely with Trump's, and unlike most of the other justices, he tends to make ideological hires among his clerks, many of whom have gone on to become prominent conservatives outside government. Former Thomas clerks include Fox News host Laura Ingraham and Carrie Severino, who runs the Judicial Crisis Network, an influential and well-funded advocacy group that pushes for conservative judicial nominees and is now waging a campaign to assist Brett Kavanaugh, Trump's recent nominee to the Supreme Court.
(Severino's husband, Roger Severino, a devout Catholic, is now the director of the Office of Civil Rights at the Department of Health and Human Services, where he is overseeing the administration's efforts to weaken federal protections for abortion and transgender rights. He reportedly has a Clarence Thomas bobblehead in his office.)
Now, more of Thomas' former clerks are moving into government directly, where they are quietly shaping administration policy inside important agencies. The AP writes:
Trump's choice of Neomi Rao as administrator of the Office of Information and Regulatory Affairs is illustrative of how former Thomas clerks also are shaping administration policy. Rao was a well-regarded critic of Obama-era regulations who had founded the Center for the Study of the Administrative State at George Mason University in Virginia with backing from the Koch brothers.

In her White House post, Rao has overseen the move to eliminate hundreds of regulations, to the consternation of watchdog groups and the cheers of a wide range of industry groups.
Thanks to Trump, former Thomas clerks are also making their way into the highest levels of the federal judiciary. Trump has nominated four of them to seats on federal appellate courts, the second-most powerful courts in the country behind the Supreme Court. They include Gregory Katsas, who served as Trump's deputy White House counsel before the president nominated him last year for a seat on the influential DC Circuit Court of Appeals, where Thomas once worked.
Stephen McAllister, another former Thomas clerk whom Trump nominated to be US attorney in Kansas, told the AP that other former Thomas clerks may climb even higher. "Depending on how long this president is in office, Thomas clerks on the appellate bench would probably get a hard look for the Supreme Court," he said.
Recently, there have been rampant rumors that Thomas, 70, intends to retire within the next year. Trump tapped two former clerks for Justice Anthony Kennedy as Supreme Court justices, moves widely seen as attempts to convince Kennedy to step down during Trump's administration. If Trump wants to nudge Thomas off the bench, he'll now have plenty of the justice's former clerks ready to fill the seat and serve as a pot-sweetener.