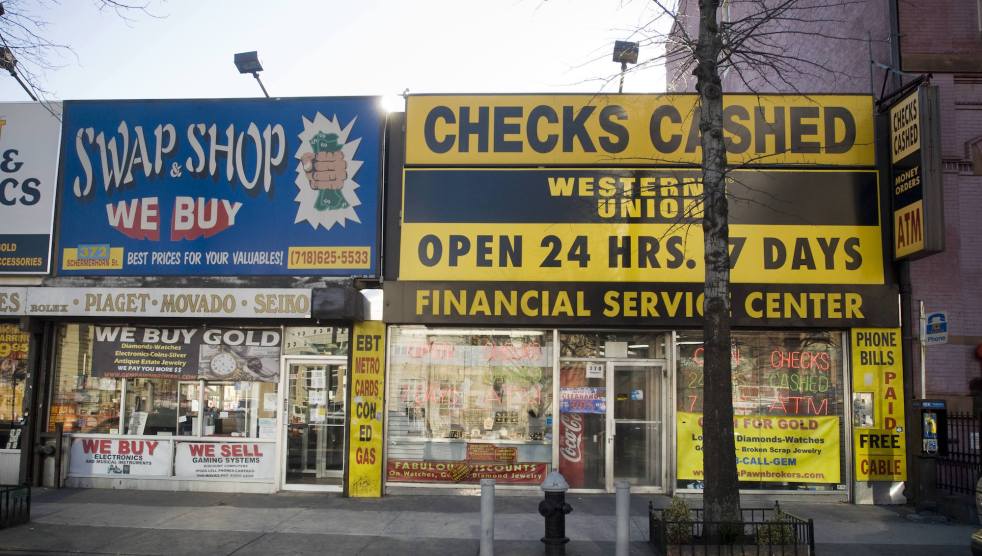 Fight disinformation:
Sign up
for the free
Mother Jones Daily
newsletter and follow the news that matters.
While it might seem like a chore to go to the bank in an age of online payments and mobile apps that allow you to deposit a check with the snap of a picture, for some families, access to any bank could be life-changing. A 2015 survey by the Federal Deposit Insurance Corporation (FDIC) found that 26.9 percent of American households had either no bank at all or relied on nonbanking institutions for financial services. (These numbers are up to four times higher in black and Hispanic communities than for white Americans.) Unbanked families spend an average of $2,412 a year, or about 10 percent of their average annual income, on interest for financial services that most bank customers get for free.
Sen. Kirsten Gillibrand (D-N.Y.) has introduced legislation that would allow the United States Postal Service to branch out and offer basic financial services, including savings accounts and loans, to the underbanked. Rep. Yvette Clarke (D-N.Y.) introduced the bill in the House a month later in May. Although Gillibrand's legislation is unlikely to get much traction in a majority-Republican Congress, the potential 2020 presidential candidate has been rallying support for the legislation online and in her home state of New York.
The only people who don't like my Postal Banking Act are the payday lenders who profit off Americans' desperation. So it's time to fight back, put them out of business and bring justice to people in communities nationwide. pic.twitter.com/prWe5wsNrq

— Kirsten Gillibrand (@SenGillibrand) July 29, 2018
While postal banking might seem like a modern invention to save an increasingly maligned public agency, the idea actually has deep roots in American history. In 1910, legislation was passed during the Taft administration to create a "postal savings system." The plan, which was an attempt to counter public distrust in private banks, aimed to encourage immigrants and those skeptical of banking to invest and practice financial thriftiness.
According to USPS, at its peak in 1947, the postal bank had $3.4 billion in deposits. But by 1964 deposits had dropped to $416 million. Private banks enjoyed higher consumer confidence thanks to the FDIC and post-World War II reforms, and people shifted their accounts away from the post office. Congress eventually abolished the system in 1966.
But financial inequality has gotten worse in the decades since. Growing overdraft fees, limited free checking options, decreases in loans to low-income communities, and closures of thousands of banks since the 2008 financial crisis are just a few factors that have ramped up the reliance of low-income Americans on pricey check cashing services and payday lenders. Payday lenders, which offer short-term, high-cost loans at nearly 400 percent interest, have thrived under the Trump administration thanks to increasingly lax consumer protections.
According to the Pew Charitable Trusts, Americans spend upward of $9 billion per year on fees associated with payday loan. Research shows that payday lenders are twice as likely to be located in African American and Latino neighborhoods and that African Americans are 105 percent more likely to take out a payday loan than any other demographic.
Gillibrand's efforts take direct aim at these predatory practices. "Many low-income families across the country don't have any access to even the most basic banking services like checking accounts and debit cards, and they end up getting preyed on by payday lenders and other predatory lenders," said Sen. Gillibrand in a statement provided to Mother Jones. "[Postal banking] would effectively end predatory lending nationwide, provide low-cost, basic financial services to all Americans, and make a huge difference in the lives of millions of families."
Unlike banks, or even services like UPS and FedEx, post offices already have an obligation to serve areas that might not seem profitable, says Mehrsa Baradaran, associate dean for strategic initiatives at the University of Georgia Law School and author of How the Other Half Banks and The Color of Money: Black Banks and the Racial Wealth Gap. "It costs more to be poor, but it's also just undemocratic," says Baradaran. "We as a country support banks, but when they're leaving people out that's just not fair."
She says that while community banks and finance technology might seem like an easy fix, those solutions are just as inaccessible to the Americans most in need of financial services. An analysis of 2014 data from the Consumer Financial Health Study found that 40 percent of US ZIP codes had a USPS outpost but lacked a bank or credit union. "We have this myth of this George Bailey savings and loans," Baradaran says, "and there are a few banks in the country that are based on a small lending nonprofit model, but it's very difficult for a community."
While Postmaster General Megan Brennan said in 2016 that the agency was "open to any new service [that] would generate revenue," USPS has not explicitly endorsed the new bill. A 2014 white paper from the Office of the Inspector General of the United States Postal Service determined that postal banking "could be a powerful new tool to help the underserved become more financially secure," and that the agency was "well positioned" to reach the 68 million currently underserved Americans. The report also estimated that the move would generate nearly $10 billion in annual revenue for the agency.
While postal banking has now drummed up Democratic support in both the Senate and House, postal banking has long been a contentious issue in Congress. Before the original postal banking system was instituted, nearly 100 bills failed in Congress before it finally passed. The 2014 inspector general report also inspired proposals from Sen. Elizabeth Warren (D-Mass.) and Rep. Cedric Richmond (D-La.), whose bill never made it past committee.
Republicans have already started to come out against the new set of bills before they've even reached a vote. In July, Rep. Patrick McHenry (R-N.C.) filed an ultimately unsuccessful amendment to the 2019 Interior-Environment and Financial Services bill that would have barred USPS from offering financial services beyond money orders and international transfers. Baradaran says McHenry's letter to Treasury Secretary Steven Mnuchin claiming that postal banking would put the "taxpayer on the hook" is false because the system would be "self-sustaining."
Baradaran says a strong bank lobby poses a threat to getting the act actually passed. There are also concerns that pushes by the Trump administration to privatize the agency could make any banking it offers just as predatory as what's already out there. "You want to avoid a path," she says, "where you have private shareholders reaping profits from the public."