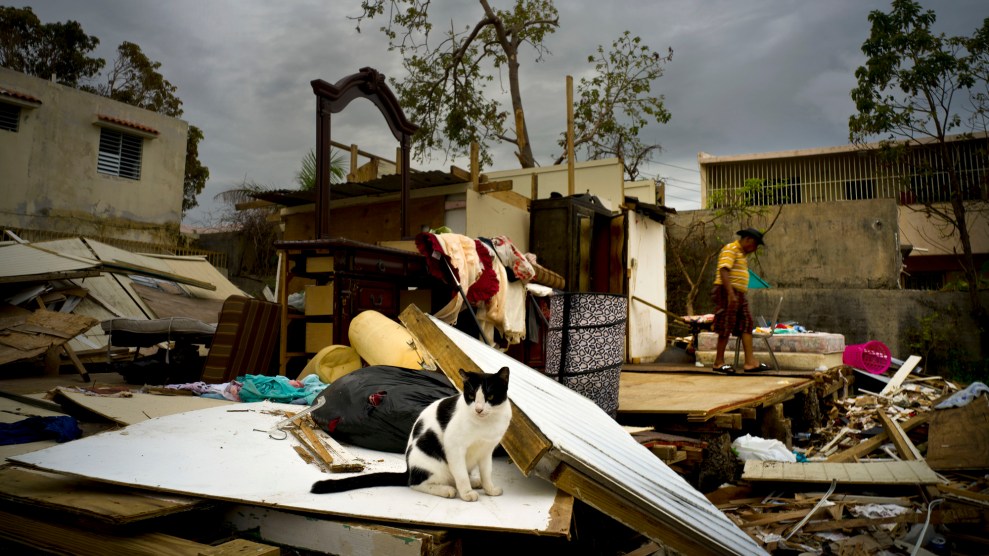 Fight disinformation:
Sign up
for the free
Mother Jones Daily
newsletter and follow the news that matters.
This morning, the Puerto Rican government finally admitted that its official death toll for Hurricane Maria was a wild underestimate. A new government report calculates that the island suffered 1,427 deaths from the storm and its aftermath.
Shortly after the hurricane, officials put the death toll at 64, though subsequent reports from CNN, the Center for Investigative Journalism, and The New England Journal of Medicine calculated much higher numbers.
Most of the deaths occurred in the weeks after the hurricane due to infrastructure failures, including the lack of power, impassable roads, water and food shortages, and difficulty obtaining medical care. As of June, thousands remained without power. Puerto Rico is seeking $139 billion in recovery funds to restore infrastructure and fix environmental hazards caused by the storm last September.
Héctor Pesquera, secretary of the Department of Public Safety in Puerto Rico, noted in a statement that Puerto Rican officials are waiting for a study commissioned from George Washington University before they officially update the death toll. That report will be released in a few weeks. "On June 1," Pesquera said, "the Puerto Rico Demographic Registry released data to the media which indicated there was an excess of 1,400 deaths in the four months following Hurricane María. That number was not the result of an independent study—it is simple math. This is not the official number of deaths attributable to Hurricane María."
Puerto Rican congresswoman Nydia M. Velzáquez (D-NY), who sits on the House Committee of Natural Resources, released a statement condemning America's post-hurricane response. "It has been tragically clear for some time that the devastation from Irma and Maria was many magnitudes worse than the official death toll suggested. There's good reason to believe that the actual loss of life may be even higher than this estimate. This news is simply the latest evidence underscoring how inadequate the federal response was to a humanitarian crisis affecting our fellow citizens," she wrote.