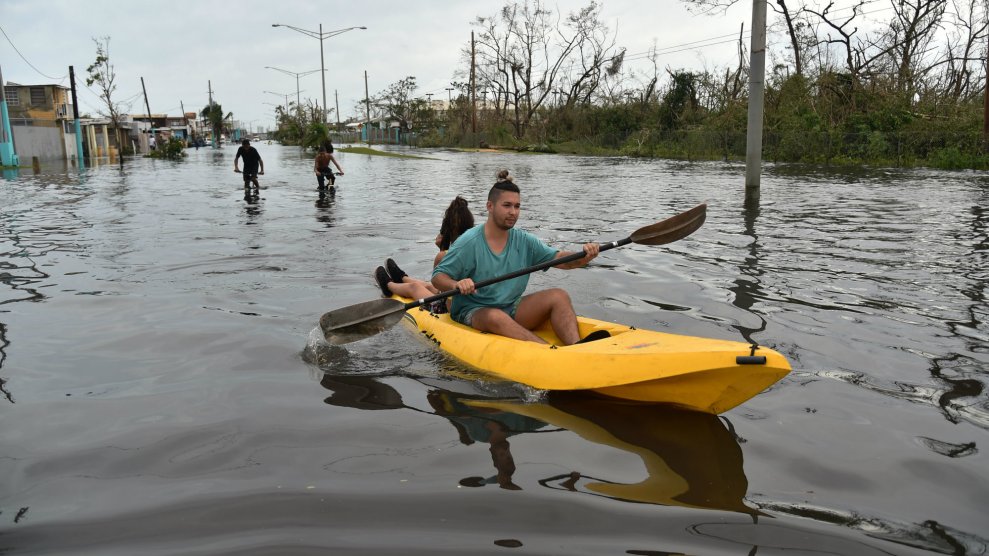 This story was originally published by HuffPost. It appears here as part of the Climate Desk collaboration.
It's been a year since Hurricane Maria upended Jennyfer Ortiz's life. The single mother fled Puerto Rico with her two children after their house in the mountain town of Orocovis lost power. They have been using a government-funded program to pay for a hotel in the Bronx, but that ended last week, forcing Ortiz, her 20-year-old son and 14-year-old daughter into a homeless shelter.
"Maria changed our lives—ruined our lives—and left us with nothing. After 18 hours of horror, we woke up the next day and had lost everything," Ortiz said. The 46-year-old hasn't been able to work since they've been in New York City—she has diabetes and hypertension, takes 14 medications a day and uses a walker. Her son works full time at a grocery store, but doesn't make enough to pay for their own place.
"We're working. We're not just waiting for the government to pay everything," she said. "We're trying to get ahead—but it's hard."
Ortiz is one of 2,436 displaced Puerto Ricans on the US mainland who, as of last month, were still in hotels paid for by the Federal Emergency Management Agency's Transitional Sheltering Assistance program.
After repeated extensions of the program in response to a lawsuit from the advocacy group Latino Justice, a federal judge ruled late last month to end it, forcing people still using the program to check out by Sept. 14.
There were few good options for the people still in hotels: Accept the government's offer to pay for a plane ticket back to Puerto Rico or stay on the mainland and either secure their own place, stay with friends or go to a shelter.
Many relying on FEMA's housing funds are in precarious financial situations, said Peter Gudaitis, executive director of the nonprofit New York Disaster Interfaith Services, which has been helping Maria evacuees. Some have medical conditions, others have young kids and haven't been able to afford day care, which has prevented them from finding a job. Even evacuees who have found work struggle to save enough for a security deposit and first month's rent.
"I don't have anybody here. I don't know what to do," Myrna Reyes, another Maria evacuee, who suffers from diabetes, asthma and high blood pressure, told HuffPost on Monday. "I've lost hope."
After Reyes left the hotel that FEMA was paying for in Brooklyn on Friday, she ended up at a New York shelter. But she didn't feel safe there. She saw people outside injecting drugs, she said, and her room was up four flights of stairs with no elevator, and she has limited mobility. She went to a friend's home nearby, but that friend is moving to Florida next week, and Reyes will have to find somewhere else to go.
"They've left us practically in the street," Reyes said. "They're not treating us like the US citizens that we are."
When US District Judge Timothy Hillman in Massachusetts ruled to end the FEMA hotel program earlier this month, he urged the government to find longer-term housing solutions for Maria evacuees. Latino Justice alleges that FEMA hasn't.
FEMA told HuffPost on Tuesday that since Maria hit, it had assisted more than 7,000 families who had survived the storm with temporary hotel rooms in 40 states, costing more than $100 million.
"While FEMA and other forms of government assistance can never make a disaster survivor whole, the assistance is meant to help survivors begin their recovery process," FEMA spokesperson Lenisha Smith wrote by email. "FEMA will continue to work with survivors in their long-term housing plans."
Gudaitis, whose group has been helping Maria survivors in New York, said that of the 34 families it assisted who were still in hotels paid by FEMA as of last week, over two thirds are now in the New York City shelter system. The rest are staying with family, and a "small number" have found their own place, he said.
In central Florida, Vamos4PR, a group assisting Maria evacuees there, said of about 100 families it knew of that were using the FEMA program, about half are now doubled up with friends, a "handful" returned to Puerto Rico and a few had secured their own place. For the remaining, the group is now trying to assist with cash or by negotiating low hotel rates. They were told in recent months that there was no more capacity in the central Florida shelter system.
Amneris Ortíz (no relation to Jennyfer) is a single mom who had been using the FEMA program to pay for a hotel on the outskirts of Orlando until Friday, along with her elderly mother and three children, ages 17, 10 and 8. A local church helped her pay a deposit and the first month's rent to secure an apartment, but she doesn't know how she'll make rent next month.
She had been working at a Wawa gas station, but after her car broke down in July, she lost that job because it was too far to walk there. She then got a job closer to the hotel, working as a part-time teacher in a day care, but the apartment they were able to line up is too far from that job. When HuffPost spoke to her Monday, she hadn't been able to make it to work that day.
"I don't know how I'm going to do it," said Amneris Ortíz. Her kids have asthma, and her mother also has health issues. She has a college degree, but her current job pays only $9 an hour. "I'm trying to make enough to help my kids get by, but it's really hard."
FEMA noted that one of the options it offered evacuees was free plane tickets to return to Puerto Rico. About 500 people have taken them up on that.
In the wake of the storm, the schools Amneris Ortíz's kids had attended had closed. In Florida, they're getting a good education at least. The principal at her son's school even paid for his soccer cleats so he could join the team.
Jennyfer Ortiz says she's undergoing treatment in New York for her medical conditions. She has knee surgery scheduled. Without power in the wake of Maria, she couldn't keep her insulin refrigerated. The family would line up for hours for ice only to have half of it melt by the time they got home. She doesn't see how she can return to an island where she has no place to stay—their home that flooded was a rental—and where there's still a shortage of doctors.
"Without health, we have nothing," Jennyfer Ortiz said. "They wanted to pay me a ticket to go back to an island where I lost everything. And to return where? To the street?"
FEMA also pointed to a Rental Assistance program it offers to provide two-months' rent to survivors. The agency said it had provided it to 3,833 families who had previously stayed in FEMA-paid hotels stateside.
But Gudaitis said that, to his knowledge, none of the families his group serves in New York had been able to get rental assistance through that program. Vamos4PR echoed that in central Florida: None of the families it had assisted received additional longer-term housing assistance from FEMA.
"I honestly feel lost," said Amneris Ortíz. She applied for rental assistance from FEMA a couple of weeks ago and sent further documentation last week. She has not heard anything so far.
"I'm getting panic attacks. I'm scared of ending up in the street with my kids," she said, in tears. "Not being able to provide them with what they need — they ask me for things and I can't. I'm feeling very depressed. I don't see the light at the end of the tunnel."