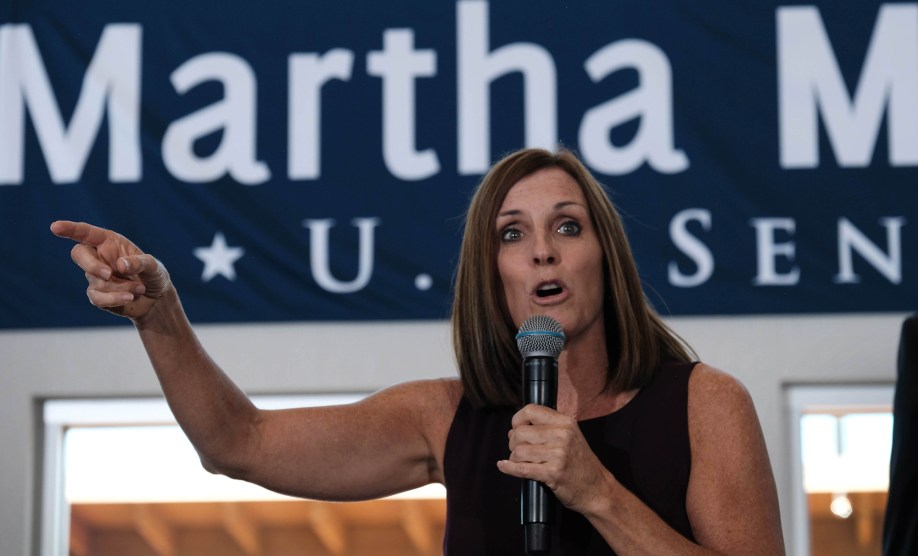 Fight disinformation:
Sign up
for the free
Mother Jones Daily
newsletter and follow the news that matters.
Less than two weeks before Election Day, Rep. Martha McSally (R-Ariz.) has joined the the chorus of Republican incumbents who are now claiming that they want to protect preexisting conditions despite voting to repeal the Affordable Care Act. But when asked about her position by a local news station, the Arizona incumbent made it clear that, well, health care doesn't actually matter to voters.
"Can we please talk about the things that matter to most Arizona voters instead of repeating the Arizona Democratic Party press releases?" McSally shot back at a CBS 5 Phoenix reporter. The interview comes on the heels of the release of McSally's latest television ad, suggesting that the candidate, who voted for a bill to repeal of Obamacare in 2017 that would have weakened rules to help those with preexisting conditions, was committed to protecting them. How she plans on doing that, however, is unclear given her attempt to shift the interview to immigration policy.
"This is ridiculous, honestly. Do you have anything to talk about like the caravan or job opportunities?"
This isn't the first time that McSally, who is in one of the most competitive Senate races in the country, has shrugged off an issue that didn't align with one of her key talking points. In an October debate, she punted a question about climate change in a similar manner, saying "I mean we do have to address the issues of climate, and water is so important for Arizona, it's our lifeline." But, she said, "we have to talk about the military! We have to talk about our veterans! We haven't had any opportunity!" Instead of discussing either, she launched into an attack against opponent Rep. Kyrsten Sinema's (D-Ariz.) nearly two-decades old comments protesting the United State's involvement in the Middle East.