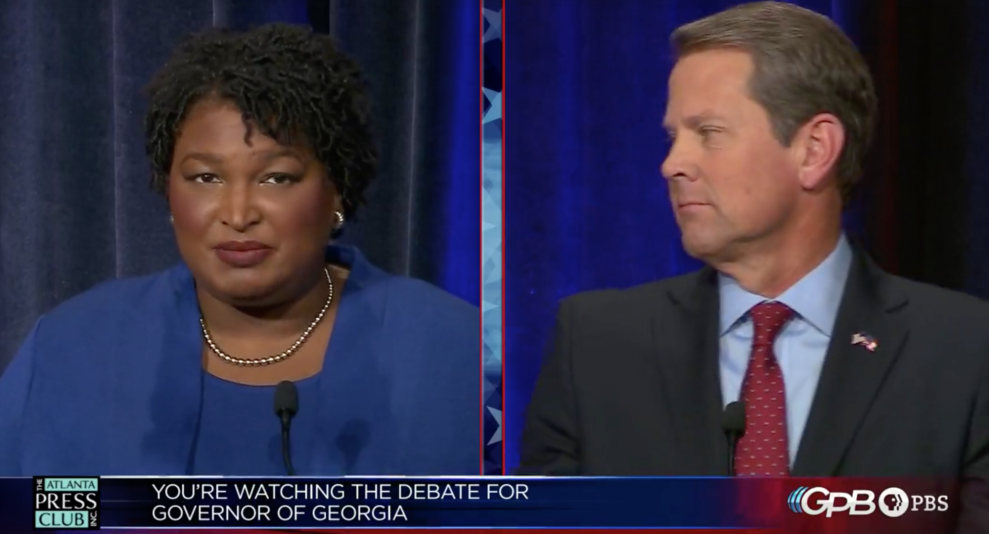 Fight disinformation:
Sign up
for the free
Mother Jones Daily
newsletter and follow the news that matters.
Whether or not Republican gubernatorial candidate Brian Kemp is trying to suppress the votes of tens of thousands of black voters in Georgia was the contentious question that drove much of the tense hour-long debate Tuesday night between Kemp, Democrat Stacey Abrams, and Ted Metz, the libertarian nominee.
In recent weeks, Kemp has been dogged by allegations that he's worked to suppress at least 53,000 votes in his current job as Georgia secretary of state. An Associated Press investigation found that 70 percent of those voters are black. At issue is the fact that Kemp effectively created a long waiting list of recently registered voters whose information doesn't match exactly how they're listed in other government databases. Abrams, meanwhile, has banked her campaign and much of her career on mobilizing new Georgia voters—immigrants, people of color, and young people—instead of pandering to moderates.
During one particularly tense exchange Tuesday night, Kemp called voter suppression "a farce," and he even tried to use as an example of "Jesus from Heaven Street" registering to vote to belittle legitimate voting rights concerns. He argued that the narrative is merely a ruse by Abrams to distract voters from her supposedly radical leftist agenda. Pieces of that oh-so-radical agenda were also on display Tuesday, like a plan to expand Medicaid to help save rural hospitals from closure and another to extend a state-sponsored scholarship to all graduating high school seniors. Kemp, meanwhile, blasted Medicaid as a "failing program" that shouldn't be expanded. (Another lowlight was when he argued that DACA recipients who pay taxes shouldn't be allowed to use in-state tuition to attend college. "I think we need to continue to fight for our own people who are citizens of our state," Kemp said.)
What's more, Kemp was defiant when asked if he would recuse himself as secretary of state if the vote went into a recount, which happens automatically if the vote is closer than one percent. "I took an oath of office to serve as secretary of state and that's exactly what I'm going to continue to do," he said. "I have staked my integrity of my whole career on the duty that I have as secretary of state. I've always fulfilled and followed the laws of our state and I'll continue to do that through the tenure of my service to this great state."
Beyond her radicalism, Kemp also went after Abrams's personal debt, which she's talked about openly, arguing that it proves that she's fiscally irresponsible and unfit to lead the state. Abrams countered with claims of Kemp's own debts and, in another exchange, said, "I've never had to be sued to do my job"—a reference to a federal lawsuit filed earlier this month by a coalition of civil rights groups taking on Kemp's office for allegedly purging the tens of thousands of voters.
You can watch the debate in its entirety below, the voting rights exchange starts around the 48 minute mark: