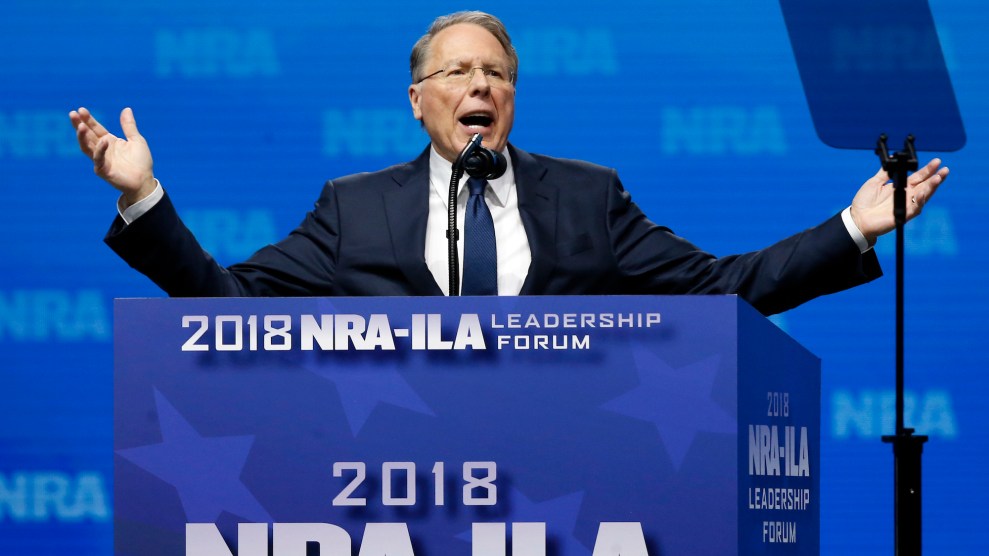 Fight disinformation:
Sign up
for the free
Mother Jones Daily
newsletter and follow the news that matters.
Less than a week after a MAGA fanatic mailed pipe bombs to critics of President Donald Trump, the National Rifle Association intensified its campaign against two of the Democrats targeted in the attack. In a tweet Tuesday night, the NRA blasted billionaire donors George Soros, Tom Steyer and Michael Bloomberg for "pumping unlimited money into electing anti-gun lawmakers," adding that there "is no end to how much they'll pay to push their elitist agenda on Americans." Both Soros and Steyer were sent bombs last week. The NRA tweet linked to a CNBC story reporting that despite the bomb scare, Soros was "leaving the door open to making another major investment in the midterm campaign."
Another billionaire is pumping unlimited money into electing anti-gun lawmakers. Notorious anti-gunner George Soros joins anti-gun billionaires Steyer and Bloomberg. There is no end to how much they'll pay to push their elitist agenda on Americans. https://t.co/jxFmnc802s

— NRA (@NRA) October 31, 2018
Not even attempted assassinations have caused the NRA to throttle back on demonizing these targets of political violence. Moreover, the NRA tweet—accusing sinister billionaires of pushing an "elitist agenda on Americans"—fits a pattern of rhetoric that has historically been associated with anti-Semitism. Soros and Bloomberg are Jewish; Steyer has Jewish ancestors. Just last week, House Majority Leader Kevin McCarthy (R-Calif.) posted a tweet, which has been deleted, stating that "we cannot allow Soros, Steyer, and Bloomberg to BUY this election!" McCarthy's tweet was widely criticized, including by Steyer himself, who called it "a straight-up anti-Semitic move."
The NRA's rhetorical attacks on Jewish supporters of gun control have drawn criticism in the past. A 2007 cover of America's 1st Freedom, one of the gun rights group's magazines, depicted Bloomberg—who finances gun safety efforts—as an octopus. Such imagery has traditionally been used in anti-Semitic depictions of Jewish conspiracy and control. At the time, an NRA spokesperson explained that the association was "inadvertent and unintentional" and was meant to illustrate how Bloomberg, who was serving as New York City's mayor, "extends his reach and his illegal anti-gun tactics across America." A spokesman for the American Jewish Congress agreed that the slight was unwitting, but still "unforgivable" and "really, really stupid."
More recently, NRA board member Ted Nugent posted an image of 12 Jewish-American public figures—including "Jew York City Mayor Mikey Bloomberg"—alongside Israeli flags with the headline, "So who is really behind gun control?" Media Matters noted that a similar image had appeared on a white supremacist website in 2014. The Anti-Defamation League called upon Nugent to remove the post, decrying it as "nothing short of conspiratorial anti-Semitism." Despite the backlash, Nugent did not apologize, and the post remains on his Facebook page. The NRA did not announce that it was taking any action against Nugent, telling the Washington Post that "individual board members do not speak for the NRA." FriendsofNRA.org, a site that raises money for the gun rights group, sells guitars made in the shape of an AR-15 rifle signed by "patriotic rocker" Nugent. (Nugent was invited by President Donald Trump to the White House in April 2017.)
Speaking at the Conservative Political Action Conference in February of this year, NRA executive vice president Wayne LaPierre said that "social engineering and the billions of people like George Soros, Michael Bloomberg, Tom Steyer and more" would usher into Congress "European socialists"—language the ADL described as "buzzwords that white supremacists associate with Jews." The ADL noted that neo-Nazis cited LaPierre's speech.
In the March 2018 issue of America's 1st Freedom, LaPierre again invoked Bloomberg, Soros, and Steyer to explain why "Soviet Socialism, National Socialism, Maoist Communism—this evil, destructive, left-wing ideology is on the march right here in America." NRA president Oliver North asserted in his own NRA magazine column earlier this month that Bloomberg, Soros, and Steyer were part of "a small cabal of billionaires" aiming to funnel their fortunes into turning "America into a gun-free socialist utopia." Though these denunciations did not directly cite the Jewish heritage of these men, language like this—a conspiracy to weaken the West financed and mounted by a small band of wealthy Jews—has long been a staple of anti-Semitism.
The NRA has also perpetuated the conspiracy theory tying Soros to the caravan of asylum-seekers making their way from Honduras toward the US-Mexico border. Media Matters reported that during an October 19 broadcast, NRATV correspondent Chuck Holton falsely claimed that "a bevy of left-wing groups are partnering with a Hungarian-born billionaire [Soros] and the Venezuelan government to try to influence the 2018 midterms by sending Honduran migrants north." On another recent NRA broadcast, Holton mentioned Soros' supposed caravan ties and said that Soros is "an expert at sowing chaos and discord around the world and then reaping a profit." He added that Soros' "socialist anti-gun, anti-American agenda is nothing short of apocalyptic."