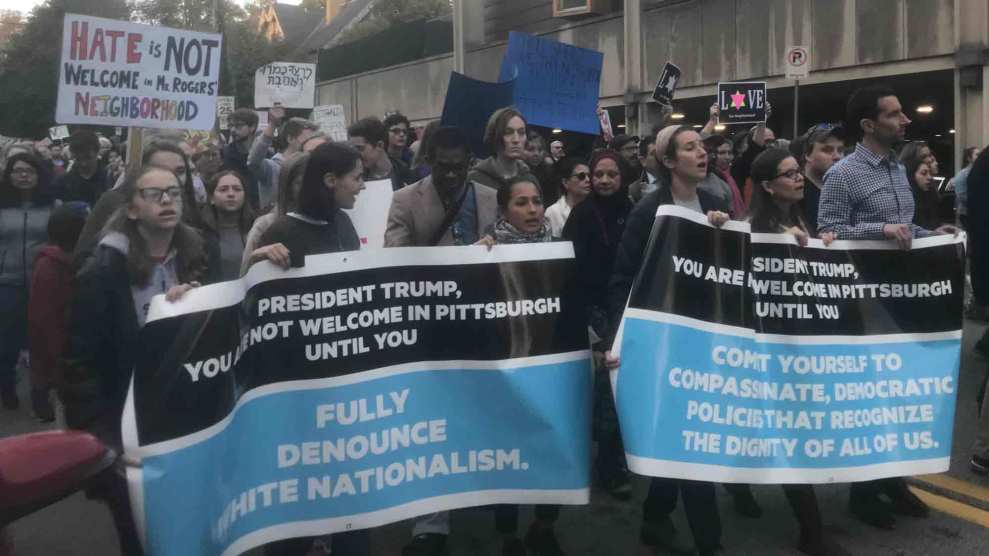 Fight disinformation:
Sign up
for the free
Mother Jones Daily
newsletter and follow the news that matters.
As President Trump came to Pittsburgh on Tuesday afternoon, thousands of residents marched in protest through Squirrel Hill, the historically Jewish neighborhood that is home to Tree of Life, the synagogue where 11 congregants were murdered by an anti-Semitic gunman during morning services on Saturday.
On Sunday, members of Bend the Arc Pittsburgh, the local affiliate of the national Jewish social justice organization, sent an open letter rebuking the president's divisive politics and urging him to stay away—"you are not welcome in Pittsburgh until you fully denounce white nationalism." A variety of progressive organizations, including branches of Planned Parenthood, CAIR, Indivisible, and the Women's March, joined behind the protest of Trump's trip to the city, where he arrived along with his wife Melania, daughter Ivanka, and son-in-law Jared Kushner.
Congressional leaders in both parties turned down Trump's invitation to accompany him to Pittsburgh, and local officials, including Mayor Bill Peduto and Allegheny County Judge Executive Rich Fitzgerald, had declined to escort him. Peduto told reporters late on Monday that his and the city's focus should be on funerals: "We do not have enough public safety officials to provide enough protection at the funerals and to be able, at the same time, [to] draw attention away to a potential presidential visit."
After Bend the Arc's letter drew support from some 60,000 people online, the Jewish Federation of Greater Pittsburgh offered a more diplomatic statement to the Pittsburgh Post-Gazette. "There are going to be people in the Pittsburgh Jewish community who are very angry Trump is visiting, and there are going to be people who are very happy Trump is visiting," the organization said. "We are doing the best we can to make this not a political issue."
Honoring the victims was the most important priority for residents here on Tuesday. "Today we are joining together in a collective ritual to heal and to mourn," organizers said before calling a group of singers to the microphones to lead and teach the crowd traditional Hebrew songs that were sung during the march.
The crowd is slowly staring to march, singing 'Ozi v'Zimrat Yah' which was just taught by a group of singers. pic.twitter.com/GUiVWHl5sx

— Clint Hendler (@clinthendler) October 30, 2018
While Trump visited the synagogue where the attack had happened and laid memorial stones on markers erected in memory of the victims, the protesters, less than a mile away, walked along under yellow hued-trees and falling leaves, reiterating with their signage that Trump was not welcome.
As the President lays memorial stones outside Tree of Life, blocks away: pic.twitter.com/U3FMUzFDPe

— Clint Hendler (@clinthendler) October 30, 2018
Partway through the march, the crowd stopped for a moment of silence and to perform kriah, a traditional ritual where mourners rip their clothing, or a small piece of fabric. Organizers handed out small black pieces of paper as substitute.
The crowd performs a ritual rending of garments (small black papers were handed out) before beginning a moment of silence. pic.twitter.com/6p9ApR3P7B

— Clint Hendler (@clinthendler) October 30, 2018
"We started this event on Beechwood boulevard, which is where Mr. Rogers used to live, and now we're ending this event before the church where Mr. Rogers used to pray," Jamie Forrest, a Bend the Arc activist, told the crowd as they gathered at the end of the march. "Pittsburgh is as so many, many people say, the friendliest city in the country. And we are all steadfastly determined to keep it that way."