Fight disinformation:
Sign up
for the free
Mother Jones Daily
newsletter and follow the news that matters.
Mia Love used to be a Republican rock star. She was young, Haitian American, Mormon, and very conservative. In 2012, when she was running for the first time for her current congressional seat in Utah, party leaders made her a prime-time speaker at the Republican National Convention. She lost that race to Democrat Jim Matheson. But when he retired in 2014, she won his seat, becoming the first black Republican woman ever elected to the House. After two terms, however, she's in serious danger of losing a seat she won by 13 points in 2016.
By a small but consistent margin, Love has been running ahead of her Democratic challenger, Salt Lake County Mayor Ben McAdams, for most of the year. But this month, Love has been trending downward in the polls, which have shown a dead heat, and a poll released Tuesday shows her trailing by more than the margin of error for the first time. The poll—conducted by KUTV, a Salt Lake TV station owned by the conservative Sinclair Broadcasting, and Dixie Strategies, a polling firm that leans Republican—found that among likely voters, McAdams now holds a 6-point lead over Love.
In her four years in office, the onetime tea party darling has primarily made news in Utah because of ethics problems, starting in her first term, when she and her husband took a weekend trip to Washington to attend the 2015 White House Correspondents' Dinner. House rules bar members of Congress from using their congressional funds to pay for travel to social events, but Love's congressional office reimbursed her for more than $1,000 for the plane tickets. Love claimed she had flown to DC for official business, though she never produced any evidence and she ultimately repaid her office for the travel after an outcry in Utah. In 2017, her campaign spent nearly $10,000 on food and lodging at Disney World in Florida. Love claimed the money was spent on fundraising events.
More recently, Love has run into trouble with the Federal Election Commission, which in August sent her campaign a letter questioning whether Love had illegally raised more than $1 million for her primary campaign—a race that never happened. Utah is one of a few states where the GOP holds a nominating convention first, rather than a traditional primary. If a candidate wins 60 percent of the convention delegate votes, he or she can proceed to the general election without a primary. Love knew in March that she would not have a Republican challenger at the convention. Yet she continued to raise more than $1 million for a primary race, including more than $370,000 after she had already been nominated at the GOP convention in April.
In its letter to her campaign, the FEC said that because Love didn't participate in a primary, any campaign contributions received for the primary "must be returned to the donors or redesignated to another election" with written permission of donors. Love has insisted her fundraising was legal, but her campaign refunded more than $10,000 in illegal donations and redesignated the primary funds she received after the convention. But good-government advocates in the state filed a complaint against her with the FEC, alleging that she should return the entire $1.1 million raised for the primary she knew she'd never have. That complaint is still under review.
McAdams seized on the FEC finding and launched TV ads stating, "What do Washington politicians do when caught with $1 million in illegal contributions? Mia Love kept the money and is using it to make false attacks against Ben McAdams."
The election of President Donald Trump has also complicated Love's reelection campaign. In 2016, Trump was highly unpopular in Utah, one of the most reliably Republican states in the country. He won only 45 percent of the vote there in 2016, compared with the 72 percent Mitt Romney received in 2012. (Hillary Clinton received just 27 percent, with independent candidate Evan McMullin winning 21 percent.) Trump's performance was even worse in Love's 4th Congressional District, where he won just 39 percent of the vote and beat Clinton by only 7 points. Since the election, his approval ratings have plunged further in Utah than in any other state, from 58 percent at his inauguration to 45 percent today. Trump may be dragging Love down with him.
That's somewhat remarkable, given that her district was gerrymandered to make sure a Democrat could never prevail there. Virtually all of the state's Democratic minority is clustered around Salt Lake City and the resort towns of Park City and Moab. For much of Utah's history, Salt Lake City and the surrounding county were essentially their own congressional district and reliably sent a Democrat to Congress. But starting in 1999, Republicans in the Utah Legislature have twice redistricted Salt Lake City to split it into four different congressional districts, none of which has a majority of Democrats. Since Matheson's retirement in 2014, there hasn't been a single Democrat in the state's congressional delegation.
But Salt Lake County, which Clinton won decisively in 2016, still makes up the bulk of Love's district. In 2016, Love won the part of the county in her district by about 35,000 votes, but if Democrats succeed in driving independent and Democratic turnout in the county this year, McAdams has a real shot at winning.
A former actress and flight attendant who moved to Utah from Connecticut after converting to Mormonism, Love had limited political experience before running for Congress, having served as part-time mayor of Saratoga Springs, a suburb of Salt Lake City. (When she wasn't running the city, she was a part-time fitness instructor.)
In her first race against Matheson in 2012, Love was a fire-breathing tea partier. She campaigned on ending the school lunch program and eliminating the federal student loan program, even as she was still paying off loads of her own school debt. She echoed tea party demands to "audit the fed," repeal Obamacare, and eliminate the Common Core school curriculum. (Matheson, one of the last conservative Blue Dog Democrats, had actually voted against Obamacare.) Her campaign was so disorganized that she once failed to show up for an event with Romney in Houston. She lost narrowly to Matheson.
But once Matheson retired, Love toned down the rhetoric and beat Democrat Doug Owens in 2014 and 2016. The 2016 presidential election, however, energized Utah Democrats and progressives. A group of them launched the CD4 Coalition, which has raised money to buy Facebook ads and put up billboards in the district bashing Love for receiving more than 80 percent of her campaign funds from out of state this year and failing to hold town hall meetings with her constituents, among other issues.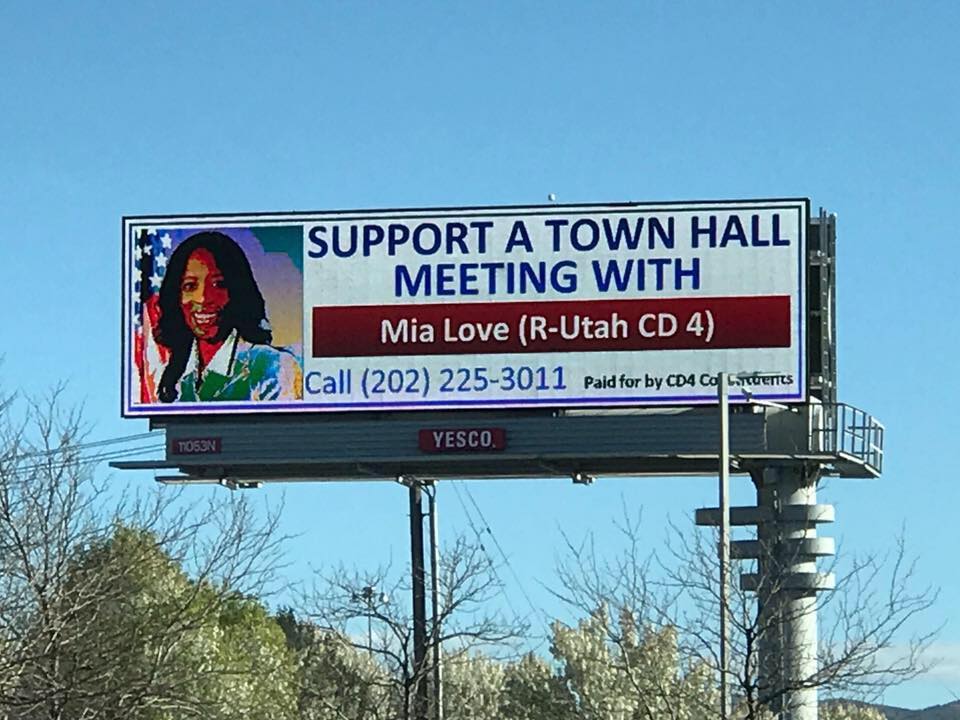 Love has voted with Trump 96 percent of the time in Congress, but she's disagreed with the president on immigration. Love's parents came from Haiti and worked illegally in the United States before gaining legal status in the 1970s. Trump said last year that Haitians who were coming to the United States "all have AIDS," and he ended Temporary Protected Status for Haitians who came to the US after the 2010 earthquake, putting nearly 50,000 at risk of deportation. In January, after the Washington Post reported that Trump had said Haitians and other immigrants come from "shithole countries," Love responded by saying his comments were "unkind, divisive, elitist, and fly in the face of our nation's values." She called on him to apologize. (He didn't.)
Not surprisingly, Trump won't be coming to Utah to campaign for her before the election next week, leaving Love to defend her seat on her own.