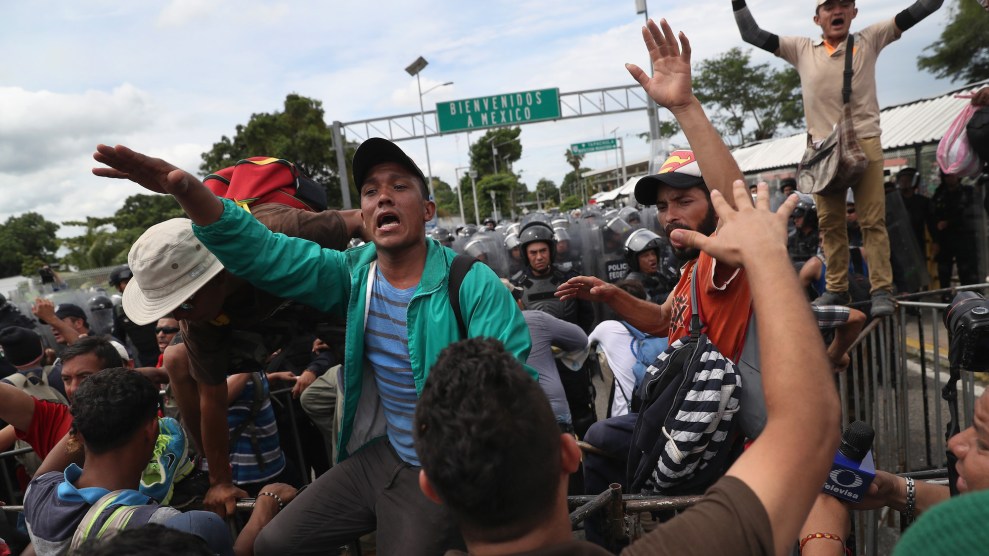 Fight disinformation:
Sign up
for the free
Mother Jones Daily
newsletter and follow the news that matters.
President Donald Trump claimed Monday without evidence that "unknown Middle Easterners are mixed in" with the caravan of Central American migrants heading toward the United States from southern Mexico. Trump followed up by tweeting that the United States will begin to cut off or "substantially" reduce foreign aid to El Salvador, Guatemala, and Honduras.
Sadly, it looks like Mexico's Police and Military are unable to stop the Caravan heading to the Southern Border of the United States. Criminals and unknown Middle Easterners are mixed in. I have alerted Border Patrol and Military that this is a National Emergy. Must change laws!

— Donald J. Trump (@realDonaldTrump) October 22, 2018
Guatemala, Honduras and El Salvador were not able to do the job of stopping people from leaving their country and coming illegally to the U.S. We will now begin cutting off, or substantially reducing, the massive foreign aid routinely given to them.

— Donald J. Trump (@realDonaldTrump) October 22, 2018
Trump is arguing that that Central American countries have not done "the job of stopping people from leaving" their borders. There is legally protected freedom of movement between those countries, and the Honduran migrants who launched the caravan had the right to enter Guatemala.
The caravan began about 10 days ago, when roughly 160 migrants left the Honduran city of San Pedro Sula. After crossing into Guatemala and then Mexico, the caravan has grown to roughly 5,000 people, according to the Washington Post.
BuzzFeed News reported that migrants arrived in Tapachula, Mexico, on Sunday. Tapachula is more than 1,000 miles from the US-Mexico border, but Trump is treating the caravan as an imminent threat to US sovereignty and security.
Trump's reference to "unknown Middle Easterners" followed baseless speculation on Fox & Friends. Fox News political analyst Pete Hegseth told the hosts of the show on Monday morning, "You've got the president of Guatemala saying to a local newspaper down there, just last week, they caught over 100 ISIS fighters in Guatemala." Hegseth added, "We don't know—it hasn't been verified—but even one poison pill is too many in a caravan."
"A wall is part of saying – you don't get to come in to our country unless you prove that you're a refugee" –@PeteHegseth pic.twitter.com/fo9lLyp7dw

— FOX & friends (@foxandfriends) October 22, 2018
Guatemalan President Jimmy Morales—a Trump-like figure who went from an entertainer to a scandal-plagued president—said last week that Guatemala has deported about 100 people "completely linked to terrorist issues, with ISIS." Morales made the claim at a regional security conference attended by Vice President Mike Pence. There is no indication that Morales' assertion had anything to do with the caravan, and there's reason to be skeptical of his claim. Morales is trying to gut a widely respected anti-corruption commission, which has accused Morales of accepting about $1 million in illegal campaign contributions and wants to strip him of his legal immunity.