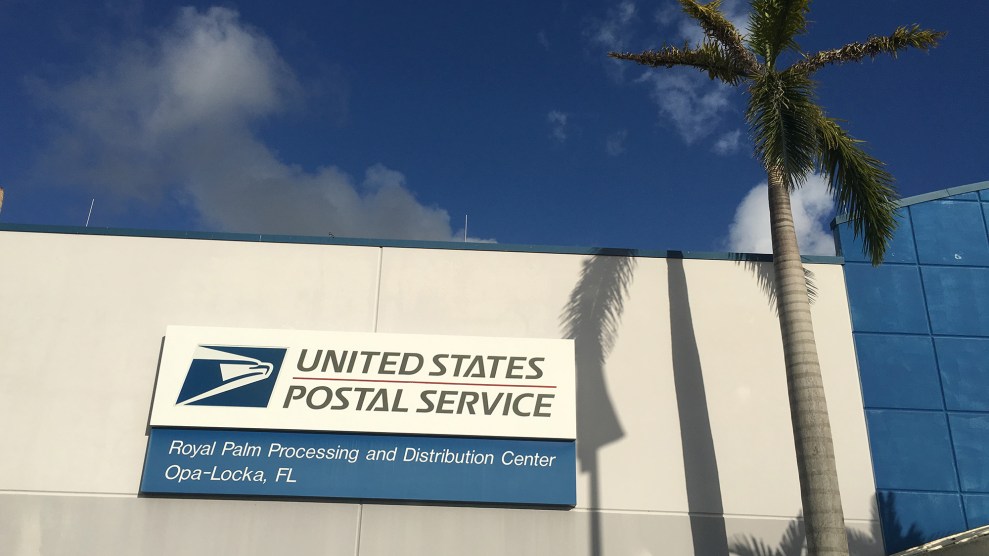 Fight disinformation:
Sign up
for the free
Mother Jones Daily
newsletter and follow the news that matters.
Each year on Election Day, thousands of volunteers around the country answer an election hotline for voters having problems casting a ballot. But last week, the lawyers manning the phones for Florida residents in downtown Miami noticed something out of the ordinary. For the first time, there was a massive volume of calls about absentee ballots. Some people hadn't received them in time to get them counted, and others couldn't ascertain that their ballots had been received. They wanted to know what they could do.
In Florida, mail-in ballots are only valid if they arrive at county election offices by 7 p.m. on Election Day. (Ballots mailed from overseas are they exception: They can arrive after Election Day and still be counted.) This means that timely mail delivery is key to ensuring that Floridians have the opportunity to vote. But in the 2018 midterms, reports of absentee ballots that never arrived, arrived too late, or never made it back to election officials suggest that mail delivery issues may have affected the midterm elections in Florida—an in particular, the state's Democratic-leaning counties in South Florida.
With fewer than 13,000 votes separating Democrat Bill Nelson and Republican Rick Scott in the Senate race, out of more than 8.2 million cast, some people in Florida suspect that the outcome of the race could be altered by outdated mail-in rules—and by a single overwhelmed mail distribution center here in the quirky, down-at-the-heels city of Opa-locka.
"We have a mail delivery problem in Broward County," says state Sen. Gary Farmer, a Democrat who represents part of the county and has been involved in the recount effort. "It's just slow."
The residents of Miami-Dade, Broward, and Palm Beach counties in South Florida make up the core of the state's Democratic voters, and their votes are critical to Democrats' ability to win statewide races. Increasingly, voters in these counties rely on mail-in ballots to vote, pushed by election officials and both political parties. The parties, Farmer says, have encouraged voting by mail because it helps them track who has voted and who hasn't. The result has been a steady increase in recent years in the number of ballots cast by mail. According to the Miami Herald, Democrats requested mail-in ballots in all three counties at nearly twice the rate that Republicans did. This election, 174,649 ballots sent to Democrats were not returned.
The importance of mail-in ballots is only growing as the state conducts its hand recount in the Senate race on Friday. Early indications are that the recount will not give Nelson the boost he'd hoped for, so mail-in ballots that have yet to be counted might be his last hope.
The Nelson campaign filed a lawsuit on Sunday, asking a federal judge to extend the Election Day deadline for absentee ballots and require the secretary of state to accept ballots that arrive late, in acknowledgement of the problem of late-arriving ballots in South Florida. Absentee ballots coming from civilians and military personnel overseas have until 10 days after the election to arrive, as long as they are postmarked by Election Day. The lawsuit argues domestic absentee voters should not be treated differently. A federal judge in Tallahassee held a hearing in the case on Thursday afternoon. It's unclear how many ballots would be affected if Nelson prevails in the lawsuit.
There are innocent explanations for these unreturned ballots. Republicans in these counties did return them at a higher rate than Democrats. Further, Florida counties sends voters absentee ballots for a few years after an absentee ballot is requested, which means voters who requested one in 2016 but then dropped out of the electorate in the midterms would still have been sent a ballot, even if they didn't intend to vote this year.
But Florida's statutory deadlines for requesting and returning mail-in ballots do not make sense with the reality of mail delivery times, says Laura Besvinick, an attorney who for several election cycles has run the election hotline in Florida, a project of the Lawyer's Committee for Civil Rights Under Law and other civil rights groups. "It's not perfected, let's put it that way, for receipt of that many ballots that way," she says, noting the uptick in issues reported to the hotline this year.
But local Florida newspapers have accumulated mounds of anecdotal data suggesting that the problem is not just the voters' fault. A lot of people never received their ballots, or got them too late. Others sent them back, only to discover they never arrived.
A lot of finger-pointing is aimed at the US Postal Service's South Florida distribution center in Opa-locka, an industrial city in northern part of Miami-Dade County. For years, Floridians have complained about the facility misplacing packages and delaying deliveries. In online forums, people kvetch about packages gone missing at the "black hole." All of the mail coming in and out of Broward County goes through this facility. It also processes mail for some parts of Miami-Dade County.
Making matters worse, the facility was shut down in mid-October when federal investigators realized the pipe bombs Cesar Sayoc sent to prominent Democrats and media outlets had been processed at the Opa-locka distribution center. The shutdown disrupted mail service at a critical time for delivering absentee ballots. The US Postal Service is investigating whether mail-in ballots were handled appropriately at the facility.
In the days after the election, rumors spread that there were scores of mail-in ballots sitting in the facility that had not been delivered to election officials in Miami-Dade. On Saturday, Miami-Dade election officials received 266 ballots that had been sitting in the facility. It's unclear if they were postmarked after Election Day, but the county did not add them to its count because they arrived after the deadline. Farmer, the state senator, has been told there are more ballots still there that should have made it to election officials and been counted.
Nelson's lawsuit mentioned the facility's October 25 evacuation due to the bomb threat. "Voters should not be disenfranchised solely due to the speed of the post office's delivery," the lawyers argued.
The facility at Opa-locka is run by the US Postal Service, but its location in a run-down area of Miami-Dade County does not inspire confidence from locals. The city of Opa-locka was developed in the 1920s by the aviation pioneer-turned-developer Glenn Curtis, who planned the city around the theme of the Arabian Nights. Revivalist Moorish architecture dots streets like Ali Baba Avenue, Aladdin Street, Sinbad Avenue, and, yes, Sesame Street. The original city hall, built to resemble a Moorish castle, sits on Sharazad Boulevard.
But decades of financial mismanagement and corruption have left the city's infrastructure in a state of near ruin. The city's finances are now cleared by officials in Tallahassee, after the governor declared a state of emergency in 2016. The roads present a major challenge to residents. Many have developed massive potholes that fill with water during heavy rains and make parts of the city impassable, even to large trucks. In some neighborhoods, rain causes sewage to bubble up through manholes, filling residents' yards, streets, and businesses with watery feces.
The city's sprawling mail-distribution spanning the size of five football fields is located on the west side of town, by the local airport. Police Chief James Dobson, who also serves as the spokesman for the city, acknowledges the poor state of the city's infrastructure but says he has not heard of it affecting the mail coming in and out of the facility, which is located several minutes from the worst flood zone areas near downtown. Still, it's no favor to Broward County that all its mail must be trucked in and out of Opa-locka.
As the manual recount in the Senate race gets underway and a federal judge weighs whether to extend the deadline for absentee ballots, it appears the vote-by-mail system failed thousands of voters, potentially even altering the outcome of the race.
"Voters have an obligation, too," says Farmer, noting that it's unwise to wait until the last minute to drop a ballot in the mail. On the other hand, he adds, a friend of his in the county was still receiving mailings from the campaigns more than a week after the election. "It really highlights that we have a mail delivery problem," he says.