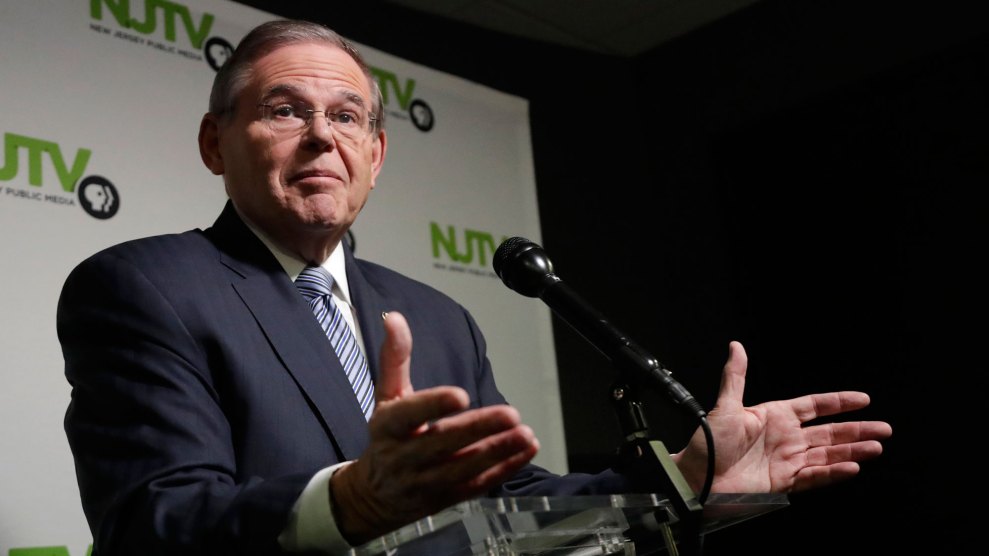 Fight disinformation:
Sign up
for the free
Mother Jones Daily
newsletter and follow the news that matters.
New Jersey, which went to Hillary Clinton by 14 points in 2016, is a state Democrats should have had locked up months ago; instead they've been forced to embark on a rescue mission to save embattled incumbent Sen. Bob Menendez, who is running for a third term against Republican pharmaceutical executive Bob Hugin after being indicted on federal corruption charges. (Menendez's case ended in a mistrial; a judge later acquitted him of seven charges and the feds eventually dropped the rest.) So likely 2020 presidential candidate Cory Booker probably had places he'd rather be on Saturday, but duty called:
Bob Menendez kicking off a canvass in Essex County, after praising Cory Booker as "a man who could be the next president of the United States."

Notice the signs: STOP TRUMP, VOTE MENENDEZ pic.twitter.com/UMnCLGJvva

— Dave Weigel (@daveweigel) November 3, 2018
Booker is helping out Menendez because Menendez needs the help. Per a good Politico look at the race:
Hugin's relentless attacks, which took a dark turn the last three weeks, have chipped away at the scandal-scarred senator's standing with suburban voters and women, some strategists said. Menendez, running in a state that has 900,000 more registered Democrats than Republicans, is now struggling to hold on to areas where he should have massive support, some said. In several competitive congressional districts, internal polls show votes for Menendez running far behind support for a generic Democrat, one strategist said.
A Friday poll from Stockton University put Menendez up 12—the first double-digit lead he's had all year. That result is perhaps especially reassuring for Democrats, because it was an earlier Stockton poll, showing Menendez up by just two points, that really sent liberal anxieties into overdrive. But the new poll is still an outlier, and even if it's not, it's far too late to be much help—Menendez's campaign has been a self-inflicted crisis that has cost Democrats dearly.
Hugin has spent $30 million on ads attacking Menendez, but there's no amount of money that would convince New Jersey Democrats—who outnumber Republicans by 900,000—to abandon their Democratic senator in normal circumstances. Hugin's attacks have worked, up to a point, because Menendez really did do political favors for an eye doctor who was later convicted of a $73-million Medicare fraud. Those favors really did include securing visas for the donor's girlfriends. And Menendez really did get that eye doctor to donate $600,000 toward his previous re-election funds.
For all the talk of Texas Democrat Beto O'Rourke hogging all the money with his massive small-dollar war-chest—by raising twice as much as Jon Ossoff did in Georgia's sixth congressional district, in a state that's roughly 36 times larger—it's Menendez who represents the party's most glaring resource suck. Having a terrible candidate coming close to blowing a slam-dunk race in New Jersey is especially painful for Democrats, because it is extremely expensive to advertise in the New York and Philadelphia markets. The Democratic super-PAC Senate Majority has poured $7 million into the race. (Think about how far that $7 million would have gone in Fargo or Billings.) Two other super-PACs have spent at least $4.4 million on his behalf. Hillary Clinton came to the state to raise money for Menendez last month. This rescue effort has been necessitated, in part, by the fact that Menendez's own fundraising over the last few years has lagged as he focused instead on raising money for his own legal defense fund—he raised $5.1 million to cover his legal bills.
What's the point of doing ridiculous political favors for a mega-donor if you still need other people to come and bail out your campaign in the end?