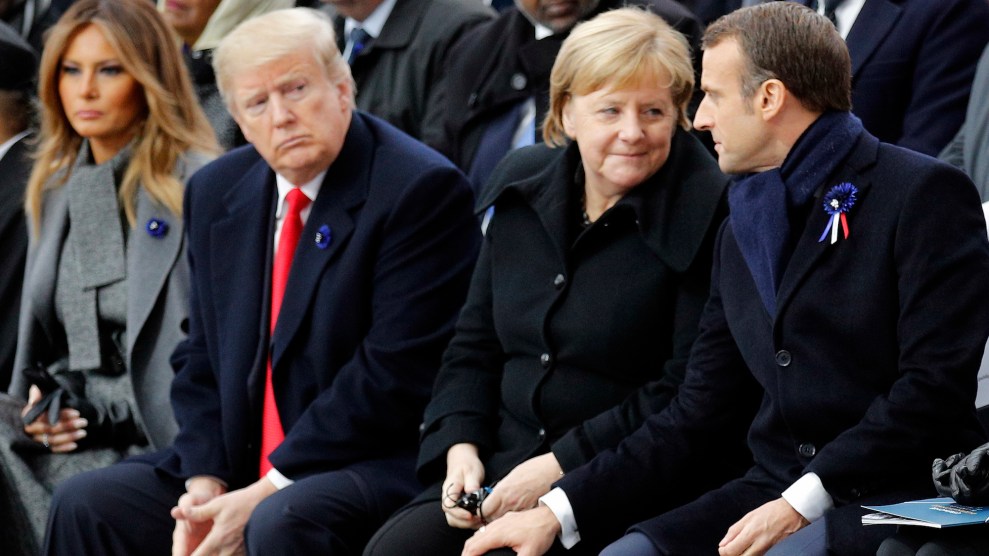 Fight disinformation:
Sign up
for the free
Mother Jones Daily
newsletter and follow the news that matters.
President Donald Trump's troubled trip to France took a turn for the worse on Sunday. After Trump faced international criticism Saturday for skipping a planned visit to the Aisne-Marne American Cemetery to honor soldiers killed in World War I, he received a new rebuke from French President Emmanuel Macron, who took a barely veiled swipe at Trump's foreign policy during a ceremony Sunday commemorating the 100th anniversary of the end of the war.
"Nationalism is a betrayal of patriotism," Macron said at the Armistice Day event, speaking in French. "By saying, 'Our interests first, who cares about the others,' we erase what a nation holds dearest, what gives it life, what gives it grace, and what is essential: its moral values."
Macron's words might normally be unremarkable. Nationalism, often defined as excessive devotion to a nation state, has long been faulted as a cause of wars, particularly the First World War. But Trump has described himself as a nationalist and touted an "America First" approach while questioning the country's longstanding alliance with Western European states.
"I'm a nationalist," Trump said during a political rally in Houston last month. "OK? I'm a nationalist. Nationalist. Use that word."
After Macron's remarks Sunday, Trump "appeared to grimace while offering muted and delayed applause," NBC News reported.