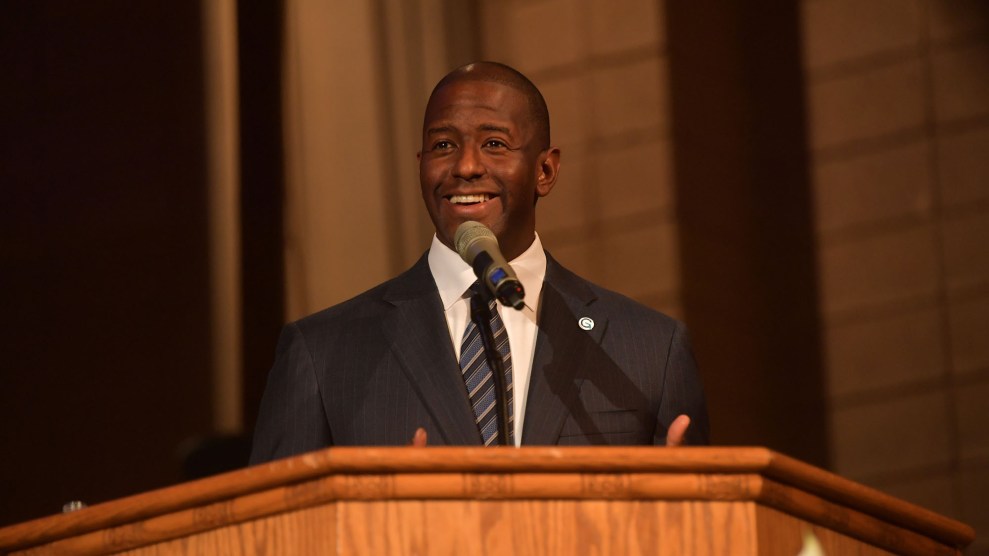 Fight disinformation:
Sign up
for the free
Mother Jones Daily
newsletter and follow the news that matters.
On Sunday night, Democrat Andrew Gillum, who trails in the race for Florida governor as a statewide recount begins, filled the pews at the New Mount Olive Baptist Church in Broward County, Florida, for an event centered on voting rights. In a powerful exhortation that every vote be counted, the Tallahassee mayor rebutted the allegations of fraud coming from President Donald Trump and top Florida Republicans.
"I'm simply here to say that for the votes that have been cast, they ought to be counted," Gillum, standing at the pastor's lectern, told the crowd of hundreds. "What a notion. What a notion that we will find ourselves here, just a few days after Election Day, begging, pleading that for the people who got up and went out and legally cast their ballots—legally cast their ballots—that they have the opportunity to have their ballots counted."
While the midterm elections in other states come to a close, the races for US Senate and governor in Florida continue to heat up. As the margins in these two races narrowed in the days following the election, Republicans began accusing local election officials and Democrats of engaging in fraud to swing the election to Gillum in the governor's race and Democratic incumbent Bill Nelson in the Senate contest. These allegations have marred the laborious and bureaucratic process of vote-counting and stoked fears among Republicans of a plot to steal the election, particularly here in the Democratic stronghold of Broward County, though no evidence of any fraud has surfaced.
As of Saturday afternoon, when Florida's 67 counties submitted their initial tallies to the secretary of state, Republican Rick Scott led Nelson by 12,562 votes out of more than 8.2 million cast. In the governor's race, also headed to a recount, Republican Ron DeSantis led Gillum by 33,684 votes.
The post-election partisan battles over which votes should count has also brought national scrutiny to Florida's signature-matching law, which requires that all absentee and provisional ballots be scrutinized by a local canvassing board to determine if the voters' signatures match those on record. If they're determined not to match, the ballots are rejected. As returns continue to trickle in, it's clear that thousands of ballots were not counted for this reason, and the Nelson campaign is suing Florida's secretary of state to force these votes to be counted.
Gillum's speech Sunday was a rebuttal to the fraud narrative. Gillum made the case that Republicans' fearmongering and the signature-match law were a form of disenfranchisement. "Voter disenfranchisement doesn't just show up when you have a man or a woman blocking the entrance to a polling place, or a dog, or a water hose," he said. When a canvassing board tosses a ballot because it decides a signature doesn't match, "that is also voter disenfranchisement," he said. When new voters hear their leaders saying fraud is afoot in the election, it discourages them from voting next time.
"Voter disenfranchisement isn't always in what it is that we do physically at the precinct," he said. "Sometimes it's in the mind tricks that they play. Sometimes it's in the aftermath of an election, where you see rampant attempts to disqualify your vote. Well y'all, I'm here to say that this time is going to be different."
Gillum's speech, organized by his campaign and local progressive groups, came just hours after the Scott campaign filed emergency motions in state courts to impound voting machines, tallying devices, and ballots in Broward and Palm Beach counties and put them under the supervision of law enforcement when they are not in use for the recount. The Scott campaign's legal actions play into the idea, which Scott and his attorneys have discussed all week, that fraud is occurring and that elections supervisors in these two counties cannot be trusted. On Thursday, Scott asked the Florida Department of Law Enforcement to investigate fraud in the election. The department announced instead that it had no reason to get involved, after Florida Department of State election monitors found no evidence of fraud.
"As long as the Supervisor of Elections has unsupervised, unaccountable, and unfettered access to the ballot boxes, she will be able to destroy evidence of any errors, accidents, or unlawful conduct," Scott's lawyers wrote in their motion against Broward County officials Sunday.
The picture painted by Scott's team bore little resemblance to the actual scene taking place at Broward County's elections headquarters Sunday. Elections officials are currently working through the night to sort the ballots before commencing the official recount. The process is being conducted with an equal number of monitors from both parties. The room where the work is done has large viewing windows so the press and public observers can watch the process.
As recount preparations moved ahead peacefully on Sunday, outside the election office conservative protesters grew agitated over fears of fraud. The fact that two local Republicans were not let inside the facility Sunday due to capacity issues sparked a rumor among protesters outside that there were no Republicans allowed in. The unfounded allegations of fraud from Republican leaders seem to be registering with their supporters.
Gillum's event on Sunday night sought to mobilize his supporters. The event included speeches from local faith leaders and other progressive advocates who urged the crowd to stay involved. Gillum will hold similar events over the next two nights in other parts of the state.
"The task at our hand right now is to make sure that we show up and we show out in this process and let these folks know that we're not gonna be ignored, we're not going to be hushed," he told the crowd over thunderous cheers. Gillum remains a longshot to overtake DeSantis and win the governor's race, but he suggested that the battle over ballot access in the wake of the election might serve a bigger purpose. It's about making sure "that this process works for all of us," he said. "Maybe that's the legacy of this election."