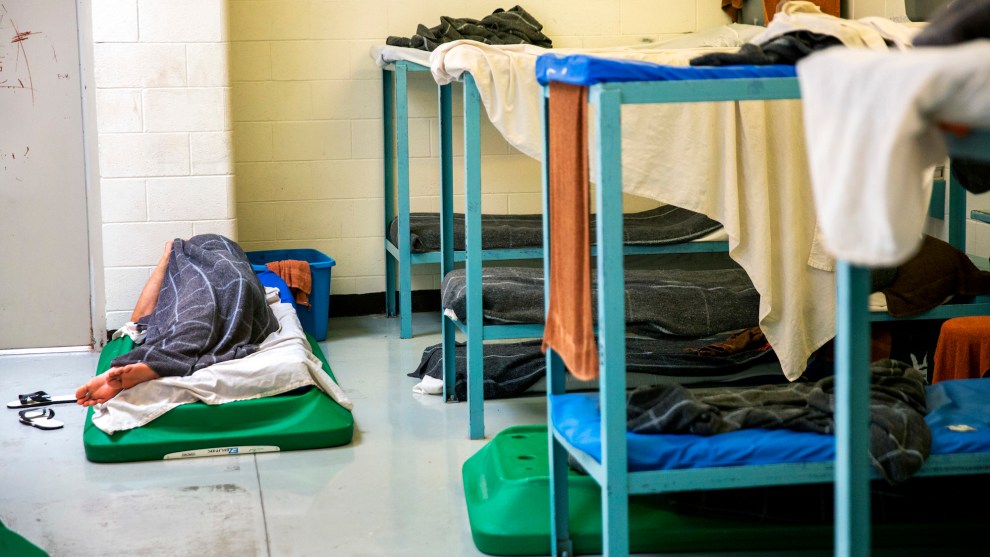 Fight disinformation:
Sign up
for the free
Mother Jones Daily
newsletter and follow the news that matters.
The Norix Stack-A-Bunk is a bed. Barely. One vendor describes it as a plastic "bed platform" that is "resistant to blood, vinegar, urine, feces, salt solution and chlorine solution." It's essentially an inverted plastic tub, eight inches high, designed so overcrowded jails can comply with court decisions that block them from making inmates sleep on the floor. And new federal contracting documents show that US Immigration and Customs Enforcement wants to buy 1,220 Stack-A-Bunks for five of its immigrant detention centers across the country.
The previously unreported solicitation, which was listed on a government website last week, shows how ICE appears to be trying to pack more people into already-crowded detention centers. Border Patrol agents have been detaining fewer adults than in previous administrations, but the number of adults in detention is at a record high, because ICE is keeping far more asylum seekers in detention and arresting undocumented immigrants with strong cases for remaining in the United States. Now, ICE could sidestep Congress's efforts to limit detention space by crowding immigrants and asylum seekers onto what it calls "virtually unbreakable" bunks.
The Daily Beast reported on Sunday that ICE had a record 44,631 immigrants in detention as of October 20. Congress has provided funding for detaining about 40,000 immigrants, but ICE has been overspending as the Department of Homeland Security sends it money from other DHS agencies.
Dani Bennett, an ICE spokeswoman, told Mother Jones in an email that the agency is "currently exploring the use of temporary beds in its detention facilities to prepare for a potential need for temporary increased capacity." The solicitation says ICE "requires delivery" of the platforms and that bids were due last week, two days after the solicitation was posted, suggesting that ICE wanted to move quickly.
ICE warned earlier this year that it might cut services at detention centers if Congress didn't give it more money. Congress rejected the funding request. The new bed order shows how ICE may be planning to make that warning a reality by making immigrants sleep inches off the floor. Kevin Landy, a President Barack Obama appointee who ran ICE's Office of Detention Policy and Planning, which the Obama administration created to develop detention reforms, says he never heard anyone suggest buying Stack-A-Bunks while he worked at ICE between 2010 and 2017. "ICE has not routinely used these types of beds," Bennett noted. "However, ICE may determine their use is necessary under temporary conditions to manage a population surge."
Landy doubts ICE will increase medical and security staffing proportionally as the detainee population grows, so crowding more immigrants into existing facilities could put their lives at risk by reducing the number of guards and medical professionals per detainee. Landy says in an email that inadequate medical staffing "has already been a problem, and can result in undiagnosed illnesses, poor treatment and potentially detainee deaths." He adds that overcrowding can lead to "increases in uses of force by security staff, physical and sexual assaults by detainees, and potentially even suicide attempts." Bennett said ICE would use detention centers' average daily populations to determine staffing levels.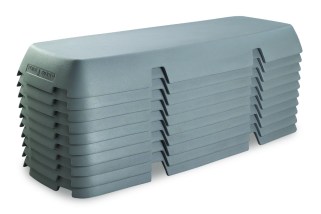 Stack-A-Bunks are essentially human-sized pieces of plastic that allow jailers to do the bare minimum needed to comply with the law. The platforms have long been used in homeless shelters and overcrowded jails, where they are called "boats" or "canoes" because people often sleep inside the hollowed-out area, although they are supposed to be flipped over so the mattress goes on top of the plastic. Either way, a Stack-A-Bunk is about as close as you can get to sleeping on Tupperware, albeit one that can cost upward of $200.
ICE is buying the bed platforms for its five "service processing centers" in Arizona, Florida, New York, and Texas. Those detention centers held about 3,300 immigrants on average in the 2018 fiscal year. That was near their maximum capacity, according to ICE data from 2017. The Stack-A-Bunk order would allow ICE to exceed the detention centers' 2017 capacity by up to 33 percent. ICE's Arizona processing center has been averaging 400 people—eight more than its publicly listed capacity. ICE wants to send 330 Stack-A-Bunk beds there. Landy says ICE's detention centers already "seemed pretty packed" during the Obama administration, adding, "At their best the housing units at these detention facilities have very little free room and seating." ICE declined to provide the current capacity of its detention centers.
The vast majority of ICE detainees are held in contract facilities, including county jails and immigration detention centers run by private prison giants CoreCivic and GEO Group. It is not clear if ICE is also directing contractors to buy Stack-A-Bunks. Those purchases would not show up in the federal business records reviewed by Mother Jones. "ICE has also asked its detention contractors to provide information on options for temporary additional capacity," Bennett said.
In August, ICE asked Congress for an additional $1 billion to carry out more deportations, warning that detainees could suffer unspecified "reductions in services" if it did not get the money. Mary Small, the policy director at Detention Watch Network, which seeks to end immigration detention, sees the new order as part of "deliberate decision to worsen conditions inside of detention facilities in a bid to get more money."
DHS spending records published in September revealed that the department had transferred about $200 million to ICE from other agencies, even though Congress had repeatedly warned ICE about "unsustainable" spending and forced ICE to provide weekly reports showing it was "living within its means." Later that month, Congress refused to give ICE the extra $1 billion it had requested. But the agency is detaining more people anyway, and Stack-A-Bunks are a new and relatively cheap way to get around Congress.
Congress has already provided funding for about 6,500 new immigrant detention beds under the Trump administration—increasing the total from 34,000 under Obama to more than 40,000 today. ICE is asking for an unprecedented 52,000 beds in its 2019 budget request, though it is highly unlikely to get that many.
At the same time, Border Patrol agents have been detaining fewer single adults than they once did. But under Trump, ICE is much less likely to let asylum seekers out of detention. Away from the border, ICE is swelling the detainee population through workplace raids and other "interior" operations that are much more likely to target immigrants who are harder to deport because they have deep ties to the United States. DHS told Congress in its 2018 budget request that people apprehended in "interior" arrests spend nearly twice as long in detention.
"This is solely a crisis of President Trump's making," Landy says. Small stresses that detention facilities are already being run as cheaply as possible to cut costs and that there isn't any cushion when it comes to things like the availability of phone lines, attorney visitation rooms, and medical care.
"All of those things are in chronic shortage across the detention system," she says. "So it's not possible to add a whole bunch of additional people, even if they weren't sleeping essentially on the floor."