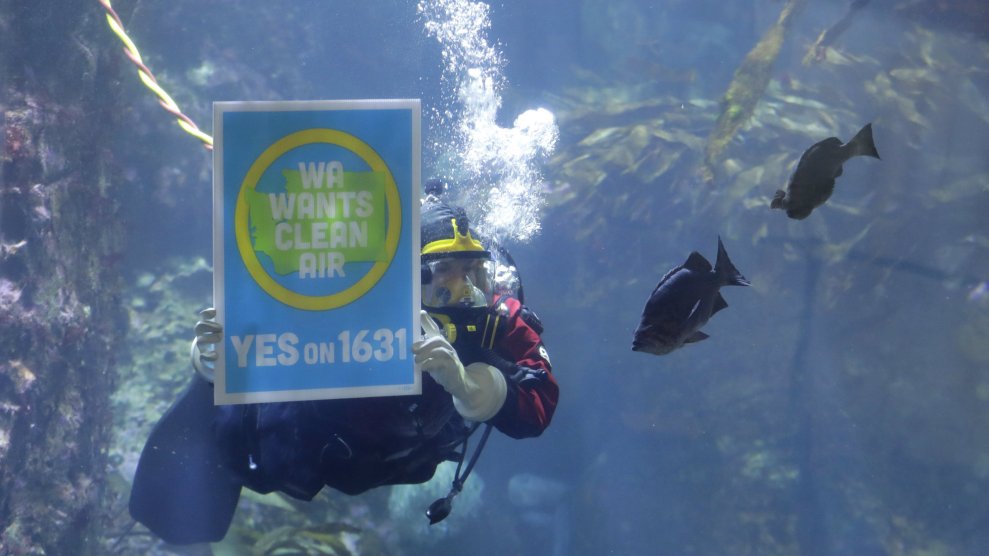 This story was originally published by High Country News and appears here as part of the Climate Desk collaboration.
In an upstairs ballroom of downtown Seattle's Arctic Club, where polar bears and maps of the Arctic decorate the walls, volunteers and activists who campaigned for Washington's first carbon fee waited cheerfully for election results on Tuesday night. Just after 8 p.m., a first wash of returns that had the initiative on track to pass sent ripples through the room. But as more counties reported in, the likelihood dropped. By 9 p.m., the mood turned, and clusters of supporters retreated to bars across downtown to mourn. On Wednesday morning, 56 percent of Washington voters had rejected the state's second attempt to tax carbon emissions.
As the US has stepped back from federal commitments to limit carbon pollution, activists have called on states and local governments to fill the void. It's an approach that could prove effective, according to a report released in September by Data-Driven Yale: Existing state, local and corporate commitments could take the US halfway to meeting its Paris Agreement goals, designed to limit global warming to 2 degrees and avoid the most catastrophic effects.
Tuesday night's returns offered a mixed message on whether states have the momentum to regulate fossil fuels without federal backing. Candidates who support action on climate change won gubernatorial races in Colorado and Oregon, while in Washington, Democratic incumbent Sen. Maria Cantwell, who has backed climate initiatives in the Senate, held her seat by a comfortable margin. But ballot initiatives intended to regulate fossil fuel emissions and boost renewable energy sources fell flat.
The nation's first carbon fee fails
Initiative 1631, which was crafted by a coalition of labor, social justice and environmental groups and tribal nations, would have taxed every metric ton of carbon produced by most of the state's largest polluters at a rate of $15; some sectors were exempted, including fuel used in agricultural production and coal plants slated for closure. A prior initiative to tax carbon emissions while lowering other taxes and boosting low-income tax credits failed in 2016. The 2018 initiative, which would have used the funds raised by the tax to pay for climate mitigation and response, drew well-funded opposition from oil and gas interests.
The result: Projected to fail. Only three counties, Seattle's King County, Port Townsend's Jefferson County and the San Juan Islands, voted for passage.
Arizona's push for renewables stalls
Proposition 127 would have required electric utilities to purchase 50 percent of their power from renewable sources, such as wind and solar. It excluded nuclear power as a renewable source, which stoked fears that its passage would lead to the closure of the Palo Verde Nuclear Generating Station. A lawsuit from the state's largest utility muddied Proposition 127's progress to the ballot, while out-of-state money helped make it the most expensive proposition in state history. A group backed by California-based billionaire Tom Steyer's political action committee, NextGen Climate Action, poured $23.2 million into efforts to pass the initiative; Arizona utilities, as well as the Navajo Nation, spent nearly $30 million to oppose it.