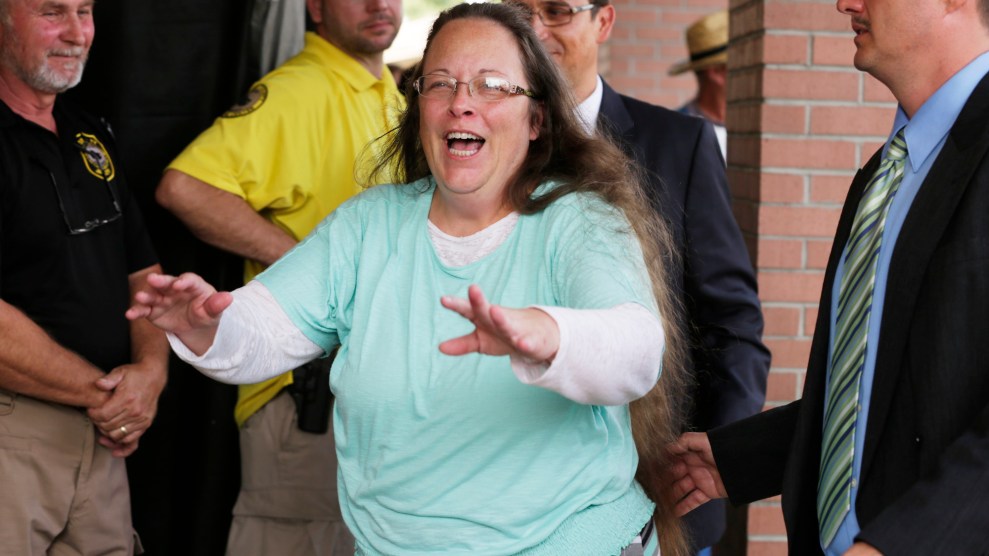 Fight disinformation:
Sign up
for the free
Mother Jones Daily
newsletter and follow the news that matters.
Kim Davis, the Kentucky clerk who made headlines in 2015 for refusing to sign a same-sex marriage license, has lost her bid for reelection as clerk of Rowan County.
Davis became a darling of the Christian right after she went to jail for five days rather than obey a court order to issue marriage licenses to gay couples in the wake of the Supreme Court's landmark ruling that legalized same-sex marriage nationwide. Davis defended her actions, saying she was acting under "God's authority."
She was only released from jail after the clerk's office removed her name from the license forms and issued them on her behalf. The couples she denied marriage licenses to sued, and a federal judge eventually ordered the county to pay their legal fees, more than $200,000. Davis' protest made her a hero of the anti-LGBT movement. She met Pope Francis and went on the right-wing talk circuit. She wrote a book, Under God's Authority: The Kim Davis Story, in which she chronicled her "dramatic encounters with furious, fist-pounding homosexual men and the hate mail that flooded her office."
None of that seemed to endear her to local voters, however.
This spring, the race for county clerk was shaping up to be a major front in the culture wars, as David Ermold, the gay man Davis denied a marriage license to, decided to run against her. Ermold raised an astonishing $200,000 for the race, mostly from out of state. But he lost the Democratic primary to Elwood Caudill Jr., the chief deputy in the county property valuation office, who had nearly beaten Davis in 2014, and who raised a mere $6,000.
Caudill campaigned not as a culture warrior but on his ability to do the job and to issue people's car tags and fishing licenses efficiently. Apparently after being in the epicenter of the gay marriage wars, that's just what the citizens of Rowan County were interested in. Caudill beat Davis by about 700 votes.