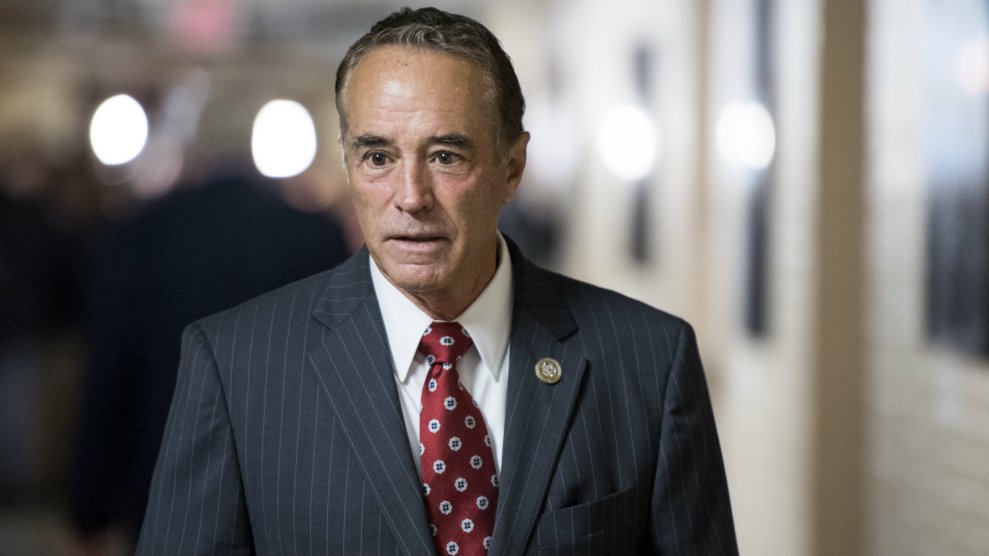 Fight disinformation:
Sign up
for the free
Mother Jones Daily
newsletter and follow the news that matters.
Less than three months after FBI agents arrested him on charges of insider trading, Rep. Chris Collins (R-NY) was reelected for a fourth term in Congress. His opponent, Democrat Nate McMurray, conceded the race Tuesday night. (Hours later, McMurray announced he was "going to demand a recount" as he only trailed Collins by less than 3,000 votes with 99 percent of precincts reporting.)
Collins, once considered a remarkably safe incumbent with an unimpeachable perch in New York's most conservative district, found himself in a surprisingly competitive race this fall with McMurray, a folksy small town supervisor who received an influx of cash from small donors and the national Democratic Party after news of Collins' indictment rattled the region in August. While Collins stayed away from the campaign trail, McMurray was joined on the stump by former Vice President Joe Biden. Even Democratic National Committee Chairman Tom Perez ventured to western New York to campaign for McMurray.
But in the end, McMurray's insurgent campaign, which embraced the motto "break the machine," could not defeat Collins, whose February 2016 bet, as the first congressman to endorse Donald Trump, paid off handsomely. Trump ended up winning New York's 27th District by more than 24 points.
After briefly suspending his reelection bid in August, Collins made his case to voters for a fourth term in Congress the following month in a controversial ad that depicted his rival speaking Korean and stated (without evidence) that McMurray "helped American companies hire foreign workers." In response to the ad, Rep. Ted Lieu (D-CA), called Collins an "embarrassment to the House of Representatives." The ad, incidentally, was one of Collins' only acknowledgements of his opponent during a campaign in which he avoided media interviews and refused to debate McMurray.
Collins, who served as a member of the House Energy and Commerce committee but was stripped of committee assignments by Speaker Paul Ryan after his arrest, is expected to remain in legal jeopardy until at least February 2020, when his federal trial is scheduled to begin.
We want to hear from you. How are you reacting? Do you have a message for the winner? Let us know by filling out the form below, send us an email at talk@motherjones.com, or leave us a voicemail at (510) 519-MOJO. We may use some of your responses in a follow-up story.