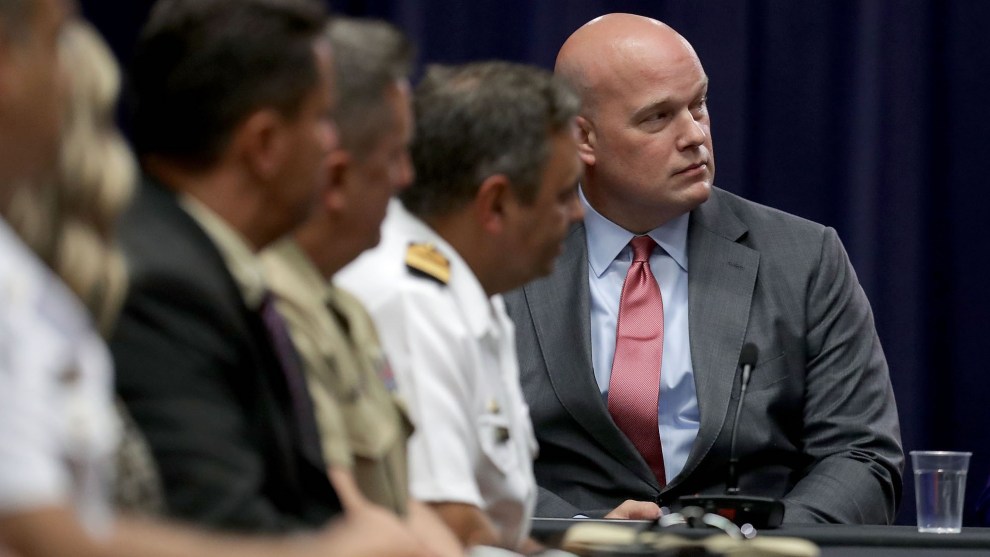 Fight disinformation:
Sign up
for the free
Mother Jones Daily
newsletter and follow the news that matters.
In November 2014, a Miami Beach-based firm, World Patent Marketing, announced the "marketing launch" of a "MASCULINE TOILET," which boasted a specially designed bowl to help "well-endowed men" avoid unwanted contact with porcelain or water. "The average male genitalia is between 5″ and 6″," the firm's press release said. "However, this invention is designed for those of us who measure longer than that." In the same release, World Patent Marketing also touted the recent appointment of "Matthew G. Whitaker, former Iowa US Attorney and Republican candidate for United States Senate to the company's advisory board."
Last week, President Donald Trump named Whitaker acting attorney general, with oversight of Special Counsel Robert Mueller's investigation, after ousting Attorney General Jeff Sessions, for whom Whitaker had worked as chief of staff. Since his appointment, Whitaker's background has come under intense scrutiny. Reporters combing through his past radio and TV punditry discovered that he had made many statements that called into question his ability to oversee the Mueller probe impartially. Whitaker's association with World Patent Marketing, which charged would-be inventors large fees to supposedly help them promote their products, also stood out on his resume.
The special toilet was not the firm's only notable offering. It marketed a slew of oddball inventions, including a "theoretical time travel commodity tied directly to price of Bitcoin." Called Time Travel X and marketed as "a technology, an investment vehicle and a community of users," the cryptocurrency never materialized. The firm also pitched Sasquatch dolls, promoting them with a video claiming that "DNA evidence collected in 2013 proves that Bigfoot does exist."
Federal authorities say World Patent Marketing was scam. A federal judge shut down the company last year and fined it $26 million after the Federal Trade Commission found it had "bilked thousands of consumers out of millions of dollars" in fees it charged clients based on phony promises of lucrative patent deals. The company is under investigation by the FBI, the Wall Street Journal reported.
The company's advisory board, which included a former presidential candidate in the Central Africa Republic and an Israeli-born mixed martial artist, gave it a patina of legitimacy. And between 2014 and 2016, as World Patent Marketing was hawking an array of dubious products and allegedly fleecing aspiring inventors, the company paid Whitaker at least $9,375. Whitaker was no passive board member. He defended the firm against critics, solicited new business, appeared in at least one promotional video for the company, and he seems to have acted at times as outside counsel for the firm. Unlike other advisory board members, he has not returned the payments he received from World Patent Marketing.
Democrats have demanded that Whitaker recuse himself from the Russia investigation, zeroing in on Whitaker's past attacks on Mueller's probe and his ties to a former top Trump campaign aide, Sam Clovis, embroiled in the Russia scandal. Critics also argue that Trump acted unconstitutionally by naming Whitaker, rather than Deputy Attorney General Rod Rosenstein, acting head of the department. But Whitaker's association with World Patent Marketing raises another question: Should a person who worked with a company accused of defrauding consumers be the top law enforcement official in the United States?
Whitaker has denied knowledge of the firm's alleged fraud. But public records show he had substantial involvement with the company and its aggressive response to disgruntled customers and critics of its questionable practices. Whitaker joined the firm's advisory board a month after it was attacked on a website called ripoffreport.com, which posts consumer complaints. In a report on the site, a writer claimed to have duped the firm into offering to help him get a patent for a fake idea: a fried chicken and waffle sandwich. "You cannot make a patent on a sandwich, yet they approved it," the person wrote.
In a December 2014 news release, Whitaker defended the firm. "As a former US Attorney, I would only align myself with a first class organization," he stated. "World Patent Marketing goes beyond making statements about doing business 'ethically' and translate[s] those words into action." Whitaker was quoted in another 2014 press release lauding the company's customer service. In a third release, Whitaker, a former University of Iowa football player, solicited sports-related patent applications. In 2015, he appeared in a video the firm posted touting the design of a razor submitted to the company.
Whitaker remained on the advisory board as allegations mounted that the company was engaging in fraud. In January 2015, ripoffreport.com posted an account from a user who claimed to be an ex-employee of World Patent Marketing. The user accused the firm of duping customers into paying thousands of dollars for "invention royalty analysis" and other fees while promising them millions of dollars in returns they had "no chance" of getting. In December 2016, the company was hit with a class-action lawsuit accusing it of fraud. (The case is on hold while the Federal Trade Commission action moves forward.)
The company's founder, Scott Cooper, used Whitaker's status as a former US attorney to burnish the firm's reputation and intimidate critics. (Cooper and his wife each donated the maximum $2,600 to Whitaker's failed Senate bid in 2013.) Responding to disgruntled customers online and by email, Cooper repeatedly cited "former US Attorneys" on his advisory council, though Whitaker appears to have been the only ex-US attorney involved.
In an August 2015 email, Whitaker invoked his status as a former US attorney to threaten a man who was planning to file a Better Business Bureau complaint against the company. "There could be serious civil and criminal consequences for you," Whitaker wrote in the email, first reported by the Miami New Times.
About two months later, Cooper referenced what seemed to be the same dispute in a bizarre article included in a company newsletter. Cooper claimed the man was trying to extort and blackmail him with online complaints and asserted that the man had also threatened Whitaker. "The time has come to hit back," Cooper states in the article, which was later cited in the class action suit. "This guy just bought himself jail time. We have a formidable team here and we are going to hit him with everything we have."
The Washington Post reported Friday that Whitaker "played a role in trying to help the company silence critics" and penned "a series of letters" threatening legal action while acting as outside counsel for the firm. It is not clear if he was paid separately for that work. Federal investigators last year looked into whether Whitaker played a role in silencing critics through legal threats, though Whitaker refused to comply with an October 2017 FTC subpoena seeking his records related to the company, the Post reported. The FTC's investigation, which did not name Whitaker, concluded that World Patent Marketing suppressed complaints about the company through "threats, intimidation and gag clauses."
On Wednesday, four Democrats expected to chair key House committees starting in January announced an investigation into Whitaker's involvement with World Patent Marketing. In a letter to Whitaker, they requested eight categories of documents related to his work with the firm, noting that "serious questions are now arising about your fitness to serve in this position of trust."
Justice Department spokeswoman Kerri Kupec said Friday that articles suggesting Whitaker was involved in the company's alleged misdeeds are false. "Acting Attorney General Matt Whitaker has said he was not aware of any fraudulent activity," Kupec said. Asked if Whitaker should have been more aware of the company's actions, she said, "We stand by the statement."
Additional reporting by Noah Lanard