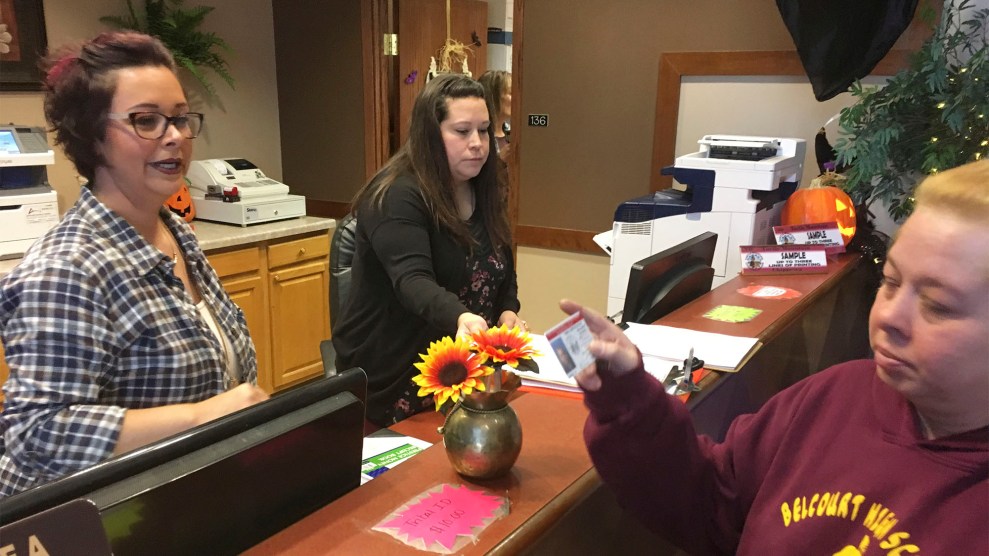 Fight disinformation:
Sign up
for the free
Mother Jones Daily
newsletter and follow the news that matters.
When the Supreme Court upheld North Dakota's strict voter ID law in early October, weeks before the midterm election, there were widespread fears it could lead to significant voter disenfranchisement in the state. Seventy thousand registered voters, including 5,000 Native Americans, lacked the new IDs required by the state, according to a district court. "The risk of disenfranchisement is large," Justice Ruth Bader Ginsburg wrote in her dissent.
The law appeared to be written by Republicans to target Native Americans in North Dakota, since it required that an ID contain a "residential street address" on it, but many Native Americans in the state live on tribal reservations and get their mail at P.O. boxes. Republicans began writing the law after Democratic Sen. Heidi Heitkamp won her 2012 senate race by 3,000 votes, thanks in large part to 80 percent support in the two counties with large Native American reservations.
On Tuesday, there were isolated reports of tribal IDs not being accepted in one North Dakota county, home to the Standing Rock Reservation. But there are broader indications that the ID law may have motivated Native Americans to turn out in higher numbers, with the tribes printing thousands of new valid IDs in the run-up to the election.
"Voter turnout is very high," says Matt Campbell, a voting rights lawyer with the Native American Rights Fund, who was at the Turtle Mountain Indian Reservation in northern North Dakota on Tuesday. "The tribe has been working around the clock to get people new IDs." The Turtle Mountain Band of Chippewa Indians issued 2,000 IDs in the last week, Campbell told me. "Having seen the disenfranchising effects of the ID law firsthand, it has galvanized the community to come together and make their voices heard."
At the Spirit Lake Reservation in central North Dakota, Danielle Lang, a voting rights lawyer with the Campaign Legal Center who challenged the voter ID law in court, saw similar evidence of high turnout. "The IDs are being accepted," she says. "Turnout seemed high." She says that as of 3 p.m., 400 people had voted at the Fort Totten polling place; the record there was 480 people in 2008, a presidential election year.
She agreed that the law had led to a backlash among Native Americans, making them more inspired to vote. "Native Americans are refusing to be silenced regardless of this voter suppression," she says.
Eligible voters waiting in line to get their IDs so they can vote. #NorthDakota pic.twitter.com/9afhyUUZ13

— Danielle Lang (@DaniLang_DC) November 6, 2018
The Spirit Lake Tribe issued 600 new tribal IDs and was printing new ones while voters were waiting in line to vote, according to the independent journalist Jenni Monet, who covers Native American issues.
However, there were still signs the law had disenfranchised Native voters and that tribal IDs were not being universally accepted. Carrie Levine, a reporter for the Center for Public Integrity, said three voters at the Fort Yates polling site in Sioux County, home to the Standing Rock Reservation, were unable to cast ballots because their IDs said "avenue" instead of "street."
Am told 3 people trying to vote at the courthouse in Fort Yates on Standing Rock were told no because their ID had an address saying "Avenue" instead of "Street." @StandingRockST officials issued new IDs. #NDNativeVote Background on tribal efforts here: https://t.co/yuf1bLK78O

— Carrie Levine (@levinecarrie) November 6, 2018
At a nearby polling place, Levine reported that poll workers were running out of ballots:
I just spoke to a poll worker at the Porcupine Community Center @StandingRockST. They have 8 ballots left. The polls are open for another 1.5 hours. The copier is out of toner. She has requested that more ballots be brought there. #NDNativeVote

— Carrie Levine (@levinecarrie) November 6, 2018
Danielle McLean, a reporter for Think Progress, reported that two members of the North Dakota Republican Party had urged the county auditor not to accept the tribal IDs.
BREAKING: hearing reports that Fort Yates polling location in Standing Rock is refusing tribal letter IDs. Heading there now. #ElectionDay @4directionsvote @thinkprogress

— Danielle McLean (@DanielleBMcLean) November 6, 2018
However, both Lang and Monet told me that the secretary of state's office had called the county auditor and told election officials to accept the tribal IDs. The ballots were eventually counted, McLean reported.
It remains to be seen whether the high turnout will be enough to save Heitkamp's Senate seat for Democrats, since polls show her trailing Republican challenger Kevin Cramer.
4.5 hour lines in GA

1,200 ballots tossed in KS

Tribal IDs rejected in ND

This is voter suppression we're seeing in 2018pic.twitter.com/Q5DuJHBh1c

— Ari Berman (@AriBerman) November 6, 2018