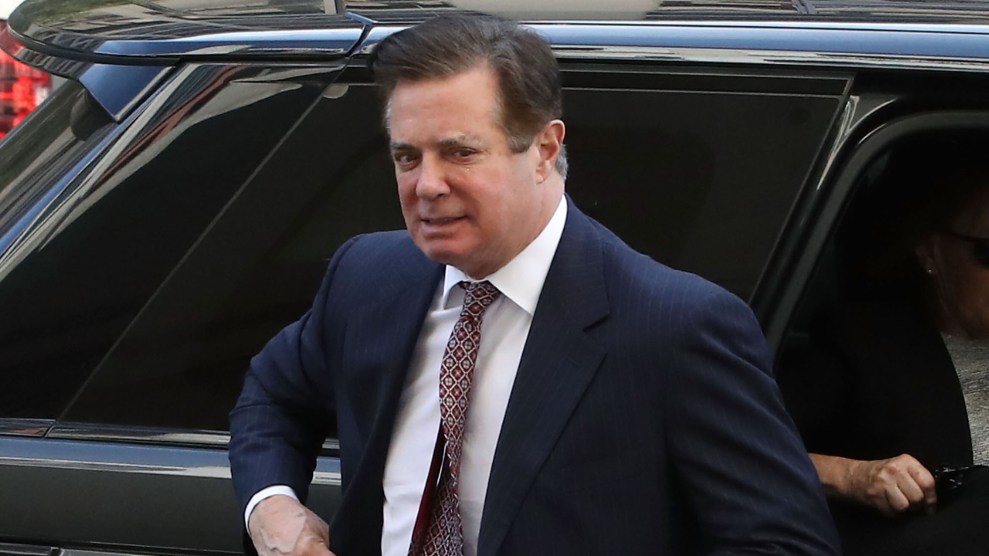 Fight disinformation:
Sign up
for the free
Mother Jones Daily
newsletter and follow the news that matters.
Former Trump campaign chief Paul Manafort lied repeatedly to prosecutors working under Robert Mueller after having agreed to cooperate with the investigation, obstructing the probe into ties between President Donald Trump's 2016 campaign and Russia, according to motion filed by special counsel Robert Mueller's office on Friday.
On Friday evening, Mueller's team of prosecutors said that Manafort violated his plea deal by lying during 12 meetings with prosecutors, saying he did not tell the truth about his interactions with his longtime Ukrainian employee, and also lied about a separate DOJ investigation, a loan he received in 2017, and about ongoing contacts with Trump administration officials. The specifics of these alleged lies are largely redacted in the filing.
Manafort was found guilty of tax and bank fraud in a Virginia federal court in August. The charges related to more than $30 million in income he received from the Ukrainian government and Ukrainian businessmen to promote the agenda of the country's president, Viktor Yanukovych. In September, Manafort pleaded guilty to money laundering, illegal lobbying, and conspiracy charges in a Washington, DC federal court. In what seemed a major blow to President Trump, Manafort also agreed to cooperate with Mueller and to answer "fully, truthfully, completely and forthrightly" questions of interest to the government.
But in October, Trump lawyers disclosed that Manafort had remained in a joint defense agreement with the president and others, an arrangement that meant Trump's legal team received intelligence on the Mueller probe and reportedly irked prosecutors. The next month, Mueller's office charged that Manafort had violated his deal and committed new crimes by lying to Mueller and the FBI "on a variety of subject matters."
The longest section of Friday's filing describes Manafort's false claims about his interactions with Konstantin Kilimnik, Manafort's employee in Ukraine while he advised Yanukovych, a pro-Russian leader. Kilimnik, who prosecutors have said has ties to Russian intelligence, was charged along with Manafort for obstruction of justice. Prosecutors say Manafort misled them about meetings he had with Kilimnik. That may include a reported meeting in early August 2016, while Manafort was head of Trump's campaign. Kilimnik told Manafort before the meeting that he wanted to deliver a message. Though since-released emails between them men used vague phrasing, Kilimnik seems to have meant the message came from Oleg Deripaska, the Russian aluminum magnate who is close to Russian President Vladimir Putin, and that it related to Russian interests.
Prosecutors say Kilimnik helped Manafort try to influence witnesses in the case. Mueller says Manafort, who pleaded guilty to the witness tampering, also lied about Kilimnik's role in the scheme. Kilimnik is believed to live in Moscow, making his extradition to the United States unlikely.
Mueller also alleges that Manafort lied about a $125,000 payment he received in 2017. The motion says that Manafort received the payment to help him settle a debt he owed a firm working for him. Manafort also told prosecutors that "had no direct or indirect communications with anyone in the Trump administration," but in fact he had multiple contacts, prosecutors say. They say those communications include a May 26, 2018 text exchange in which Manafort authorized an unnamed associate speak with an administration official on Manafort's behalf. Prosecutors say that an unnamed Manafort colleague told them Manafort had claimed he communicated with "a senior administration official up through February 2018." Prosecutors say a review of Manafort's electronic documents revealed additional contacts with administration officials that he did not disclose. Another alleged lie prosecutors cite without detailing relates to a separate, unidentified Justice Department investigation. Manafort gave conflicting stories related to the matter, the prosecutors say.
Manafort's lawyers have said that "he believes he has provided truthful information" and denies he violated the plea agreement. Manafort can now respond to Mueller's claims by December 12, ahead of an expected court hearing on the matter. Manafort is scheduled to be sentenced on March 5, 2019.
The filing in Manafort's case came on the same day that Mueller and federal prosecutors in Manhattan outlined assistance Trump's former lawyer, Michael Cohen, provided to their investigations. In contrast to Manafort, Mueller told the court that Cohen has "gone to significant lengths to assist" his Russia investigation and provided "credible" information.
Read Mueller's motion: