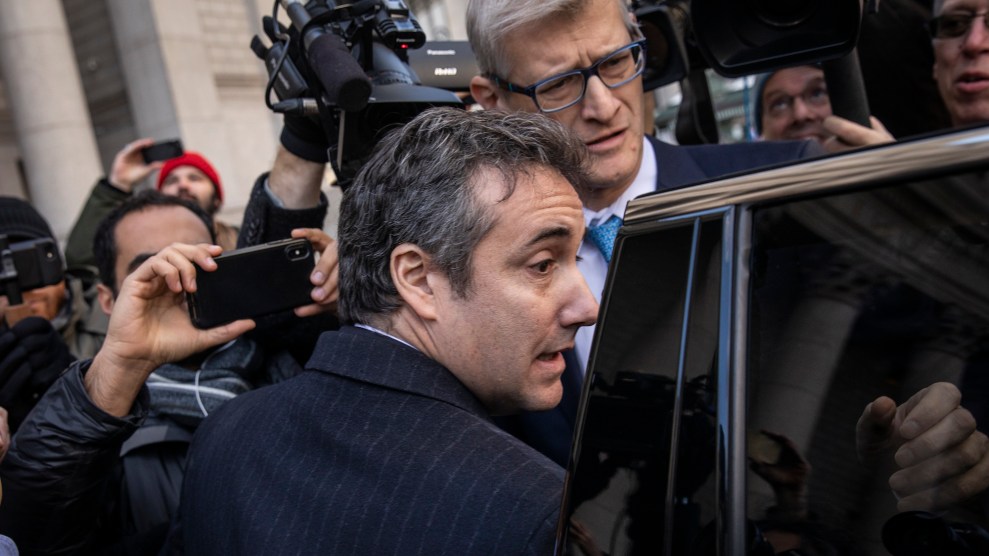 Fight disinformation:
Sign up
for the free
Mother Jones Daily
newsletter and follow the news that matters.
A tantalizing passage in special counsel Robert Mueller's sentencing memo for Michael Cohen includes a mysterious line that could prove highly significant. It states that, in addition to details about the Trump Organization's efforts to build a Trump Tower in Moscow, the president's former lawyer and fixer provided Mueller's team "with useful information concerning certain discrete Russia-related matters core to its investigation" that he learned from other Trump Organization executives during the 2016 campaign. This hints at the possibility of other connections between Trump and Russia that may still be unknown.
The information was one of several intriguing disclosures that Mueller's team included in its memo detailing Cohen's cooperation with prosecutors investigating his former boss.
Mueller's memo is kinder to Cohen than a separate filing by the office of the US Attorney for the Southern District of New York, which downplayed Cohen's assistance and suggested he receive a "substantial term of imprisonment." Mueller said Cohen's information "has been credible and consistent with other evidence obtained in the [Special Counsel's Office's] ongoing investigation."
Mueller's filing says Cohen kept President Donald Trump up to speed on his efforts to win Kremlin support for the company's effort to build a Trump Tower in Moscow. This information is important, Mueller says, because Cohen's efforts to seal the Moscow deal "came at a time of sustained efforts by the Russian government to interfere with the U.S. presidential election."
Mueller's memo repeatedly highlights the leverage the prospective project gave Russia over Trump. "The Moscow Project was a lucrative business opportunity that sought, and likely required, the assistance of the Russian government," it notes. If completed, the Trump Organization "could have received hundreds of millions of dollars from Russian sources in licensing fees and other revenues."
The filing describes a previously unknown Russian effort to dangle help with the tower deal to influence Trump. Cohen told prosecutors that in November 2015, with the presidential contest already well underway, he "received the contact information for, and spoke with, a Russian national who claimed to be a 'trusted person' in the Russian Federation." Cohen says that person offered to help set up a meeting between Trump and Putin. The filing says this person told Cohen the meeting could profit Trump personally by helping advance the Moscow tower deal. "There is no bigger warranty in any project than consent of [the President of Russia]," the memo notes. Cohen told Mueller's office he did not follow up on the offer.
Mueller's memo also sheds light on a September 2015 interview in which Cohen claimed that Trump might meet with Russian President Vladimir Putin during an upcoming United Nations General Assembly session in New York. Though Cohen later claimed his comments were spontaneous, he revealed to prosecutors that he had in fact conferred with Trump "about contacting the Russian government before reaching out to gauge Russia's interest in such a meeting."
During the campaign and in the months that followed his election, Trump repeatedly denied having any connection to Russia or attempting to do business there.
Russia has never tried to use leverage over me. I HAVE NOTHING TO DO WITH RUSSIA – NO DEALS, NO LOANS, NO NOTHING!

— Donald J. Trump (@realDonaldTrump) January 11, 2017