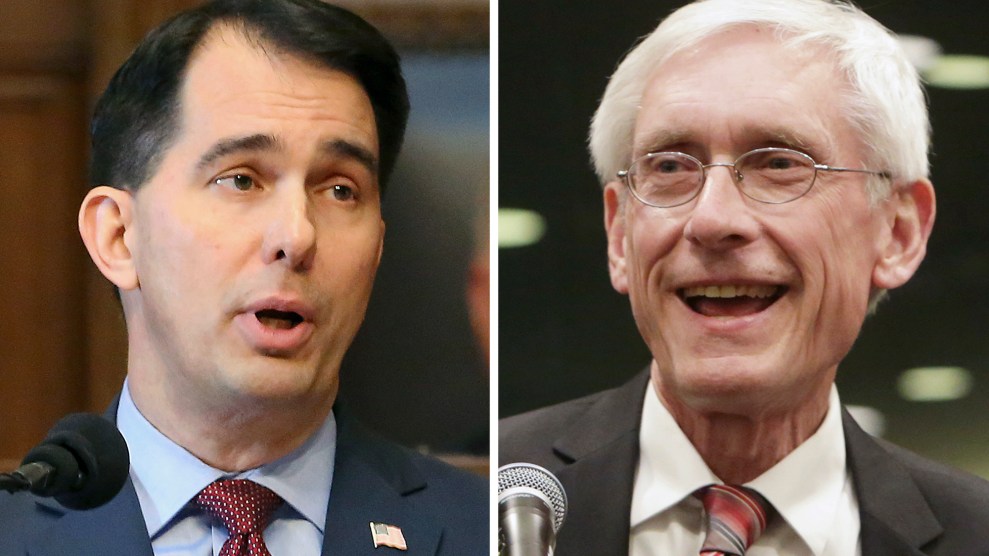 Fight disinformation:
Sign up
for the free
Mother Jones Daily
newsletter and follow the news that matters.
Republican lawmakers in Wisconsin are making a last-ditch effort to strip crucial powers from the incoming Democratic governor and attorney general before Republican Gov. Scott Walker finishes his term, in a move that could have sweeping implications for health insurance and voting rights in one of the country's most important swing states.
In a special session on Monday, the Republican-held Legislature will consider a bill that would make it harder for Gov.-elect Tony Evers' administration to implement its agenda in the state. Among other measures, it would take away his ability to approve major decisions by Attorney General-elect Josh Kaul, who ousted Republican Brad Schimel in the November midterm, granting this power to Republican lawmakers instead. The change would likely hamper the pair's ability to follow through on a campaign pledge to withdraw Wisconsin from a federal lawsuit that is currently seeking to strike down Obamacare.
The 141-page bill was unveiled Friday, and lawmakers are expected to vote on it Tuesday. Democrats have cried foul, describing the measure as an unethical attempt to ignore the will of Democratic voters. "The people spoke in November," former Obama Attorney General Eric Holder tweeted in a statement about Wisconsin on Sunday. "Republicans refuse to hear and seek to hold on to power-by any means. This is not good for our democracy."
The people spoke in November. Republicans refuse to hear and seek to hold on to power-by any means. This is not good for our democracy. Time for the people in Michigan, North Carolina and Wisconsin to be heard-again. Contact these legislators/let them know you oppose this action. https://t.co/ZOKkfU0lvQ

— Eric Holder (@EricHolder) December 2, 2018
The proposed legislation would go even further to hamper the state's incoming attorney general. It would give the Legislature, not Kaul, the authority to determine how money is allocated from court settlements, according to the Milwaukee Journal Sentinel. Lawmakers would also be granted the authority to intervene in legal challenges to state laws, including by hiring private attorneys to oversee the litigation instead of the attorney general.
Republicans are taking aim at voting rights again as well. The bill would limit early voting to two weeks ahead of an election, rather than six weeks in some parts of the state currently. (This provision would likely face pushback, since a federal court in 2016 blocked a similar voter law because it discriminated against racial minorities.) The proposed legislation would also change the timing of the presidential primary in Wisconsin—a strategy, Democrats say, that is aimed at reducing voter turnout to improve the reelection odds of a conservative state Supreme Court justice. In mid-November, Gov. Walker said he approved of this idea and other plans to limit the authority of his Democratic successor.
The attempted GOP power grab in Wisconsin mirrors similar efforts previously by Republicans in North Carolina. In December 2016, after voters there ousted Republican Gov. Pat McCrory in favor of Democrat Roy Cooper, North Carolina Republicans also called a special session, during which they rammed through multiple bills that, among other things, required the governor to get approval from the Legislature for his cabinet nominees.
And as Ben Wikler, Washington director of the advocacy group MoveOn, points out, the political wrangling underway in Wisconsin right now "has national implications" and could set a precedent for other Republicans responding to the blue wave. In Michigan, after Democrats won control of the offices of governor, attorney general, and secretary state for the first time since 1990, Republican lawmakers in the lame-duck session are now weighing proposals that would also give them the ability to intervene in legal battles.
The WI GOP power grab has national implications. By at least one analysis, WI is THE pivotal state for the 2020 elections. @prioritiesUSA crunched the numbers & found that, if elections were held today, WI would be the lone true tossup state—& would determine the national victor. pic.twitter.com/eYy6SDyEUF

— Ben Wikler (@benwikler) December 1, 2018
A contentious fight is brewing with the special session in Wisconsin. "Wisconsin law, written by the Legislature and signed into law by a governor, should not be erased by the potential political maneuvering of the executive branch," Senate Majority Leader Scott Fitzgerald and Assembly Speaker Robin Vos said in a statement about the bill, according to the Milwaukee Journal Sentinel. But Gov.-elect Evers seems unwilling to give up without a fight. "I've said all along I'm committed to working across the aisle," he said in a statement, "but I will not tolerate attempts to violate our constitutional checks and balances and separation of powers by people who are desperate to cling to control. Enough is enough."