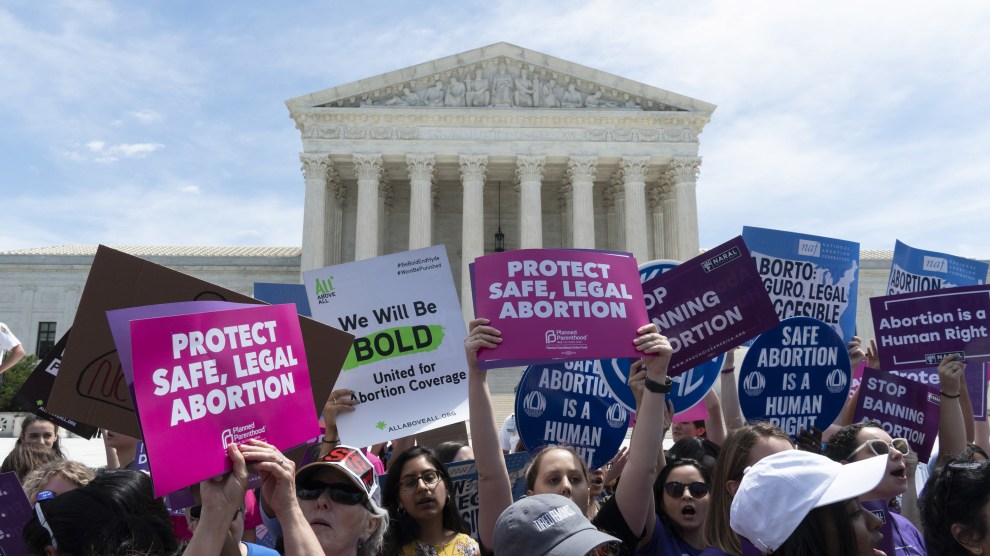 Fight disinformation:
Sign up
for the free
Mother Jones Daily
newsletter and follow the news that matters.
Rebecca Gomperts, the Dutch doctor who mails abortion pills to women in the United States, is suing the Food and Drug Administration in an attempt to secure the future of her medication distribution service.
The lawsuit filed Monday accuses federal officials of seizing prescription medicine and blocking the transfer of funds from patients to her organization, Aid Access, NPR reports. Gomperts' attorney, Richard Hearn, said that he fears the United States will prosecute patients whose pills have been seized by the government. Federal officials told NPR that the FDA "generally does not take enforcement action against individuals" who import illegal drugs for personal use. According to Hearn, the lawsuit aims to stop the alleged seizure of the drugs and to protect Gomperts and her patients from being accused by the government of illegally importing and distributing abortion drugs.
As Mother Jones reported in May, Gomperts mails the abortion pills mifepristone and misoprostol to women who would have trouble gaining access to abortion services otherwise. This includes women in parts of the United States where abortion is highly restricted. Gomperts received a warning letter from the FDA in March saying that Aid Access violates federal law by selling "misbranded and unapproved new drugs," but she did not stop providing these services.
Two days after the FDA letter was sent, 120 members of Congress wrote to FDA Commissioner Norman Sharpless thanking him for taking action. Gomperts briefly paused operations. But on Thursday, a day after Alabama became the first state to pass a near-total abortion ban and about a week following Georgia's "fetal heartbeat" ban, her lawyer, Richard Hearn, responded to the FDA, saying that its attempt to stop Gomperts "violates the constitutional rights of Dr. Gomperts' patients in the U.S." to receive abortion care.

The FDA's letter, though not a lawsuit, signals what could be a growing trend: As states restrict access to in-clinic abortions, alternative suppliers of abortion drugs are cropping up and, in turn, being targeted. Last June, FDA agents raided the home of a New York City woman who had sent abortion medications to 2,000 women across the country starting in 2016 (no charges appear to have been filed). But unlike in the pre–Roe v. Wade era, when women sought out doctors or other practitioners to end pregnancies, the abortion pills mifepristone and misoprostol, which are safe and, thanks to the internet, abundant, make terminating without complications relatively easy. Not only that: Medication abortions are indistinguishable from miscarriages, so that means they are also discrete. Whether law enforcement and the FDA can stop the flow of pills, and whether they have jurisdiction to do so, remains to be seen.