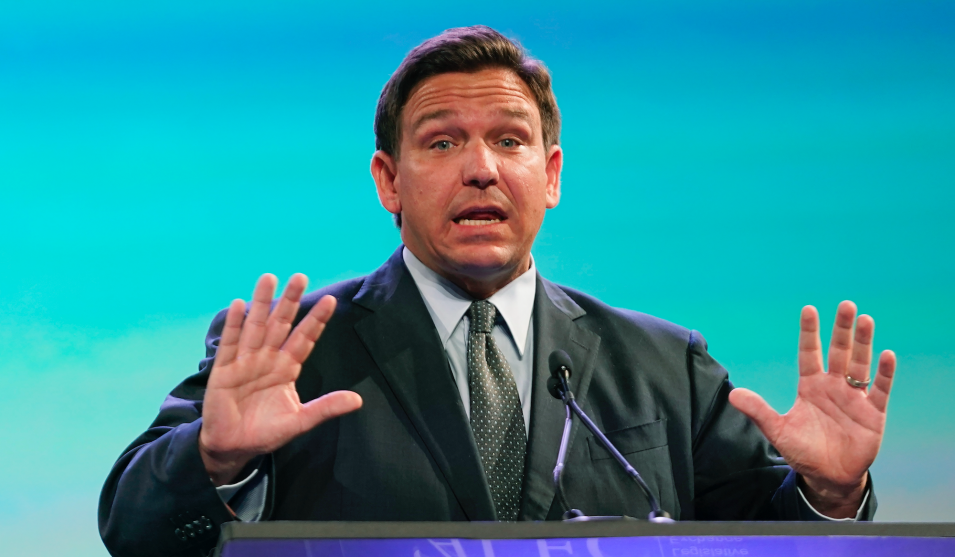 On Saturday, Florida recorded 21,683 new cases of COVID-19, breaking its one-day record for new cases. But even as the state swells with fresh infections, Republican Gov. Ron DeSantis remains hellbent on his war against mask mandates. He even recently barred school districts from instituting mask mandates when classes reconvene in August.
DeSantis feels so good about his war on masks, he's even laughing about it. "Did you not get the CDC's memo?" DeSantis joked to a largely maskless crowd at a conference for the American Legislative Exchange Council in Utah last week, referring to the Centers for Disease Control and Prevention's updated guidelines recommending mask-wearing amid the surge of the Delta variant. "I don't see you complying."
He continued, prompting applause, "I think it's very important that we say unequivocally, 'No to lockdowns, no to school closures, no to restrictions, and no mandates.' Floridians are free to choose and all Americans should be free to choose how they govern their affairs, how they take care of themselves and our families."
The governor, who is reportedly eyeing a bid for president in 2024, has spent most of the pandemic fiercely opposing COVID safety measures—a stance public health officials say has allowed the virus to run rampant across the state and has now made Florida the epicenter of the pandemic in this country. To DeSantis' sort-of credit, he has made recent efforts to boost vaccinations, though at the same time he's selling anti-Anthony Fauci merchandise on his website.
DeSantis is far from alone in his bitter fight against mask-wearing, a measure health officials say is critical in the fight to contain the highly contagious Delta variant. In Mississippi, where ICU beds are nearing capacity with a surge of unvaccinated individuals, Republican Gov. Tate Reeves blasted the CDC's mask guidelines as "foolish" and claimed that it reeked of "political panic."
"It has nothing, let me say that again: It has nothing to do with rational science," Reeves said on Thursday.
Except that it does. As Dr. Fauci warned on Sunday, "Things are going to get worse." The country's top expert on infectious diseases told ABC's This Week, "You want them to wear a mask so that if in fact they do get infected, they don't spread it to vulnerable people, perhaps in their own household, children, or people with underlying conditions."
But while their Republican governors rail against mask mandates, over on the vaccination front, there is some reason for hope: The number of individuals now seeking to get vaccinated is rising in some of the most resistant states, including Mississippi and Louisiana.
"I think maybe I'm trying to look on the bright side of this," National Institutes of Health Director Francis Collins told CNN Sunday, referring to the recent 56 percent uptick in vaccination rates across the country over the past two weeks. "What's the silver lining of this is that people are waking up to this. And this may be a tipping point for those who have been hesitant to say, 'OK, it's time.'"
As for Florida, it looks like local communities and businesses, including Disney World, are ignoring DeSantis and moving ahead with mask mandates anyway.