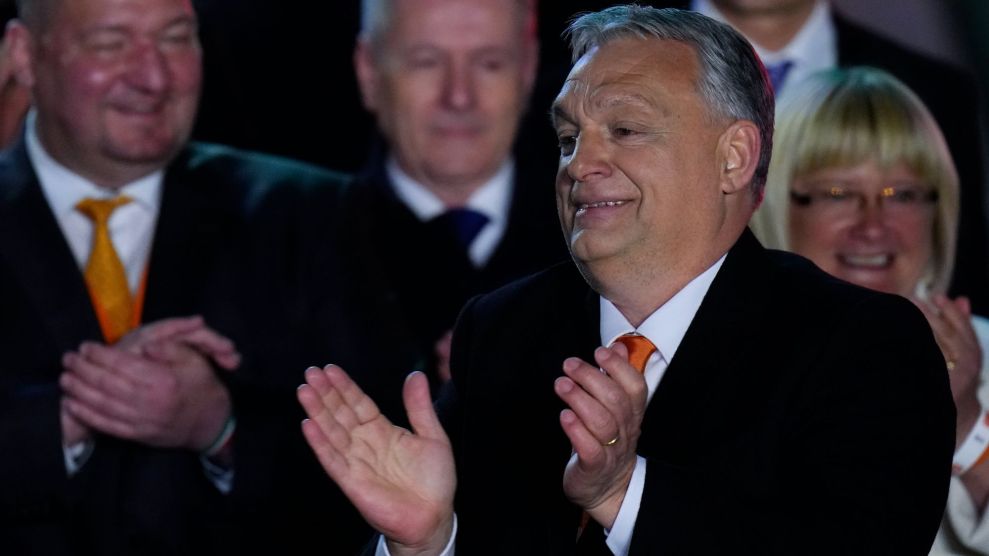 Fight disinformation:
Sign up
for the free
Mother Jones Daily
newsletter and follow the news that matters.
American conservatives are gathering in Hungary this week to celebrate and swap notes with Prime Minister Viktor Orbán, a far-right authoritarian who's successfully undermined democracy in his home country.
Got that? Now pause, and read that sentence again.
Orbán's keynote speech yesterday at the Conservative Political Action Conference, the American right's most prominent meet-and-greet, has taken the long love affair that certain types of conservative intellectuals have with authoritarian Hungary to a whole new level. Fresh off fancy fellowships in Budapest, many right-wing thought leaders have come to resemble college students who studied abroad in Hungary and can't shut the fuck up about it. Orbán counts among his admirers Tucker Carlson, Marjorie Taylor Greene, JD Vance, and Christian conservative writer Rod Dreher, who once favorably compared the autocrat to Donald Trump in an interview with the New Yorker: "Trump fights like a drunk falling off a barstool. Orbán fights like people say Trump fights."
Orbán's speech at CPAC yesterday took the form of a 12-point path to power for the American right. His advice ranged from the sensible ("read every day. A book a day keeps the defeat away") to the concerning ("play by our own rules. The only way to win is to refuse to accept the solutions and the paths offered by others"). He urged American conservatives to build durable institutions, pass economic policies that benefit the majority, and eschew the utopian dreams of the left for hard practical policies that voters actually want. At one point, he quoted Sting.
Orbán's speech also contained veiled critiques of the American right. He urged the attendees to reject conspiracy theories and embrace science. "We may gain immense popularity on internet forums by promoting conspiracy theories—and indeed sometimes there is truth in them; but in reality we will alienate a large proportion of the electorate, find ourselves pushed to the margins, and eventually we will lose."
If you think that a lot of this, on its face, sounds reasonable, you're not alone. Orbán is an extremely intelligent marketer of nationalistic ideas, and many conservative intellectuals—Dreher in particular—have gushed about the prime minister's English fluency, erudition, and personal charisma. However, if you consider the context that Orbán's speech elides and omits, his advice begins to take on some extremely dark dimensions.
At one point, for example, Orbán claimed that right-wing movements must develop their own media outlets to combat the "dominance" of the left:
We can only show up the insane ideas of the progressive Left if we have media that helps us to do this…The root of the problem is that the modern Western media aligns itself with the views of the Left…And as soon as a conservative figure appears in the media, they are criticized, attacked, defamed and vilified. I am familiar with the old ethos of Western democracy, according to which party politics and the press must be separated. That is how it should be. But, dear friends, the Democrats in the US, for instance, do not obey such rules. Just try to count how many media outlets are in the service of the Democratic Party: CNN, the New York Times, the list goes on—I could carry on into the night. Naturally, the Grand Old Party, too, has allied media outlets, but they are no match for the liberals' dominance of the media.
In practice, though, Orbán hasn't simply developed alternative news sources, so much as gutted the independent press and consolidated state control over nearly every major Hungarian media outlet. An Orbánized media environment in America wouldn't resemble a greater number of Fox-like channels, but an environment, as Orbán put it, where shows like Tucker Carlson's play "day and night—or, as you say, 24/7," and where someone like, say, Sean Hannity owns the New York Times.
Even Orbán's plea for the American right to reject conspiracy theories takes the form of a crafty false equivalence: Conspiracy theories, he claimed, are not all that different from "the denial of biology by LGBTQ movements." Right-wingers, then, must eschew extremity to more effectively emphasize the issues on which the left is "completely out of touch with reality."
In recent years, the policies and rhetorical stances of Orbán's party Fidesz have consistently foreshadowed the stances eventually adopted by the US right, members of which have increasingly described Hungary as a quasi-utopian model to be emulated. It's one of the great ironies of nationalist movements that they often play off and learn from each other, even as they pay lip service to isolationism and attempt to impose limits on global exchange. Self-proclaimed nationalist Steve Bannon, for instance, attempted to establish an international movement to support right-wing populism in Europe.
Indeed, the parallels between the Hungarian and American right are explicit and many. Orbán, a self-described "illiberal" authoritarian, solidified his power through a canny mix of culture war and gerrymandering. He enacted a series of one-sided electoral reforms, brought the media under state control, and amended the constitution to better allow his party to exercise power. As András Bozóki, professor at the Department of Political Science at the Central European University, told my colleague Marianne Szegedy-Maszak:
(The Hungarian state) is not representing public interests, but the interests of power, the friends and associates of Orbán, the political and economic entrepreneurs. This is not a classic breakdown of democracy, like revolution or a coup d'état. In this case, a democratically elected leader is hollowing out democracy from the inside through an incremental process, so it's difficult to identify the definitive step. He got the political power in the first election. In the second term, he got the economic power, and he centralized his power by the end of the second term. And by that time, the European Union noticed the wrong direction, and also what was happening in the Polish election, and the Orbán phenomenon became a European phenomenon, not just an isolated Hungarian case. His dishonest, opportunistic political approach infected Slovenia, Serbia, Bulgaria, Macedonia, Poland, partly even Italy. Then came the election of Donald Trump and Brexit, and all of these changes of 2016 were very favorable for the new autocrats. It is like the complete reversal of 1989 and democratization. Now it is a de-democratization, a global democratic recession. Suddenly Orbán gained global significance as the pioneer of this whole process.
While many American conservatives seem to be attracted to Orbán's control over the media and the election system, what really makes them salivate is his willingness to use the power of the state to enforce "traditional" values, making scapegoats out of LGBTQ people, migrants, the "international left," and Jewish billionaire George Soros. He banned same sex marriage, prohibited gender studies programs in universities, and likely influenced the American right's extreme and unfounded argument that LGBTQ content in schools constitutes a form of sexual "grooming." To the delight of nationalists like Vance, who recently secured the Republican Senate nomination in Ohio, Orban has also instituted popular policy that provides economic support to families, subsidizing Hungarian parents who have multiple children through tax breaks intended to boost native birth rates.
But describing Orbán as an authoritarian doesn't fully capture the threat he poses. What truly concerns political scientists and democracy advocates isn't just that he's established control over the state apparatus, but that his mode of governance has proven enduringly popular among many Hungarians. Indeed, his base of support in the rural countryside has driven him to four consecutive electoral victories, despite growing evidence of corruption and economic stagnation. If the American right does eventually follow Orbán's advice, mixing redistributive economic policies, voter suppression, and all-out culture war on marginalized groups in ways that prove broadly popular, we're in deep trouble.
In fact, there's a good chance that we're basically there already.