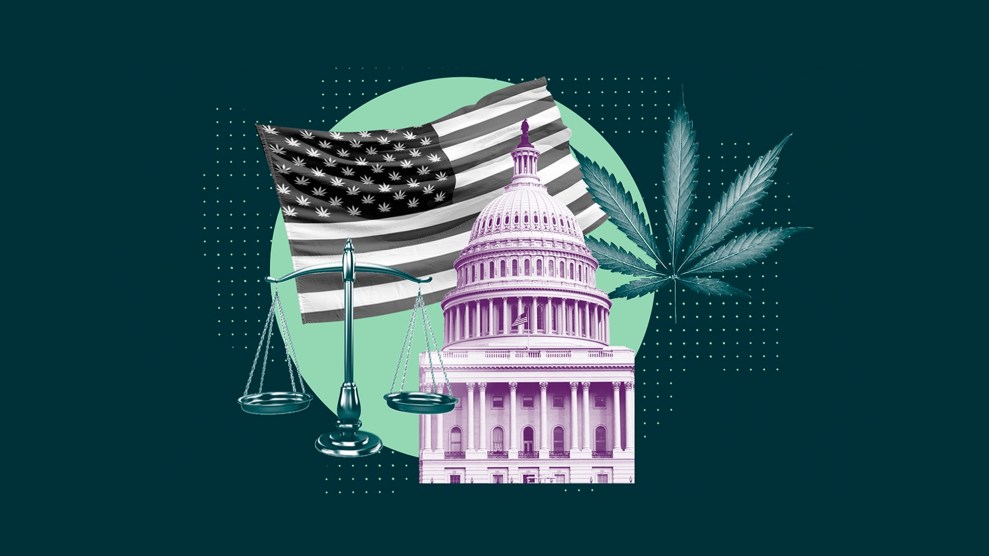 This content was written and paid for by American Civil Liberties Union; it was not written by and does not necessarily reflect the views of Mother Jones' editorial staff. See our advertising guidelines to learn more.

---
On Election Day, there's one thing voters from blue states and red states both agreed on, and that's marijuana legalization.
Our nation is ready to put an end to the destructive and racist policies of the war on drugs. Critical legislation in Congress could have a huge impact on making that happen: The House just passed the MORE Act (Marijuana Opportunity Reinvestment and Expungement Act) and now it moves to the Senate.
You could be a critical part of this fight by taking action today and telling Congress to pass the MORE Act as soon as possible. Click to add your name today and make your voice heard.
Here are a few key things that make this bill one of the most comprehensive marijuana reform initiatives in Congress. The MORE Act will:
decriminalize marijuana on the federal level, removing it from the Controlled Substances Act of 1970.
tackle the racial disparities of drug prohibition head-on, making it not only a marijuana reform bill but also a racial justice bill.
expunge many past convictions and resentence people with marijuana convictions.
include an excise tax that generates funds specifically to invest in the communities most harmed by marijuana prohibition.
The war on drugs has failed. That's clear. Yet hundreds of thousands of people are still arrested each year for marijuana possession, disproportionately Black and Latinx people.
In fact, a Black person in the United States is 3.6 times more likely to get arrested for marijuana possession than a white person, despite similar usage rates. It's time not just to legalize marijuana, but to do so in a way that addresses these harmful disparities once and for all.
The MORE Act will do exactly that. So please, send a message to Congress today and tell them to vote YES. Sign the petition today.