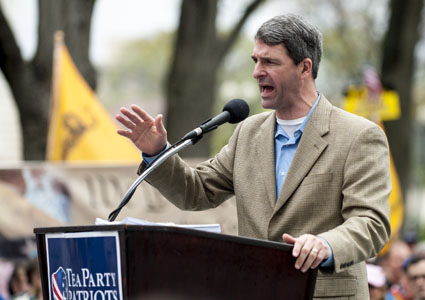 Fight disinformation:
Sign up
for the free
Mother Jones Daily
newsletter and follow the news that matters.
Virginia Attorney General Ken Cuccinelli, the GOP's nominee for governor, filed an appeal on Tuesday asking the Supreme Court to revive the state's law banning oral and anal sex. In a statement, Cuccinelli claimed that the law, which the US Court of Appeals for the 4th Circuit ruled unconstitutional earlier this year, is "an important tool that prosecutors use to put child molesters in jail." Cuccinelli warned that the appeals court's decision to strike down the statute "threatens to undo convictions of child predators that were obtained under this law" since 2003, when the Supreme Court ruled in Lawrence v. Texas that laws criminalizing oral and anal sex—sometimes referred to as sodomy bans—are unconstitutional.
As the Huffington Post reported:
Cuccinelli wants the court to reconsider a March 2013 decision by the U.S. Court of Appeals for the 4th Circuit striking down the state's "crimes against nature" statute. The 4th Circuit ruled that the law did not pass muster in light of the Supreme Court's 2003 Lawrence v. Texas decision, which struck down the latter state's anti-sodomy law as an unconstitutional criminalization of Americans' sexual conduct. The Virginia law, however, remained on the books.

The 4th Circuit ruled in favor of William Scott McDonald, who was convicted in 2005 at age 47 under the Virginia statute for soliciting a 17-year-old girl to commit sodomy. That law broadly makes oral and anal sex a Class 6 felony. While such laws historically targeted gay men, they have also been used against heterosexual activity.

The three-judge panel ruled that an unconstitutional law could not be used to convict McDonald. It added that the Virginia Legislature could pass another law to criminalize sexual conduct specifically between a minor and an adult. The Lawrence ruling applied only to consensual adult conduct.
Virginia has a notably low age of consent, which means, in effect, that vaginal sex between a 47-year-old and a 17-year-old is legal, but oral and anal sex between the same two people is not. Cuccinelli claims he will only use the sodomy law to bring cases involving minors or sexual assault, and argues that Virginians need not worry about him prosecuting "consenting adults," because the part of the law that would enable him to do so was defanged by the Supreme Court's Lawrence decision. But in 2004, when a bipartisan group of state Senators was trying to fix the sodomy law so that it would only apply to cases involving minors and non-consensual sex, Cuccinelli, then a state Senator, blocked the effort. And in 2009, as my colleague Andy Kroll has noted, Cuccinelli made clear that he objected to oral and anal sex (at least between gay people) on principle, telling the Virginian-Pilot, "My view is that homosexual acts—not homosexuality, but homosexual acts—are wrong. They're intrinsically wrong. And I think in a natural law-based country it's appropriate to have policies that reflect that…They don't comport with natural law."
As Mother Jones noted, some 90 percent of Americans would be felons if the Virginia law were to be applied nationally. Cuccinelli has remained mute as to whether he's one of them.