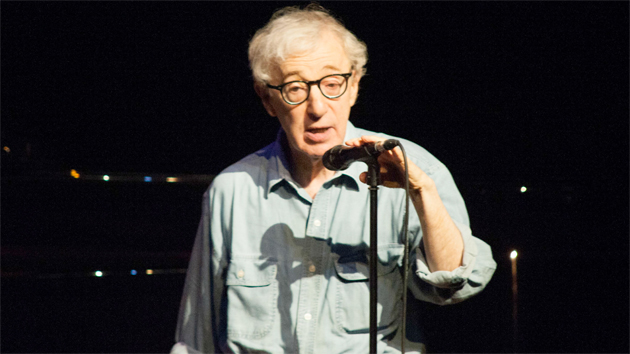 Fight disinformation:
Sign up
for the free
Mother Jones Daily
newsletter and follow the news that matters.
On Saturday, Nicholas Kristof's blog at the New York Times published an open letter by Dylan Farrow, the adoptive daughter of celebrated filmmaker Woody Allen. The letter describes, in horrifying detail, sexual assault she claims to have suffered at the hands of Allen—when she was seven years old. As Kristof notes, this is the first time that Farrow has written about this in public.
Here's an excerpt:
What's your favorite Woody Allen movie? Before you answer, you should know: when I was seven years old, Woody Allen took me by the hand and led me into a dim, closet-like attic on the second floor of our house. He told me to lay on my stomach and play with my brother's electric train set. Then he sexually assaulted me. He talked to me while he did it, whispering that I was a good girl, that this was our secret, promising that we'd go to Paris and I'd be a star in his movies. I remember staring at that toy train, focusing on it as it traveled in its circle around the attic. To this day, I find it difficult to look at toy trains.

[…]

What if it had been your child, Cate Blanchett? Louis CK? Alec Baldwin? What if it had been you, Emma Stone? Or you, Scarlett Johansson? You knew me when I was a little girl, Diane Keaton. Have you forgotten me?

Woody Allen is a living testament to the way our society fails the survivors of sexual assault and abuse.
(You can read the rest of her letter—which isn't easy to get through—here.)
Allen's representatives did not immediately respond to Mother Jones' request for comment regarding the letter. I will update this post, if that changes.
Update: Allen's attorney Elkan Abramowitz sent Mother Jones the following statement on Sunday afternoon:
It is tragic that after 20 years a story engineered by a vengeful lover resurfaces after it was fully vetted and rejected by independent authorities. The one to blame for Dylan's distress is neither Dylan nor Woody Allen.
Update 2: Allen's publicist Leslee Dart emails the following on Sunday afternoon:
Mr. Allen has read the article and found it untrue and disgraceful. He will be responding very soon…At the time, a thorough investigation was conducted by court appointed independent experts. The experts concluded there was no credible evidence of molestation; that Dylan Farrow had an inability to distinguish between fantasy and reality; and that Dylan Farrow had likely been coached by her mother Mia Farrow. No charges were ever filed.
Accusations of the abuse surfaced in the early 1990s, shortly after the relationship between Allen and long-time girlfriend Mia Farrow ended after she discovered Allen had been having an affair with Soon-Yi Previn, the adopted daughter of Mia Farrow and composer/conductor André Previn. Allen denies the allegations, and has never been prosecuted in this case. Allen and his defenders say that Dylan was coached to make the allegations by Mia Farrow. Discussion of the alleged assaults was renewed following a recent tribute to Allen at the Golden Globe Awards.
Update 3, February 7, 2014, 9:09 p.m. EST: On Friday, the New York Times published Woody Allen's response online: "Of course, I did not molest Dylan."
Update 4, February 7, 2014, 11:49 p.m. EST: On Friday, Dylan Farrow responded, in a statement to the Hollywood Reporter, to Allen's piece in the New York Times: "His op-ed is the latest rehash of the same legalese, distortions, and outright lies he has leveled at me for the past 20 years."