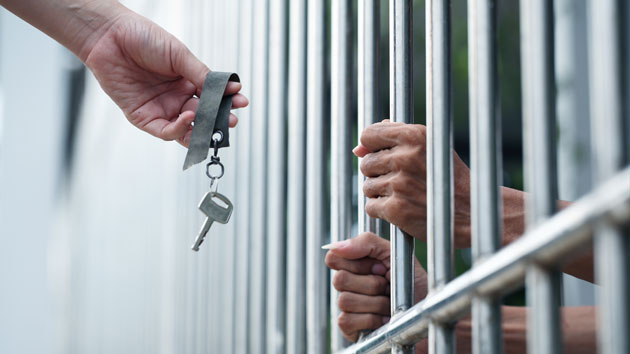 Fight disinformation:
Sign up
for the free
Mother Jones Daily
newsletter and follow the news that matters.
A growing group of conservatives are stepping back from their traditional "tough on crime" stance and taking a lead on reforming the criminal justice system. There's even talk that congressional Republicans and Democrats could come together on the issue: Earlier this week, members of the Senate Judiciary Committee introduced a bipartisan prison reform bill. (Though it seems to have considerable flaws.)
At the state level, Republicans have already been taking on the issue. Here are five states where Republican governors and their fellow GOP lawmakers are taking on broken prison systems and the harsh laws that have fueled the incarceration boom:
Nebraska: Members of Nebraska's legislature have introduced several bills that address the state's overcrowded prisons. These include two bills introduced Wednesday, which would do away with mandatory minimum sentences for a slew of crimes (including distributing cocaine and heroin) and limit Nebraska's "three-strikes" law to violent crimes. While the Cornhusker State's legislature is nonpartisan, a majority of bills' cosponsors are affiliated with the Republican Party, including Sen. Jim Smith, the head of the state branch of the American Legislative Exchange Council. Republican Governor Pete Ricketts reportedly supports the push for prison reform, as does the Omaha-based Platte Institute, a conservative think tank that recently released recommendations for decreasing incarceration that have drawn support from the Nebraska ACLU.
Utah: Republican state Representative Eric Hutchings is sponsoring legislation that aims to reduce Utah's prison population and decrease recidivism. The bill, which has yet to be publicly released, would decrease the charge for drug possession from a felony to a misdemeanor. Governor Gary Herbert, also a Republican, has put aside $10.5 million for recidivism reform.
Illinois: Governor Bruce Rauner's agenda includes a plan to keep nonviolent offenders out of prison by instead sending them to community programs. Earlier this week, he created a commission of lawmakers, cops, and activists to recommend reforms to the state's criminal justice system. More details about his plan will come out when he releases his 2016 budget recommendations next week.
Alabama: The legislature-appointed Alabama Prison Reform Task Force is gearing up to propose a new bill for the next legislative session, which begins in March. Led by Republican state Senator Cam Ward, an outspoken Second Amendment defender, the task force is seeking ways to cut down the state's prison population, which is more twice its intended size. One of Ward's ideas? Making re-entry easier by throwing out draconian laws for ex-felons, like those preventing them from getting driver's licenses.
Georgia: A similar task force, the Georgia Council on Criminal Justice Reform, has been recommending reforms to lawmakers. Formed in 2011 by Republican Governor Nathan Deal, the group has pushed the state to stop imprisoning juveniles and reform sentencing for nonviolent offenders, which slashed $20 million off the cost to house inmates in Georgia. The council's current agenda includes initiatives to improve reentry for ex-felons.