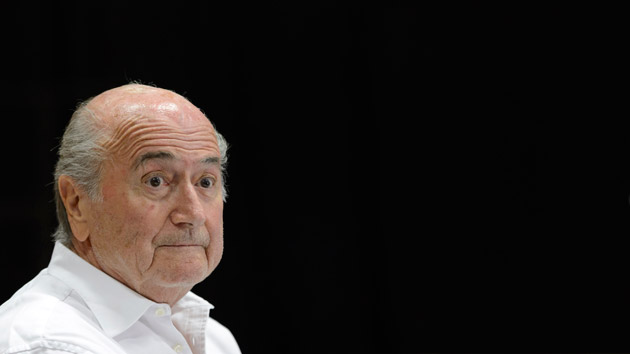 Fight disinformation:
Sign up
for the free
Mother Jones Daily
newsletter and follow the news that matters.
On Friday, Swiss officials opened a criminal investigation into embattled FIFA president Sepp Blatter "on suspicion of criminal mismanagement" and "misappropriation."
In September 2005, Switzerland's Office of Attorney General said in a press release, Blatter signed a television contract with the Caribbean Football Union deemed "unfavorable to FIFA" during former FIFA executive Jack Warner's tenure as league president.
Blatter was also accused of making a "disloyal payment" of 2 million Swiss francs to UEFA president Michel Platini "at the expense of FIFA" for work conducted between January 1999 and June 2002.
The criminal probe comes five months after 14 top soccer officials and corporate executives, including Warner, were indicted for widespread corruption spanning the past two decades.
Here's a short recap of what has happened in the Blatter orbit since the indictment came down:
May 27: The US Department of Justice indicts 14 top soccer officials and corporate executives on charges of racketeering, wire fraud, and money laundering for a massive corruption scheme that spanned two decades and totaled more than $150 million. Plainclothes officers raided the five-star Baur au Lac hotel in Switzerland, where FIFA executives gathered for the league's annual meeting. The charges focus on the buying and selling of votes for the 2010 World Cup in Africa. A separate Swiss investigation hones in on the bidding for the 2018 World Cup in Russia and 2022 World Cup in Qatar.
May 29: Blatter wins election for the fifth time and promises to "take the responsibility to bring back FIFA."
May 31: Blatter says he has an idea why the indictments went down two days before the FIFA election: "No one is going to tell me that it was a simple coincidence, this American attack two days before the elections of FIFA. It doesn't smell right. This has touched me and FIFA…There are signs that cannot be ignored. The Americans were the candidates for the World Cup of 2022 and they lost. The English were the candidates for 2018 and they lost, so it was really the English media and the American movement."
June 1: The New York Times reports that Jérôme Valcke—the FIFA secretary general and Blatter's right-hand man—is linked to a $10 million transaction between FIFA and another soccer official, a central part of the bribery scandal. On June 10, Valcke concedes that he authorized the transaction, but denied any wrongdoing.
June 2: Blatter announces he will resign as head of FIFA after 17 years and calls for a special election. "FIFA needs a profound overhaul," he said in a statement at the time. "While I have a mandate from the membership of FIFA, I do not feel that I have a mandate from the entire world of football—the fans, the players, the clubs, the people who live, breathe and love football as much as we all do at FIFA."
June 15: A federal judge in Brooklyn unseals a plea agreement of former FIFA executive Chuck Blazer, who pleaded guilty in November 2013 to 10 counts of racketeering, wire fraud, money laundering, and tax evasion. Blazer cooperated with federal investigators in secret for two years before his plea, providing information that is believed to have helped lead to the arrests of the 14 officials. That same day, a Swiss newspaper reports that Blatter is reconsidering his resignation from FIFA's top post.
September 17: FIFA places Valcke on leave "until further notice." Swiss authorities accused Valcke of selling tickets to the 2014 World Cup for more than face value.
September 25: Swiss authorities open criminal investigation into Blatter.