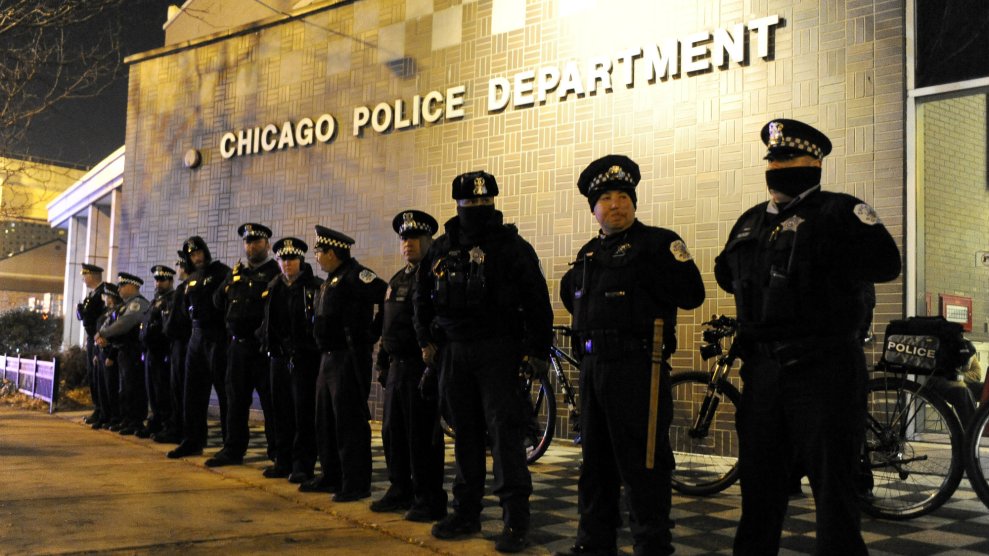 Fight disinformation:
Sign up
for the free
Mother Jones Daily
newsletter and follow the news that matters.
Six community groups, including the local chapter of the Black Lives Matter Global Network, have filed a federal lawsuit against the city of Chicago in hopes of forcing the city to submit to court oversight of its troubled police department. The class action suit, filed Wednesday, seeks a court order requiring the Chicago Police Department to enact reforms "on behalf of all persons who…have been, or in the future will be, subjected to use of force by CPD officers." The lawsuit also asks for monetary damages for six plaintiffs who allege that they were abused by police officers.
The lawsuit comes as the city and the Department of Justice are backing away from attempts at reform put in place during the Obama administration. Earlier this month, Chicago Mayor Rahm Emanuel announced that he would not follow an agreement signed in January with the Department of Justice to negotiate a court-enforceable reform plan, known as a consent decree. Attorney General Jeff Sessions has signaled that his DOJ will pull back on federal oversight of police departments, including the use of consent decrees. Emanuel has said the city is pursuing a new agreement with the Trump administration that would involve an independent monitor rather than a federal judge who could penalize the city for failing to comply with court-ordered changes.
The new lawsuit argues that Chicago's decades-long failure to clean up documented problems in its police department shows that it needs federal oversight. "The city continues to pay out tens of millions of tax payer dollars each year as a result of its pattern and practice of police brutality," the lawsuit states, referring to payouts to the victims of abuse and the families of people killed by police officers. "The city has proven that it would rather pay for its officers' continued use of excessive force than remedy the underlying problems giving rise to the abuses in the first place. Absent federal court supervision, nothing will improve."
Emanuel's office did not respond to a request for comment on the lawsuit. On Thursday, the mayor's chief legal counsel said a consent decree is the best option for reforming the CPD, but that the DOJ will not agree to that approach. However, Shelia Bedi, a lead attorney on the lawsuit, says the city could negotiate a consent decree directly with community groups. "You've got the communities that are most affected by police violence saying to the mayor, 'If you really care about Chicago's black and brown communities, do not cut a backroom deal with Jeff Sessions," Bedi says. "Negotiate directly with us, and we can ensure that the change is real and sustainable and transformative." Local officials have called on Emanuel to stick to his original pledge of court oversight.
Police departments in cities such as Oakland, California, have negotiated consent decrees with private parties without the involvement of the DOJ to settle similar class-action lawsuits. In 2013, the New York City Police Department negotiated a reform plan with community groups after a federal judge ruled that its stop-and-frisk program unfairly targeted people of color.
The lawsuit cites a Department of Justice report released in January, during the last days of the Obama administration, that slammed CPD for a "pattern and practice" of unconstitutional abuses, including the use of excessive force, especially against people of color. The report found systemic problems in the department, including the routine use of excessive force, outdated training, and lax supervision. In one stunning detail, the DOJ reported that officers had recklessly culled information from gang members by dropping them off in rival territory. A police accountability task force convened by Emanuel had reached similar findings in a 2016 report. That report cited findings from five other task forces—the earliest convened in 1898 —that had found evidence of rampant corruption and misconduct within the police department.
Christy Lopez, a former DOJ official who helped oversee police reform investigations for the Obama administration, told me earlier this year that she thinks CPD's problems are too entrenched to fix without federal oversight. "When you have the type and the depth of problems that we were talking about in the findings report, especially in departments as large as Chicago, it takes a very concerted, long-term, focused effort," she said. "It is, in my experience, impossible to keep a jurisdiction focused on a problem of this nature for as long as it takes" without court oversight.
The Obama administration negotiated 14 consent decrees with local police departments, all of which remain active. In April, Sessions announced that he had ordered a review of all of these reform agreements. The same month, he unsuccessfully attempted to block a consent decree between the DOJ and Baltimore. Agreements that are overseen by a judge, however, cannot be altered easily. That's one of the key benefits of court oversight, Lopez says. "A judge is often the player with the most longevity in all of this. DOJ administrations come and go. Mayors come and go. Police chiefs come and go. But a judge will be there and an agreement will be there to keep people focused."
The DOJ opened its investigation into CPD in December 2015 after a dash-cam video showed a former Chicago police officer shooting a black teenager 16 times. Since then, the city has taken steps to revamp its system of police oversight and has equipped more officers with Tasers and body cameras. In May, the police department unveiled a new use of force policy.
In February, Sessions acknowledged that he had not read the DOJ's report on the Chicago Police Department. He reportedly told Sen. Dick Durbin (D-Ill.) in a meeting in January that he did not know CPD had been under investigation in the first place.