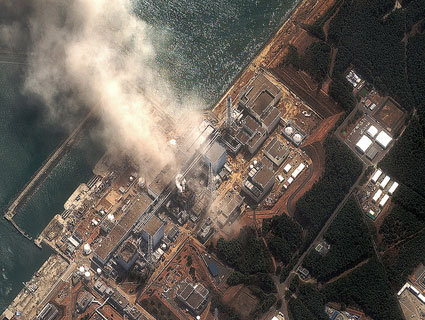 Fight disinformation:
Sign up
for the free
Mother Jones Daily
newsletter and follow the news that matters.
The unfolding emergency in Japan comes at a time when nuclear power, for the first time in a generation, was enjoying widespread political support in the United States. While no new plants have been built here in three decades, the industry has revived interest by marketing itself as a clean energy source.
Republicans have long supported nuclear power, but the lower-carbon argument has won over many Democrats, including President Obama, who in his January State of the Union address called for the inclusion of nuclear in a new "clean energy standard." The administration has been aiming to triple federal loan guarantees for new plants—its last two budgets called for an additional $36 billion, raising the total to $54.5 billion.
Congress, too, has also shown interest: The climate and energy bill introduced in the Senate last May called for loan guarantees sufficient to fund 12 new reactors. The bill's sponsors, Sens. John Kerry (D-Mass.) and Joe Lieberman (I-Conn.), were joined at their press conference by representatives from the Nuclear Energy Institute, the industry's US trade group, and worked with South Carolina Republican Sen. Lindsey Graham, a big nuclear booster, to craft the bill.
So far, Obama isn't backing down on his nuclear quest. On Monday, White House Press Secretary Jay Carney said that nuclear "remains a part of the president's overall energy plan." But others who were touting a renaissance just a few months ago have struck a note of caution. "I think it calls on us here in the US, naturally, not to stop building nuclear power plants, but to put the brakes on right now until we understand the ramifications of what's happened in Japan," Lieberman said Sunday on Face the Nation.
"In recent years environmentalists and policy makers in both parties started taking a fresh look at nuclear power because none of our current energy options are without a downside," Kerry said in a statement Monday, noting that oil, gas, and coal also have environmental and safety risks. "It's up to all of us to make sure it's a productive policy discussion that recognizes we have to get our energy from somewhere, and right now none of our options are entirely attractive."
With the situation in Japan threatening to derail public support for nuclear power, advocates are hoping for a measured response from Congress. "It's ridiculous and unseemly for folks to try to jump in and use this awful crisis to advance political positions that they've held for a long time," says Josh Freed, director of the clean energy program at Third Way, a group that works with both parties on policy issues, and believes nuclear power deserves a place in the mix. "We need to see what happens in Japan before figuring out the path forward with nuclear as part of our climate change strategy."
The Senate's staunchest nuclear advocates certainly weren't backing down. Sen. Lamar Alexander (R-Tenn.), who has called for a program to build 100 new plants over 20 years, took to the floor Monday afternoon to defend nuclear power. "We don't abandon highway systems because bridges and overpasses collapse in an earthquake," he said. "There's always risks with every form of energy." The Japanese and French, he argued, have "surged into the lead in terms of nuclear power," leaving the US behind.
Mark Helmke, GOP communications director for the Senate Foreign Relations Committee, acknowledges that a discussion of nuclear policy in light of the Japan situation is inevitable. Ranking Member Dick Lugar (R-Ind.) has introduced his own measure to create a clean-energy standard including nuclear power. No matter what happens at the federal level, Helmke says, the Japan situation will make it that much harder to find new plant locations and will likely lead to lawsuits. "Anybody involved in nuclear today is going to have a lot of extra questions asked of them," he says.
Some nuclear-power supporters are reluctant to weigh in. "For us to be crowing one way or another about the nuclear industry is completely inappropriate," says Robert Dillon, spokesman for Sen. Lisa Murkowski (R-Alaska). Those focusing on US policy right now, he adds, are trying "to score political points on the Japanese people."
Senate Republican leadership wants to avoid the topic altogether. "This discussion reminds me, somewhat, of the conversations that were going on after the BP oil spill last year," Minority Leader Mitch McConnell told Fox News on Sunday. "I don't think right after a major environmental catastrophe is a very good time to be making American domestic policy."
But a lot of what happens in US policy indeed depends on the prevailing winds of public opinion. In 2009, the last time Gallup polled on nuclear energy, a record 59 percent of respondents said they favored its use. Then again, it's been 25 years since the last major nuclear catastrophe (Chernobyl), and 32 years since Three Mile Island. And the latter incident, far less serious than the one in Japan, turned Americans off to nuclear power for a generation.