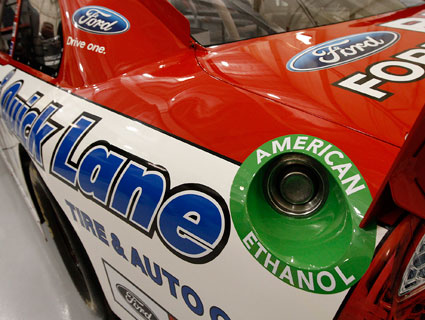 Fight disinformation:
Sign up
for the free
Mother Jones Daily
newsletter and follow the news that matters.
Can a sport devoted to gas-guzzling machines ever be a good environmental steward? Well, the stock car racing industry is trying—and is seeing results.
The National Association for Stock Car Auto Racing (NASCAR), its teams, track operators, and sponsors have begun to adopt some ambitious green initiatives, ranging from putting its racecars on an ethanol-blend fuel to a tree planting program to, according to NASCAR, the largest recycling program in sports.
In fact, according to Mike Lynch, NASCAR's managing director of green innovation, the tree program—which plants 10 saplings for each green flag that drops during races—captures 100% of the carbon produced by on-track racing.
"What we really try to do is identify initiatives that crystallize for the fans what green can mean, while also addressing our environmental impact as a sport," Lynch said, describing the efforts the association has branded as NASCAR Green.
In May, NASCAR signed a memorandum with the Environmental Protection Agency to create a partnership to meet "their shared goal of promoting environmental stewardship within the stock car racing industry and fostering greater environmental awareness among NASCAR fans."
In an email to Mother Jones, an EPA spokesperson stated that it "has been looking more strategically at how it can help foster sustainability in sports—contributing to greater environmental awareness and sustainable actions by the sports industry, its communities and fans." The partnership with NASCAR made sense because of their demonstrated leadership in environmental stewardship and their large fan base, the EPA explained.
NASCAR estimates that 28% of Americans (about 67 million people) are fans. And the association claims, based on before and after surveys designed to measure the impact of NASCAR Green, that the initiative has been effective at raising environmental awareness: Before the program, NASCAR says it found that its fans were as likely as non-fans to describe their households as "very green." Follow-ups found them to be 50 percent more likely than non-fans to describe their households that way; avid fans were 70 percent more likely.
NASCAR's central office isn't the only racing player looking to green the sport. Independent of NASCAR Green, Pocono Raceway built a 40,000-panel solar farm just off the track—the largest renewable energy stadium project in the world.
The president and CEO of the track, Brandon Igdalsky, said he decided to build the array after learning that their energy costs would go up by 40 to 50 percent after a deregulation of Pennsylvania's power supply. The raceway investigated alternatives and determined that solar was the most efficient solution. The solar farm produces almost twice as much energy as they need; the rest is sold back to the grid.
"Anything we can do to alleviate our footprint on the environment, we're going to do," Igdalsky said. "We feel responsible for this area."
In cooperation with NASCAR, Pocono Raceway has expanded its recycling program and joined in the tree planting program—planting between 400 and 500 trees to date. The track is also working on a comprehensive five-year master sustainability plan.
"It's opened an opportunity for us, as a league, to put our product out there on a different level," Igdalsky said. "Talking to people from other leagues about what we're doing, everyone seems really excited about what NASCAR is doing."
One of the NASCAR Green initiatives, to change from traditional high-octane gasoline to an ethanol blend, was introduced in the 2011 racing season. Each year, Lynch estimates, NASCAR uses 450,000 gallons of race fuel, qualifying and trial runs included. NASCAR approached Sunoco, whic has provided the official fuel since 2004, for an ethanol blend. In partnership, Sunoco Green E15, which contains 15 percent ethanol, was created.
Thomas Golembeski, a Sunoco spokesperson, said the ethanol is completely American-made, a selling point for those hoping to reduce reliance on foreign oil. Ethanol does have its critics, but NASCAR claims a 20 percent reduction in greenhouse gas emissions with the ethanol-blend.
The irony of a sport dedicated to cars driving around an oval for hours boasting of going green has been noted. But environmental organizations have come out in defense of NASCAR's efforts. The Natural Resources Defense Council has worked with many major sporting organizations, including NASCAR, on green efforts. Allen Hershkowitz, a senior scientist with the NRDC and director of their Sports Greening Initiative, said environmentalists should embrace NASCAR's earth-friendly messaging rather than be cynical of it.
"The fact that professional sports, including NASCAR, are saying something needs to be done about climate change… that is helping to instigate the cultural shift that this country needs in order to get our government to act," Hershkowitz said.
Lynch said while the core of the sport will never change, that doesn't mean that its green initiatives would be unsuccessful or diminished.
"Whatever we do in green, we will not in any way dilute the fan experience or the product," he said. "You can hug a tree and have it be business smart at the same time."
One possible new green product? Lynch says an all-electric vehicle league within NASCAR is "entirely possible."
"I drive a Volt," he said, "and would put it up against any sports car I've owned."