One of the most frustrating things about the ongoing California drought is knowing that some people just don't give a damn. Letting your lawn die and your toilet bowl turn yellow can seem absurd when you know that a few water hogs are keeping their gardens as green as Costa Rican golf courses (like the mystery Bel Air resident who uses 12 million gallons per year).
Citing privacy concerns, every major California water district has refused to name their biggest users. Until today.
The East Bay Municipal Utility District just released a partial list of homeowners who have violated its new excessive-water-use rules. In this district encompassing the cities and hills east of San Francisco, scofflaws are defined as those whose daily usage exceeds 1,000 gallons—four times the residential average of 250 gallons a day.
The EBMUD's list of shame only covers customers who are billed in September, and excludes any who filed appeals. Yet it reveals many cases of egregious water use among the owners of massive properties in the East Bay hills. One of the largest violators is Oakland A's executive Billy Beane, whose team is known as one of the most eco-friendly in baseball.
Here are the top five water guzzlers on the water district's list—and aerial snapshots of their homes:
1. George Kirkland, former vice chairman of Chevron
Daily water use: 12,579 gallons
Location: Danville, California
Property value: $3.5 million
Mitigating factor: Kirkland told the San Jose Mercury News that there was a leak in a water line to the two acres of vineyards on his four-acre lot.
2. Mark Pine, venture capitalist
Daily water use: 8,091 gallons
Location: Alamo, California
Property value: $6.9 million
3. Billy Beane, vice president of baseball operations and minority owner of the Oakland A's
Daily water use: 5,996 gallons
Location: Danville, California
Property value: $4.8 million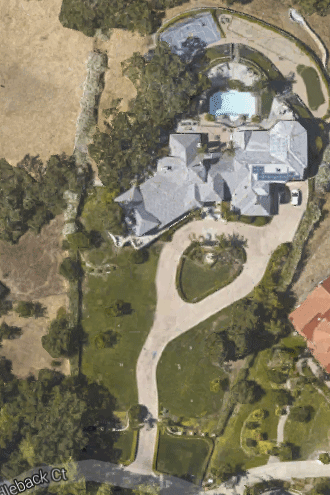 4. Dane Bigham, software executive
Daily water use: 5,747 gallons
Location: Walnut Creek, California
Property value: $891,000
5. Gene Yee, intellectual property attorney
Daily water use: 5,659 gallons
Location: San Leandro, California
Property value: $269,000
Mitigating factor: Yee's water use is hard to explain given that he has very little landscaping. Perhaps he also has a leak?