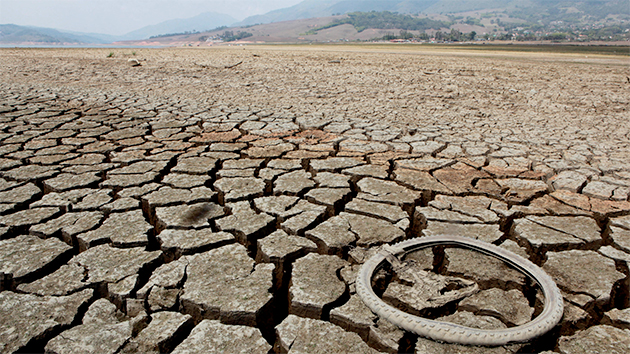 This story originally appeared in The Guardian and is reproduced here as part of the Climate Desk collaboration.
February smashed a century of global temperature records by "stunning" margin, according to data released by NASA.
The unprecedented leap led scientists, usually wary of highlighting a single month's temperature, to label the new record a "shocker" and warn of a "climate emergency."
The NASA data shows the average global surface temperature in February was 2.43 degrees Fahrenheit (1.35 degrees Celsius) warmer than the average temperature for the month between 1951-1980, a far bigger margin than ever seen before. The previous record, set just one month earlier in January, was 2.07 degrees F (1.15 C) above the long-term average for that month.
"NASA dropped a bombshell of a climate report," said Jeff Masters and Bob Henson, who analyzed the data on the Weather Underground website. "February dispensed with the one-month-old record by a full 0.21C [0.38 degrees F]—an extraordinary margin to beat a monthly world temperature record by."
"This result is a true shocker, and yet another reminder of the incessant long-term rise in global temperature resulting from human-produced greenhouse gases," said Masters and Henson. "We are now hurtling at a frightening pace toward the globally agreed maximum of 2 C (3.6 F) warming over pre-industrial levels."
The UN climate summit in Paris in December confirmed 3.6 degrees F (2 C) as the danger limit for global warming which should not be passed. But it also agreed to "pursue efforts" to limit warming to 2.7 degrees F (1.5 C), a target now looking highly optimistic.
Climate change is usually assessed over years and decades, and 2015 shattered the record set in 2014 for the hottest year seen, in data stretching back to 1850. The UK Met Office also expects 2016 to set a new record, meaning the global temperature record will have been broken for three years in a row.
One of the world's three key temperature records is kept by NASA's Goddard Institute for Space Studies (GISS) and its director Prof. Gavin Schmidt reacted to the February GISS temperature measurements with a simple "wow." He tweeted:
Normally I don't comment on individual months (too much weather, not enough climate), but last month was special.https://t.co/nALWMlNDcP

— Gavin Schmidt (@ClimateOfGavin) March 12, 2016
"We are in a kind of climate emergency now," said Prof. Stefan Rahmstorf, from the Potsdam Institute of Climate Impact Research in Germany. He told Fairfax Media: "This is really quite stunning…It's completely unprecedented."
"This is a very worrying result," said Bob Ward, policy director at the Grantham Research Institute on Climate Change at the London School of Economics, noting that each of the last five months globally have been hotter than any month preceding them.
"These results suggest that we may be even closer than we realized to breaching the [2 C] limit. We have used up all of our room for maneuver. If we delay any longer strong cuts in greenhouse gas emissions, it looks like global mean surface temperature is likely to exceed the level beyond which the impacts of climate change are likely to be very dangerous."
A major El Niño event, the biggest since 1998, is boosting global temperatures, but scientists are agreed that global warming driven by humanity's greenhouse gas emissions is by far the largest factor in the astonishing run of temperature records.
Prof. Adam Scaife, at the UK Met Office, said the very low levels of Arctic ice were also helping to raise temperatures: "There has been record low ice in the Arctic for two months running and that releases a lot of heat." He said the Met Office had forecast a record-breaking 2016 in December: "It is not as if you can't see these things coming."
Ed Hawkins, a climate scientist at the University of Reading, UK, said: "It is a pretty big jump between January and February, although this data from NASA is only the first set of global temperature data. We will need to see what the figures from NOAA and the Met Office say. It is in line with our expectations that due to the continuing effect of greenhouse gas emissions, combined with the effects of El Niño on top, 2016 is likely to beat 2015 as the warmest year on record."
The record for an annual increase of atmospheric concentrations of carbon dioxide, the main greenhouse gas, was also demolished in 2015.
Fossil fuel burning and the strong El Niño pushed CO2 levels up by 3.05 parts per million (ppm) to 402.6 ppm compared to 2014. "CO2 levels are increasing faster than they have in hundreds of thousands of years," said Pieter Tans, lead scientist at NOAA's Global Greenhouse Gas Reference Network. "It's explosive compared to natural processes."