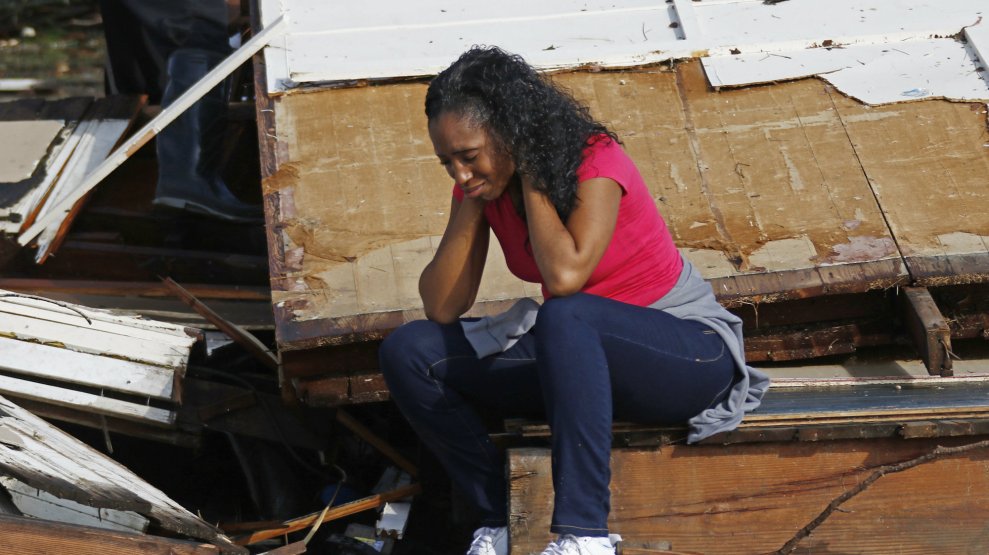 One of the worst winter tornado outbreaks in US history ravaged parts of the South last month, leveling homes and buildings and killing at least 20 people across Mississippi and Georgia. In total, 79 tornadoes ripped through seven states. Last week, seven tornadoes touched down in southern Louisiana, injuring 41 people. As officials and residents dug through the rubble, affected states began requesting aid from the federal government, standard practice in the aftermath of a natural disaster. Reconstruction is expected to cost hundreds of millions of dollars. But if an influential conservative think tank gets its way, federal funding for future disasters may be cut sharply—even as disasters themselves become more frequent.
The proposal to cut disaster aid was part of a lengthy report released last year by the Heritage Foundation. Dubbed a Blueprint for Balance, the document argued that the federal government can save $10.5 trillion over the next decade by slashing funds for some programs and eliminating others. The blueprint calls for a funding cut for the Federal Emergency Management Agency's Disaster Relief Fund, the primary mechanism through which states receive federal aid after natural disasters. It would shift the majority of the costs to state and local governments.
"It would require that every state plan for a worst-case scenario all the time."
The Heritage Foundation is extremely influential in the world of conservative politics, and the Trump administration appears ready to lean on the think tank for policy ideas. Donald Trump's transition team was stacked with advisers from Heritage, and the organization helped the president compile a list of potential Supreme Court picks. The Hill reported in January that a series of massive budget cuts being considered by the Trump administration "hew closely" to the Heritage budget blueprint.
Currently, federal disaster aid is governed by the Stafford Act. Passed in 1988, the law authorizes the president to issue emergency or major disaster declarations at the request of a governor, before and after a catastrophe occurs. Those declarations then trigger aid to rebuild infrastructure and protect public health. FEMA incurs 75 percent of the disaster relief costs, and states pick up the rest of the tab. In recent years, when a disaster depleted FEMA's budget—after Superstorm Sandy in 2012, for example—Congress passed supplemental appropriations to cover the costs.
But if the Heritage budget is implemented, state and local governments would have to pony up 75 percent of the costs, up to $5 billion. If the cost of an individual disaster tops $5 billion, the federal government's share would gradually increase, reaching 75 percent only if the damage exceeds $20 billion. The proposal would also completely eliminate FEMA's fire grants, which subsidize local fire departments.
Critics of the current arrangement often point to the rising number of disasters and claim that the threshold for declaring a disaster is too low. Between 1990 and 1999, there were an average of 46 major disaster declarations each year. The following decade, that number jumped to 56. In 2011 alone, there were 99 major disaster declarations. Last October, Hurricane Matthew shattered rainfall records in North Carolina and cost the state more than $1.5 billion in damages. The federal government is still sending funds to help with recovery efforts. A few months earlier, in August, Louisiana was inundated with flooding from torrential rains that caused $8.7 billion in damage.
Part of the problem, some experts say, is that states have charged ahead with development in high-risk areas, even as climate change makes devastating floods and fires more likely. (Scientists are still unsure about how global warming will affect tornadoes, but there's some evidence that it will have an impact.) With the feds shelling out big bucks each time disaster strikes, these critics argue that local governments have little incentive to pursue more sustainable building plans.
"The states have allowed disaster-prone development to occur," says Philip Stoddard, mayor of South Miami and a biology professor at Florida International University. "The building codes allow people to build structures in flood plains." He believes the federal government will eventually be unable to fund disaster relief. "It may be better—at least in coastal areas—if you get it situated sooner rather than later," says Stoddard.
Stoddard acknowledges that the unpredictable nature of some types of disasters, such as earthquakes, might create a need for certain exceptions. In general, however, he supports a gradual transition away from FEMA responsibility. "I would advocate a plan with a deadline, so people have time to get to work rather than being cut off completely," he says.
Not everyone agrees that the feds should pay less. Part of the logic behind the Heritage proposal is that states should incur more of the costs of smaller disasters, allowing FEMA to save its resources for major catastrophes. But it doesn't take a massive hurricane like Sandy or Katrina to put state and local governments in a bind. Covering the majority of the costs for disasters could wreak havoc on their budgets, which have been slow to recover from the Great Recession.
"It would require that every state plan for a worst-case scenario all the time," says Margaret Becker, director of disaster recovery and community development at Legal Services NYC. In Becker's view, federal assistance lifts a massive burden off of local governments. "It's the same idea as pooling your savings with somebody," says Becker. After a disaster, "you need quick access to a big pot of money."
As the recent tornado outbreak shows, many localities simply don't have the resources to cope with extreme weather. In Georgia, officials estimate at least $100 million of damage so far from last month's tornadoes. The same part of the state was hit with tornadoes earlier in January, so local resources are all but exhausted. In Mississippi, officials predict insurers could be on the hook for $200 million in the city of Hattiesburg alone. As with most natural disasters, one of the most pressing needs was emergency housing. In Forrest County, Mississippi, more than 1,000 homes were damaged, and 239 were destroyed completely.
"One of the most common features of a declared disaster is you have a lot of suddenly homeless people," says Becker, who worked with New York City residents in the aftermath of Sandy. Without FEMA assistance in these types of disasters, she says, there would be much more homelessness, as displaced people rack up hotel bills and fall behind on mortgage payments. As extreme weather become more severe, this type of homelessness could, too—particularly if the federal government decides to withhold funds.