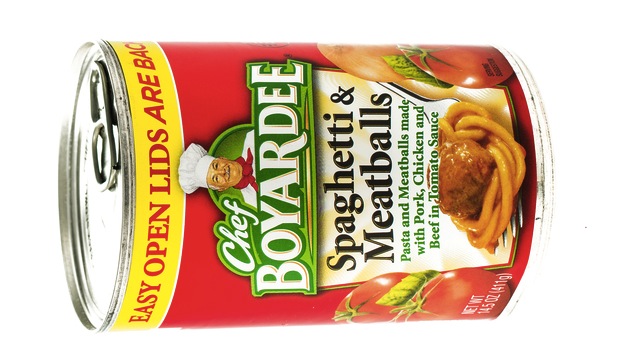 Fight disinformation:
Sign up
for the free
Mother Jones Daily
newsletter and follow the news that matters.
Not long ago, the great processed-food companies like Kraft and Kellogg's towered over the US food landscape like the high hat that adorned the head of Chef Boyardee, the iconic canned-spaghetti magnate whose empire is now owned by ConAgra.
But now, Big Food has fallen on hard times. Conagra, which owns Hunts, Reddi Whip, Ro-Tell, Swiss Miss, and Orville Redenbacher, along with Chef Boyardee, recently slashed its 2015 profit projections and sacked its CEO. Kraft—purveyor of Oscar Mayer deli meats, Jell-O, Maxwell House coffee, and Velveeta cheese—also recently shook up top management and reported sluggish sales in 2014. Cereal titan Kellogg's has seen its sales plunge 5.4 percent over the past year, Advertising Age reports.
There's a "mounting distrust of so-called Big Food, the large food companies and legacy brands on which millions of consumers have relied on for so long," said Campbell Soup's CEO.
What gives? Part of the problem is currency fluctuations. Having conquered the US market, Big Food for years has looked overseas for growth. Recently, a strong US dollar has cut into foreign profits, because a pricier dollar makes overseas sales worth less when they're converted to the US currency, as the Wall Street Journal recently reported.
Currencies rise and fall, but the real specter haunting the industry may be something less ephemeral than the dollar's gyrations. Campbell Soup CEO Denise Morrison—whose company makes V8 juice and Pepperidge Farm baked goods along with soup—recently publicly declared that there's a "mounting distrust of so-called Big Food, the large food companies and legacy brands on which millions of consumers have relied…for so long," reports Fortune's Phil Wahba, in an account from a conference at which Morrison spoke. Morrison also cited the "increasingly complex public dialog when it comes to food" as a drag on Campbell Soup's and its competitors' sales, Wahba reports.
In other words, Big Food successfully sold a vision of cooking as a necessary inconvenience, to be dispatched with as painlessly as possible—open a soup can for dinner, unleash a squirt of artificial cream onto a boxed cake for dessert—that's starting to lose its charm.
One reason is surely health. Over the past decade, there has been a bounty of research on the ill effects of highly processed food. And when Yale medical researchers David Katz and Samuel Meller surveyed the scientific dietary literature for a paper in 2013, they found that a "diet of minimally processed foods close to nature, predominantly plants, is decisively associated with health promotion and disease prevention."
Interestingly, Katz and Meller found that as long as you stick to the "minimally processed" bit, it doesn't much matter which diet you follow: low-fat, vegetarian, and Mediterranean have all shown good results. Even the meat-centered "paleo" approach does okay. The authors conclude the "aggregation of evidence" supports meat eating, as long as the "animal foods are themselves the products, directly or ultimately, of pure plant foods—the composition of animal flesh and milk is as much influenced by diet as we are." That's likely because cows fed on grass deliver meat and milk with a healthier fat profile than their industrially raised peers.
Meanwhile, as Big Food flounders, sales of fresh food grown by nearby farmers continues to grow at a pace that would make a Big Food exec salivate. A recent US Department of Agriculture report found that there are now 8,268 farmers markets nationwide—a jump of 180 percent since 2006. Then there are regional food hubs, which the USDA describes as "enterprises that aggregate locally sourced food to meet wholesale, retail, institutional, and even individual demand"—the kind of operations that can move fresh food from local farms to, say, grocery stores, so you don't have to show up at the exact right time at the farmers market to get your local collard greens. Food hubs, the USDA reports, have jumped in number by 280 percent since 2007.
Finally, there are schools—a site long dominated by Big Food, where little consumers learn eating habits before they emerge into the world as income-earning adults. According to the USDA, school districts with farm-to-school programs grew by more than 400 percent between 2007 and 2012.
For decades, "American cuisine" was an oxymoron, the punch line to a sad joke. Billions of dollars in profits have been made betting on the US appetite for processed junk. Those days may be drawing to an end.