In the upcoming issue of the Washington Monthly, Paul Glastris has a cover story called "The Incomplete Greatness of Barack Obama," a headline almost guaranteed to set your teeth on edge. Normally I'd just blame the copy desk and move on, but since Glastris is both writer and editor, there's no way to let him off the hook for this. What were you thinking, Paul?
But let's move on anyway. Glastris' argument, obviously, is that Obama has been a pretty good progressive president. So why doesn't he get more credit from us lefties?
There are plenty of possible explanations. The most obvious is the economy. People are measuring Obama's actions against the actual conditions of their lives and livelihoods, which, over the past three years, have not gotten materially better. He failed miserably at his grandiose promise to change the culture of Washington…In negotiations, he came off to Democrats as naïvely trusting, and to Republicans as obstinately partisan, leaving the impression that he could have achieved more if only he had been less conciliatory—or more so, depending on your point of view. And for such an obviously gifted orator, he has been surprisingly inept at explaining to average Americans what he's fighting for or trumpeting what he's achieved.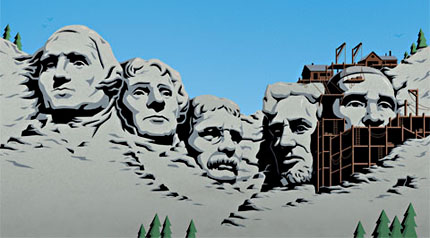 As long as we're piling on, I'd add a few other items to that list. First, Obama seems to despise the progressive base. He and his associates have made that clear over and over again. Second, he allowed Congress to take the lead on most of his domestic agenda. Whether this was smart or not doesn't really matter. What matters is that it makes him seem almost like an observer of events over the past three years, not a commander-in-chief. Third, from a progressive point of view, his record on national security is pretty bad. No, we're not torturing prisoners anymore, but the NSA surveillance program is still in place, American citizens are being targeted for assassination, the Afghanistan war has been escalated, drone attacks have skyrocketed, the state secrets privilege is still being used with abandon, Guantánamo is still open, and Patriot Act abuse seems to be as robust as ever.
And yet, there's still…the entire rest of his record. After all, Obama deserves to be judged by ordinary human standards, not by standards of perfection. A sidebar to Glastris' piece lists Obama's top 50 accomplishments, and I think it was a mistake to create a list so long. It ends up looking like the usual boring laundry list that any president can trumpet. Better to pare it down to 10 really top achievements in order to highlight how many truly major accomplishments Obama has been responsible for. So I did. Except I couldn't get there. I cut it down to 13 and got stuck. Here they are, in the same order as the original Washington Monthly list:
1. Passed Health Care Reform
2. Passed the Stimulus
3. Passed Wall Street Reform
4. Ended the War in Iraq
6. Eliminated Osama bin Laden
7. Turned Around US Auto Industry
9. Repealed "Don't Ask, Don't Tell"
12. Reversed Bush Torture Policies
14. Kicked Banks Out of Federal Student Loan Program
16. Boosted Fuel Efficiency Standards
18. Passed Mini Stimuli (July 22, 2010; December 17, 2010; December 23, 2011)
22. Created Conditions to Begin Closing Dirtiest Power Plants
27. Achieved New START Treaty
These are all big deals. Big fucking deals, to quote our vice president. Unless you're just bound and determined to sulk in your tent while insisting that health care was a sellout and the stimulus was too small and Dodd-Frank was feeble and the mini stimuli were more like micro stimuli, there's just no way around the fact that this is a historically colossal set of progressive accomplishments, especially in the face of a historically hostile political environment.
Obama has gotten more done for the progressive cause than Bill Clinton, Jimmy Carter, JFK, or Harry Truman.
Now, it's true that any serious accounting also has to include Obama's domestic failures—most notably his feckless housing policy and his inability to pass cap-and-trade—but both of those were very heavy political lifts. (On cap-and-trade in particular, I think in retrospect that it was just flatly never going to happen no matter what Obama did.) There's also his weak record on judicial appointments. So could Obama have done better? Was there a more effective way to deal with an unprecedentedly obstructive Republican Party? On reflection, I doubt it. During Obama's first two years, Democrats had a filibuster-proof majority in the Senate for only 14 weeks. This means that Obama needed two or three Republican votes for every bill, and if he had taken the blustering, partisan attitude that a lot of liberals wanted, he never would had gotten them. Republican obstructionism would have been even more hardened than it was with his more conciliatory attitude. So as annoying as Obama's "most reasonable man in the room" act was to the progressive base, it was probably his best strategy.
I was never an Obamamaniac. Actual politicians are never as good as the versions that star in the reality TV shows that we laughingly call presidential campaigns these days, and Obama was bound to be hemmed in by all the same dynamics that hem in every president. So I don't judge Obama against a standard that expected him to single-handedly lead a progressive revolution. His national security policy has been disappointing but hardly a disgrace. It's just a continuation of the mainstream national security policy that both parties have endorsed for decades with only minor differences. His economic policy since late 2009 has been, perhaps, too concerned with long-term deficits at the expense of short-term job creation, but that's been due more to political realities than to bad instincts. Likewise, his general willingness to compromise has been evidence of a pragmatic desire to get things done, not a sign of insufficient dedication to the cause. He's a president, not the Sun King.
Unlike Paul Glastris, I'm not ready to start chiseling Obama's mug on Mount Rushmore. But unless national security is pretty much your sole obsession, I really have a hard time understanding progressives who are disappointed in him. Obama has gotten more done for the progressive cause than Bill Clinton, Jimmy Carter, JFK, or Harry Truman—and, on balance, nearly as much as LBJ, since he doesn't have any epic disasters to weigh down his successes. For an actual, existing human being, that's pretty damn good.