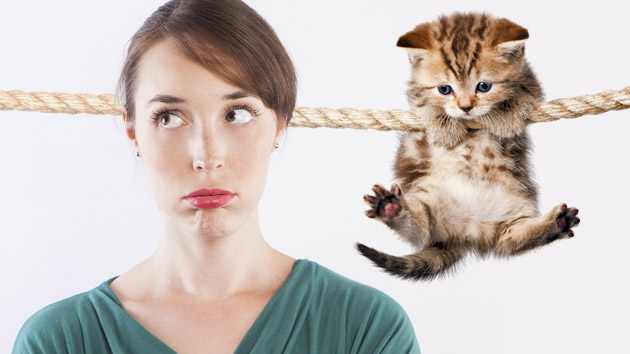 Fight disinformation:
Sign up
for the free
Mother Jones Daily
newsletter and follow the news that matters.
While Kevin Drum is focused on getting better, we've invited some remarkable writers, thinkers, and Friends of Kevin to contribute posts and keep the conversation going. Today, in the spirit of open debate, we interrupt our regularly scheduled cat blogging for a counterpoint by writer, editor, podcaster, speaker, chartisan, newsletterer, and former MoJoer Ann Friedman.
I don't like cats. And it's even worse than you think: I don't like dogs, either. In fact, I have virtually no interest in animals at all—even eating them. I am really happy that you are comforted by the presence of your dog. I am thrilled that you and your cat "rescued each other." But, no, I do not want to cuddle with or even see photos of your pet. And please don't bother sending me that video of baby red pandas cuddling each other or a lion reuniting with its long-lost human pal.
I feel nothing.
On this point, especially among my feminist peers on the internet, I am in the minority. In honor of the man who pioneered Friday cat blogging, I'm going to reckon with the fact that I am just not very interested in furry creatures. The last time I wrote about this was seven years ago, in ancient internet times when I was a blogger for Feministing and dared to do some "Friday anti-catblogging." The commenters weren't having it. "I honestly think that there is a valuable conversation to be had about the correlation of cat-hating with misogyny," one wrote.
Even outside the realm of contentious comment sections, it is surprisingly difficult to communicate "I don't care about cats or dogs" without shocking and disappointing people. Only about a third of US households own a dog, and a third have a cat, according to the American Veterinary Medical Association. But somehow—maybe thanks to the internet, which feeds a long-standing human obsession with anthropomorphizing furry creatures—that figure seems much higher. At least to those of us who neither own nor pine for a pet.
I was raised in a home without pets, even though my brother was glued to Lassie reruns and begged for a dog every Christmas. (He is now the proud parent of two massive American bulldogs.) But from a young age, I felt pressure to convert myself into an animal lover. When I was 10 years old, I decided to adopt a hamster. I found one listed in the newspaper classifieds for $15, including the cage and water bottle. My dad drove me to pick it up, and I knew within moments of seeing its beady little eyes that I did not want it in my bedroom. But couldn't find the courage to reject it until we already had it home. After a cascade of tears and shame, my dad took me to return it. Mercifully, they gave me my $15 back.
Over the next 20 years I learned that openly declaring you don't care to interact with animals is tantamount to admitting you are a cruel shell of a human with no capacity for simple love and affection—even if you are a nonviolent vegetarian who has never uttered the phrase "crazy cat lady" as an epithet. Somewhere along the line, I came to think that my inability to love animals was really an inability to connect with other beings on a nonintellectual level. Despite my memories of failure with the hamster, I decided it was time to try again.
And so, two summers ago, I arranged to be a dog-sitter. "How hard could it be?" I told myself, even though I had never so much as attached a collar or let an animal lick my face or inverted a plastic bag around my hand to pick up still-steaming shit. The dog, a grey pit bull who belonged to a friend of a friend, seemed affable enough. We got along just fine. I took her for a few walks, and even passed the test of being able to administer her anti-inflammatory pill—which involved sticking my hand inside her intimidating mouthful of teeth. But on an emotional level, I was already falling short. "Ahhh, you get to cuddle with a cute pup every night!" my friend Nikki said to me, upon hearing the news that I would be an interim dogmother.
"Ew," I said. "No. Any creature that licks its own asshole is not allowed on my bed."
The experiment was short-lived. After just a week in my custody, the dog broke through a screened window and ran loose through the neighborhood—desperate, I assumed, to get away from me. Her owner decided that she was probably just adjusting to her new environment. But it became clear she was depressed. "She barely ate anything yesterday, like one scoop of kibble. And almost no water. I am literally leading this dog to water and cannot make her drink. I am literally throwing her a bone," I chatted a friend. "Fuck animal metaphors. My productivity has been decimated."
We were not meant to be. After the dog broke out again a week later, sending me wandering through the neighborhood helplessly yelling her name until some nice people picked her up and dialed the number on her tags, I called the whole thing off. I was as relieved as I'd been at 10 years old, handing the hamster back to its previous owner. I still don't understand how people can forge such meaningful bonds with their animals. But at least I can say I've tried.