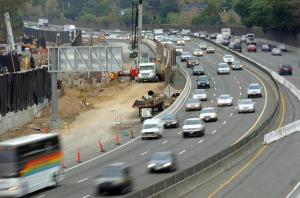 Fight disinformation:
Sign up
for the free
Mother Jones Daily
newsletter and follow the news that matters.
This story first appeared on Steve Katz's blog, Maimonides' Ladder.
So I follow @AmandaRMichel, who runs ProPublica's distributed reporting program, on Twitter. And I think she's said some of the smartest stuff I've seen about what works, what doesn't, when it comes to distributed or "citizen" journalism, like this CJR piece from last March about her experience with Off The Bus. The fact that she's both a journalist and an organizer matters a lot, I think. Probably decisive.
After hearing her at #pdf09 a couple of weeks ago, I decided I should actually do some distributed reporting (or whatever you want to call it) myself instead of just yammering about it, so that I have at least some hands on experience at the ground level with it. I mean, how hard could it be, right?
So I went to the ProPublica site, and signed up for their ProPublica Reporting Network, specifically for their "Adopt-a-Stimulus-Project." (Btw guys, you know that except for the sign up form – which looks like an ad – the Reporting Network is pretty much invisible on your home page, right? Actually, it's pretty much invisible, period, at least to navigate to it from the home page.) The ProPublica folks have posted a list of transportation construction projects funded under the American Recovery and Reinvestment Act of 2009, aka the stimulus bill, on their site. It shows the state, approximate location, amount approved, and "project code" for each one. After you register with the Network, you pick "your" project by clicking a button that says "I'm On It." Once you're on it, the assignment seemed pretty straightforward: find out where it is, what it is, and when it starts. And take a picture.
Pro Publica's list included only one project "IN MARIN CO IN SAN RAFAEL FROM 0.8 KM S. OF , CONST HOV LANE AND BICYCLE TRAIL…" That's near where I live, so that was the one for me. I'm On It!
But that's a pretty strange description: South of what? and what's with that elipsis at the end? Is there other stuff besides the HOV lane and bike path?
Okay, but it also told me that the project had received $2.1 million in ARRA funding, and it had a project code, too: CALIFORNIA_Transportation_Q101155
How hard could this be, right?
Well, here's my verbatim report back to Amanda and ProPublica, which I delivered using their nifty online report-back form:
The following report for ProPublica's Adopt-a-Stimulus-Project was received from this email address:
Name: Steve Katz
County: Marin
State: CALIFORNIA
Project Description: IN MARIN CO IN SAN RAFAEL FROM 0.8 KM S. OF , CONST HOV LANE AND BICYCLE TRAIL…
Your Report: On Tuesday July 7 I confirmed that the ProPublica listing of this project matches the California Department of Transportation project list shown on the CalDot website. I then emailed the California Department of Transportation general address to find out the exact location of this project, and project start date (the location given in the d/b is truncated, so it could be just about anywhere). No response so far.
On the same date, I also contacted the Marin County Department of Public Works and spoke with 3 people in the department, each of whom had a different explanation for what this project was. One person said that the County was awaiting approval by the California DOT for project go-ahead; the second said that he was unaware of any ARRA funds being used in this part of the county for transporation improvements; the third said that these funds were being rolled into a much larger highway widening/bike path rerouting project that had been originally funded by State of California bonds, but suspended due to the State's budget crisis.
I also called California Department of Transportation District 4, which covers the greater San Francisco Bay Area, and was routed through their VM system to Bob Haus, public information officer for Marin County CalDOT projects. I left a message for Haus, asked him to return my call. No response as of 9 July 09.
On Wednesday July 8 I called Haus again. No response as of 9 July 09.
On Thursday July 9, I sent the following email to Haus:
Hello Bob, I"ve left a couple of VM for you regarding this query: I'm volunteering with an NGO that's looking at how federal ARRA stimulus money allocated for transportation projects is being spent. My assignment is to track the following project listed in both CalDOT and Federal ARRA d/bs: IN MARIN CO IN SAN RAFAEL FROM 0.8 KM S. OF , CONST HOV LANE AND BICYCLE TRAIL…CALIFORNIA_Transportation_Q101155 Amount: $2.1 million.
Could you answer these questions:
Is this ARRA funding being used to restart the 101 widening project originally funded from the state? Or is it completely separate from the widening project? My understanding is that the state transportation projects were suspended due to the California budget crisis, and that these funds help get it going again. True? 2. Is the $2.1 million targeted at a specific location within the larger project area? Can you give me the details of that location? 3. Has work begun on this ARRA project? If so, when? 4. What is the name of the contractor firm handling the job? Thanks so much! Steve Katz
There is construction currently taking place in the general vicinity described in the d/b listing, as part of the much larger 101 widening project that\'s been underway for the past two years. Whether this construction is specifically funded by the ARRA $2.1 million is not known.
At this point, I can only conjecture that the ARRA $ is replacing suspended state funding for this ongoing project. But I've hit a brick wall as far as actually being able to confirm that.
Still no answer from Mr. Haus of CalDOT. I just checked to see if maybe the guy's on Twitter, and there he is: Bob Haus from Oakland, California (home base for CalDOT District 4) who describes himself as Gummint Bureaucrat and Wannabe Writer." Sounds like the guy—'cept he's protected his Twitter status from mere citizens like me, so he's not zackly reachable through this route, either. Oh well.
So, fellow citizen journalists, I'm stumped. If I had the time, I'd head over to CalDOT District 4 in Oakland and grab some face time with ole Bob Haus, but that's not going to happen anytime soon.
Beyond my own journalistic limitations, it got me thinking, though, whether this was a fairly typical situation, and how Amanda had gotten around it in the past. And also if it was typical, I wondered how reliable the fact base was that's developed on this kind of "research"?
Amanda wrote back to say that they'd be rolling out tools shortly that will make it much easier for people to collaborate (I share your pain?), and asked me to hang on a while longer (which of course I will. Because I REALLY want to know where this sucker is). "Your experience is actually pretty typical," she wrote. "We've had a lot of back-and-forth to figure out the basics, which is why we're going to launch a new assignment next week."
Cool. Let's do another one.
Steve Katz is Vice President of Strategy and Development at Mother Jones.