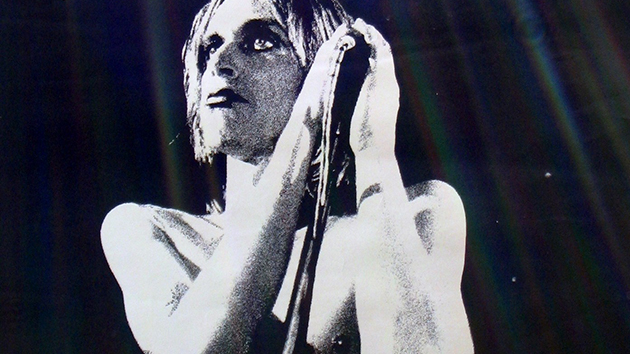 Fight disinformation:
Sign up
for the free
Mother Jones Daily
newsletter and follow the news that matters.
The seeds of the popular podcast Song Exploder were sown in the mid-2000s, when Los Angeles musician Hrishikesh Hirway first sat down to remix other people's songs and found himself spellbound by the nuances and complexities of the individual tracks within. "It felt like such a privileged listening experience," he recalls.
Song Exploder isn't merely about music. "It's about how you take an idea from nothing to something fully realized."
About a decade later, in January 2014, Hirway launched the podcast—which, over two-plus years and 68 episodes, has earned him a devoted fan base and interviews with superstars such as U2, Björk, and the National. Each episode deconstructs a single song, mashing up musical elements with audio snippets of the creators geeking out on gear or talking about what drives them to make music. It's an experience dense with sounds, ideas, and narrative momentum that culminates in the fully assembled song. But Song Exploder transcends mere music. "It's about how you take an idea from nothing to something fully realized," the host explains.
Hirway is familiar enough with the process. He began recording as a college junior, calling himself "The One AM Radio." Since relocating from his Peabody, Massachusetts, hometown to LA in 2006, he's written scores for several films. And in 2013, he co-founded the hip-hop group Moors with rapper-actor Keith Stanfield of Straight Outta Compton fame.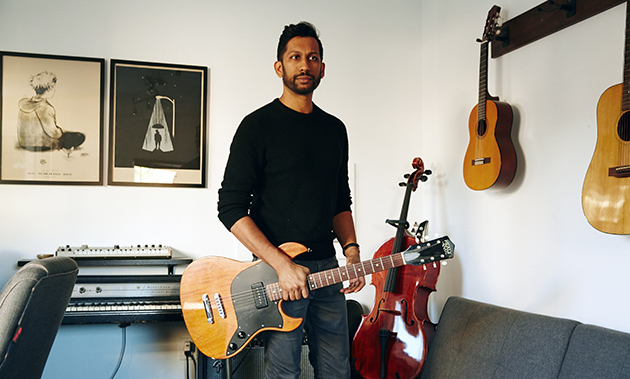 At first, Hirway recruited musician friends as his podcast subjects, but he soon began reaching outside his social circles: an email to an address he found online led to an interview with composer Jeff Beal, known for his work on House of Cards. Persistence and luck—and help from fans of the podcast—have kept the big names rolling in. Last fall, while struggling to reach Wilco, Hirway remembered that the son of bandleader Jeff Tweedy had recently followed the podcast on Twitter; the episode came together within days.
Shared, too, is the artists' palpable thrill in describing how some songs emerge seemingly of their own accord: "You sit back and go, 'How did I do that?'"
Much of the podcast's appeal lies in Hirway's uncanny ability to bypass journalistic awkwardness in favor of honest and intimate conversations about music and life. A single episode will introduce you to an artist, but listening religiously offers something more: a glimpse into the nature of creativity and the eccentric ways musicians cultivate it. In one arresting episode, multi-instrumentalist Nick Zammuto of the experimental duo the Books tells Hirway how he plucked the lyrics of "Smells Like Content" from educational TV shows and the facade of the Brooklyn Public Library. "People labor over lyrics a lot, but really they're kind of all around us all the time," Zammuto says.
In another episode, members of the noise band Health explain how a programming error—"the whole song glitches, basically"—ended up in the chorus of "Stonefist." Again and again, Hirway's listeners encounter artists who are learning to embrace accidents, imperfections, and curveballs that collaborators throw their way. Shared, too, is the artists' palpable thrill in describing how some songs emerge seemingly of their own accord. "You sit back and go, 'How did I do that?'" says Wilco's Tweedy.
Ultimately, Hirway aims to provide an experience that even someone without a note of musical training can relate to. After all, "Creativity is not this opaque box, this laboratory that is only accessible to a chosen few…All you really need is an idea and the will to see it through."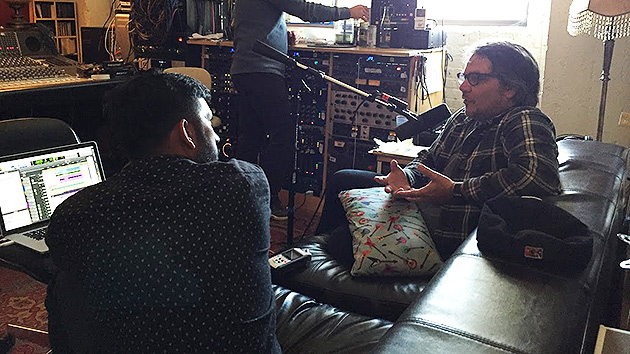 Explain That Tune
Being asked to choose your favorite Song Exploder episode is like being asked to name your favorite child. But these five selections offer a good taste of what Hirway's podcast has to offer:

The Books' Nick Zammuto, "Smells Like Content": If you thought there were limits to what constitutes music, Zammuto will prove you wrong. He describes his use of such humble materials as PVP pipe and vinyl records—not the music on the records, but the records themselves—in this seminal early episode.
Courtney Barnett, "Depreston": Barnett had a big 2015. The Australian rocker's debut album, Sometimes I Sit and Think, and Sometimes I Just Sit, received rave reviews, and Barnett was nominated for the "best new artist" Grammy. In this episode, Barnett breaks down the track "Depreston" with characteristic wit and insight.
MGMT, "Time to Pretend": If you've left your fortress in the last eight years, you've undoubtedly heard this song. Written when the band members were still in college, "Time to Pretend," an anthem to imaginary stardom, had the surprise effect of making its creators famous. In this episode, MGMT recounts the song's evolution—and how it felt to perform in druid capes on David Letterman.

Natalia Lafourcade, "Hasta la Raíz": While Song Exploder has featured plenty of famous artists, Hirway also sees it as a vehicle for introducing accomplished musicians to a broader public. Mexican singer-songwriter Natalia Lafourcade was the perfect candidate: She won four Latin Grammys last year and an American Grammy in February, but is still little-known north of the border.

Ramin Djawadi, Game of Thrones theme: If you could somehow conjure up the musical equivalent to the word "epic," it might sound like this. Composer Ramin Djawadi describes how he crafted the signature theme to the hit HBO show Game of Thrones, and what it was like to see the melody become an internet phenomenon, interpreted by fans and musicians around the world.