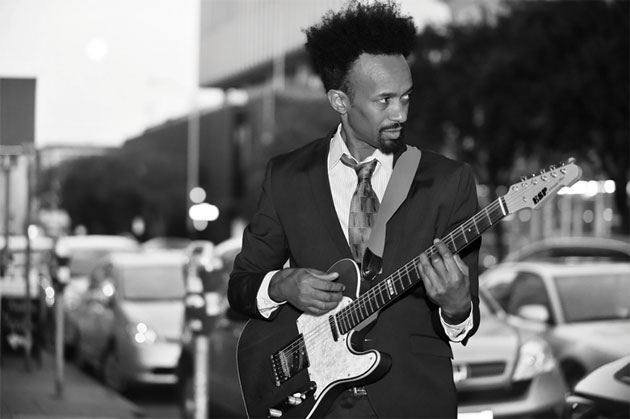 The man now known as Fantastic Negrito is wearing a three-piece checkered suit with a crisp, mustard-yellow shirt. Two small holes mark the knees of his pants, and orange striped socks flow into his tan leather shoes. The 47-year-old singer-songwriter hammers away on his Goodwill-bought guitar in a ravaged section of downtown Oakland, California, talking about how this is the place "where the real shit comes from." Need to test a song? "Hit the streets. It's very unsafe, and that's good—strangers tell you the truth."
Xavier Dphrepaulezz (his real name) isn't supposed to be here, not really. Ever since he made it to what people keep telling him is "the big time," he's had to sneak out. Last February, he beat nearly 7,000 contestants competing for a chance to perform in an NPR Music Tiny Desk Concert, and he's been on a meteoric rise ever since: His EP of raw, impassioned roots music reached No. 7 on Billboard's blues charts in February and was iTunes' No. 7 blues album in August. His managers want him to save his voice for the paying gigs. They're asking him: Why would a venue pay 10 grand if you keep playing in the streets for free?
But this is where it all began—at train stops and doughnut shops—before the "international sensation" talk, the courtship from major record labels, and invitations to play music festivals like South by Southwest and Outside Lands. His success happened so fast, seemingly overnight: "I throw up before every show, man. Terrified."
The road to becoming Negrito could have started in his childhood: a troubled upbringing in the hood, a stint "slinging crack for the CIA" in the '80s, the death of his brother and a friend, some time in foster care during his teens. There was the beginning of a music career: a million-dollar deal with Interscope Records and a polished but failed studio album that, he says, "didn't connect with anyone." But it really began with a car accident one late night in Los Angeles in 1999.
Dphrepaulezz doesn't remember the impact, only that there was a pretty girl in the passenger seat, then what felt like a lifetime of vivid dreams. The coma lasted three weeks, until he emerged to a stale hospital room where steel rods pinned his broken bones together. His strumming hand was permanently locked at the wrist, creating what he calls "the claw."
After the coma, he didn't pick up a guitar for five years, partly because of his injuries, partly because he was disillusioned with his first try at a career. But he did get grounded, got married, had "a beautiful child." One night, when his 18-month-old son was inconsolable, Dphrepaulezz found an old beat-up guitar, played an open G chord, and, as he told SFGate, "the look on his face was the most honest and committed expression of joy I had seen in my life."
Is Fantastic Negrito just another alter ego he'll soon shed?
He dove back into music with a series of alter egos and new acts: Blood Sugar X, Chocolate Butterfly, Soul Pony, Me and This Japanese Guy. "One was electronic, one was neo-soul whatever, one was kinda punk, one was like this bluesy thing, but it sounded weird. It was like black Robert Plant."
He ultimately chose the name Fantastic Negrito to demonstrate his love for the Delta blues that his great-uncle listened to but that Dphrepaulezz shunned until he could appreciate the suffering it expressed. He's lived through enough for it to feel sincere now.
In April, Amazon picked up his song "Honest Man" as the title track for its show Hand of God, about a corrupt judge on his own sort of quest. Dphrepaulezz aims to release an album by the end of the year and will soon head out on tour.
Is Fantastic Negrito just another alter ego he'll soon shed? He doesn't think so. "This is the most honest one." With the other identities, he never felt connected with people the way he does now. "I just played these roles. They seemed true," he says. "But it takes a long time to find the truth."