We asked a range of authors and creative types to name books that bring solace or understanding in this age of rancor. More than two dozen responded. Here are picks from the activist, author, and former felon Piper Kerman, whose best-selling memoir about her year in a federal women's prison was adapted into a popular Netflix series.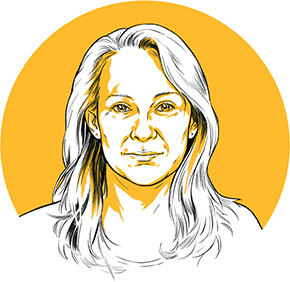 Latest book: Orange Is the New Black
Reading recommendations: I don't turn to reading for solace often—I'm probably more reliant on wine and thumb-sucking for that. I've been teaching in a men's medium-security prison for a couple of years and reading Hannah Arendt. I really wanted an analysis of the issues that lodge there from a female perspective. For this moment we're all navigating, I'd recommend Men in Dark Times.
When I read Jesmyn Ward's Men We Reaped, it absolutely gutted me. I return to it again and again in my mind because it so perfectly crystallizes what's at stake until we establish equality for all Americans when it comes to safety and freedom. Ward's writing is heartbreakingly beautiful.
The book that actually does provide me with solace is Alice in Wonderland. When I was a child I wanted to change my name to Alice. I had a copy in my locker when I was incarcerated, and one on my bedside table now.
Illustration by Allegra Lockstadt
_______
The complete series: Daniel Alarcón, Kwame Alexander, Margaret Atwood, W. Kamau Bell, Ana Castillo, Jeff Chang, T Cooper, Michael Eric Dyson, Dave Eggers, Reza Farazmand, William Gibson, Mohsin Hamid, Piper Kerman, Phil Klay, Alex Kotlowitz, Bill McKibben, Rabbi Jack Moline, Siddhartha Mukherjee, Peggy Orenstein, Wendy C. Ortiz, Darryl Pinckney, Joe Romm, Karen Russell, George Saunders, Tracy K. Smith, Ayelet Waldman, Jesmyn Ward, and Gene Luen Yang.