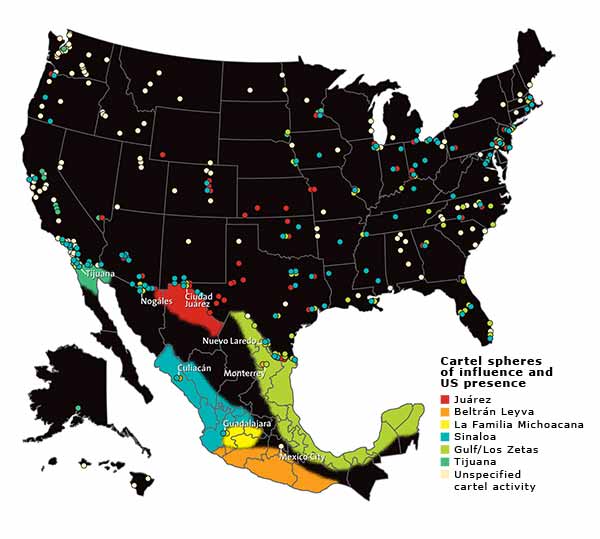 GULF The Gulf cartel rose by bootlegging liquor into Prohibition-era Texas, but moved on to cocaine and marijuana by the 1980s. Its ascent was aided by Raul Salinas, the corrupt brother of then-President Carlos Salinas. In 2007, leader Osiel Cárdenas was extradited for the attempted murder of a DEA informant, leaving the reins to Osiel's brother, Antonio; Jorge Eduardo Costilla-Sánchez; and Heriberto Lazcano, who runs the muscle known as the Zetas.
LOS ZETAS Originally 30 corrupt elite drug interdiction soldiers who served as Gulf enforcers, the Zetas (notorious for mass beheadings) now control their own drug-supply routes and have branched out into kidnapping and murder for hire.
SINALOA Now Mexico's most powerful cartel, Sinaloa is led by Joaquín "Shorty" Guzmán, who famously "escaped" from a maximum security Mexican prison in 2001. In 2006 he broke a truce to move on Gulf territory like Nuevo Laredo. Guzmán is Forbes' 701st richest person in the world.
TIJUANA/ARELLANO FÉLIX The Arellano Félix clan cut its teeth as Sinaloa soldiers but left in the late 1980s to take over Tijuana. Like the Juárez cartel, Tijuana gained power when the US choked off Caribbean supply routes, pushing trafficking west. Recently, the cartel fractured into two offshoots. One, led by a Félix nephew, is allied with the Zetas cartel, while former lieutenant Eduardo Teodoro "El Teo" García Simental ("The Drug War in Six Acts") is backed by rival Sinaloa.
JUÁREZ Founded by Sinaloa trafficker Amado Carrillo Fuentes (known in narcocorridos as the Lord of the Skies), who died during plastic surgery, the Juárez cartel was historically allied with Sinaloa against the Gulf/Félix alliance. Now headed by Vicente Fuentes, it has ties to the Beltrán Leyva organization.
BELTRÁN LEYVA This Sinaloa splinter group upped the violence last May, when some 40 hit men gunned down Guzmán's son, allegedly in retribution for Guzmán's leaking a Beltrán Leyva don's location to the cops. Beltrán Leyva has an alliance with Los Zetas.
LA FAMILIA MICHOACANA Having made its 2006 debut by throwing five human heads onto a nightclub dance floor, this growing drug/assassination/kidnapping gang began as a Zetas splinter group. Known for leaving poorly spelled notes on its victims and posting murder videos on YouTube.