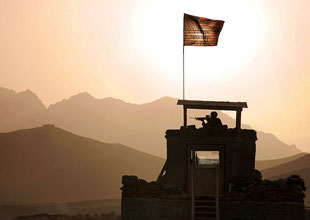 Fight disinformation:
Sign up
for the free
Mother Jones Daily
newsletter and follow the news that matters.
At the White House daily press briefing on Monday, the reporters naturally peppered Press Secretary Robert Gibbs with many questions about President Barack Obama's coming speech on Afghanistan—and about the gate-crashers at last week's state dinner for the Indian prime minster. Gibbs, though, offered no new talking points. He reiterated that Obama was determined to get the job done in Afghanistan but that the president did not view his administration's commitment there as "open-ended." Once again, Gibbs was eliding the obvious contradiction between these two statements. Gibbs also restated Obama's belief that success cannot be had in Afghanistan if there is no credible partner in Kabul—without acknowledging that the Kabul government of President Hamid Karzai is widely regarded as inept and corrupt and without explaining what the Obama administration might do if the Karzai government cannot reform itself (a distinct possibility).
The Obama White House has been sidestepping these inconvenient truths for months, and there's no indication that Obama is going to do anything different in his West Point speech Tuesday night. But what was intriguing was how Gibbs described the US mission in Afghanistan: "We are there to partner with the Afghans" to train and stand up a military and police force "to wage the fight against an unpopular insurgency." Notice anything missing? He didn't mention Al Qaeda.
Later in the briefing, I queried Gibbs about this, asking how Obama assesses the threat currently posed to the United States by Osama bin Laden's murderous crew. That is the heart of the matter. For years, the public policy debate over Afghanistan has proceeded on the assumption that Al Qaeda remains a profound danger. If it is, spending tens of billions of dollars and sacrificing hundreds of American lives each year—as well as occasionally causing the accidental deaths of civilians—might be necessary. But what if Al Qaeda no longer presents as grave a danger, even if bin Laden and his evil comrades still harbor ambitions of destroying the United States? A few weeks ago, Al Qaeda expert Peter Bergen testified in the House that
Al Qaeda today no longer poses a direct national security threat to the United States itself, but rather poses a second-order threat in which the worst-case scenario would be an Al Qaeda-trained or -inspired terrorist managing to pull off an attack on the scale of something in between the 1993 Trade Center attack, which killed six, and the Oklahoma City bombing of 1995, which killed 168.
If Bergen is right, expanding the war by sending more troops, as Obama is about to do, might be an overreaction to the present threat.
Responding to my question about Al Qaeda, Gibbs said that it's not necessary "to dig deep" into news clips and the president's daily intelligence briefing to see that "the threat from Al Qaeda exists in very real ways"—and not just in the border regions in Pakistan. But Gibbs didn't provide any more details. That is, there was no way to evaluate his assessment of the Al Qaeda threat. Gibbs segued into the familiar argument: The United States "must prevent the Taliban from being capable of controlling the government of Afghanistan and providing a safe haven" for Al Qaeda.
That is an argument that sounds reasonable. But is a ground war with 30,000 extra troops necessary to keep the Taliban out of Kabul? After all, were the Taliban ever to come close to regaining power in Kabul, couldn't air strikes—don't forget the Predator drones—be used to attack the Taliban? Moreover, it may not be absolutely necessary to crush the Taliban totally to ensure that Al Qaeda never again has any running room in Afghanistan. At the briefing, I asked Gibbs if the president would have to eliminate all Taliban remnants to ensure there would be no haven for Al Qaeda. He said he would let the president address that in his speech.
There's much for Obama to address, maybe too much for one speech. He's inherited a mess of a war from George W. Bush and Dick Cheney. But with this increase in troops, Obama is fully claiming possession of this conflict—assuming the task of selling one of Bush's leftover used cars. With the public, especially members of his own party, skeptical about the war, Obama will have to demonstrate that he has truly considered (and reconsidered) all the fundamental premises of this endeavor. Relying on familiar or vague—and sometimes contradictory—rhetoric will not help him accomplish that mission.