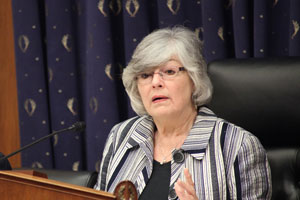 Fight disinformation:
Sign up
for the free
Mother Jones Daily
newsletter and follow the news that matters.
Liberal legislators are among those who cheered the loudest for the passage of the Democratic health care bill on Sunday—but they're not done yet. Lynn Woolsey, co-chair of the Congressional Progressive Caucus, said after the vote that she would soon advance a separate bill for a strong public option.
"I'll introduce a robust public option the day that the President signs this legislation into law," Woolsey said as she left the House floor on Sunday evening. "We have more work to do, and we will do it."
Woolsey said that the other members of the progressive caucus would support the bill to create a government-run health insurance plan, but added they hadn't signed onto the proposal yet. She noted that other members of the caucus would be working on separate items "immediately." Though she didn't give details, such proposals are likely to include a repeal of the anti-trust exemption for insurance companies and other measures that had been dropped in order to woo moderate and conservative Democrats.
Obama may sign the health care legislation as earlier as Monday or Tuesday this week, before the reconciliation fixes to the bill go to the Senate for a vote. If the public option is put on the table again before the Senate votes, according to Woolsey's plan, the politics could become tricky. At that point, Democrats will still be making a huge push to celebrate the main bill and convince the public of its merits. And it's uncertain how reviving the public option once more will play out as Democrats try to unite themselves behind the bill and Republicans scramble to sharpen their opposition to it. While the public option has been the main rallying cry for progressives critical of the concessions made to moderates and industry groups, reform's supporters have spent an enormous amount of energy and political capital to pass the comprehensive bill. Will liberals gear up for the next fight so soon after the big battle has been won?