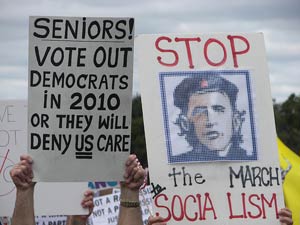 Fight disinformation:
Sign up
for the free
Mother Jones Daily
newsletter and follow the news that matters.
Earlier Nick Baumann highlighted the Winston Group's new survey about the Tea Party, which revealed that Tea Partiers are largely old, white, male, and—get this!—conservative. No kidding. But taking a closer look at the Winston Group study—and a similar set of numbers released today by Gallup—I noticed something kind of funny: Considering the movement purports to counter the perceived "socialism" of his policies, President Obama is actually quite popular among the Tea Partiers. According to the Winston Group, 17 percent of Tea Partiers approve of the job Obama has been doing. Another 15 percent approve of the job Congressional Democrats have been doing, which, while not exactly a ringing endorsement, makes Democrats considerably more popular among Tea Partiers than Republicans. There's a similar quirk in the Gallup poll: A whopping 12 percent of Tea Partiers believe the Affordable Care Act was a "good thing." Merlin's pants!
What could Tea Partiers possibly like about Obama? That's the obvious mystery here, but I'm willing to speculate a little bit. Since much of the movement's messaging is built on a steady flow of misinformation, it's only natural that a lot of Tea Partiers are going to have difficulty sorting out the heroes and villains. For example: When I attended a Tea Party Express rally in Nevada last month, I spoke with a man who had come "to send a message to Harry Reid." His grievance? He blamed Reid for shortchanging a proposal for a high-speed rail line from Las Vegas to Anaheim (instead, trains will stop in Victorville, California, 100 miles from LA, which admittedly is kind of lame). The Vegas-Anaheim line would have been great for Nevadans, he explained to me. And he was probably right. But that very idea was also lampooned by Republicans at the time as a "magnetic levitation line" from "Sin City" to "Disneyland."
Showing up at a Tea Party seemed like an odd way to express support for European-style, subsidized public transit, but that's kind of the point: Tea Party ringleaders have helped build the movement by confusing the heck out of everyone. On a much less cynical note, I'd add that for all the uncompromising rhetoric, even Tea Partiers can respectfully agree to disagree. At the same event in Searchlight, Nevada, I was approached by a middle-aged man sporting a Tea Party t-shirt and a Dale Earnhardt mustache. After listening in on a conversation, he followed me to my next interviewees. I was expecting a confrontation, but instead he told me "Mother Jones is a good magazine; I don't agree with everything you guys do, but it's very fair."
That 17% of Tea Partiers who "approve" of Obama might not agree with him, but maybe some of them really do think he's fair. And for what it's worth, I find that encouraging.